St. Jude

researcher Ching-Hon Pui, MD, honored for contributions in treatment of pediatric blood cancers
Dr. Pui, chair of the
St. Jude

Department of Oncology, has helped raise the survival rate for acute lymphoblastic leukemia to 94 percent.

April 22, 2022 • 2 min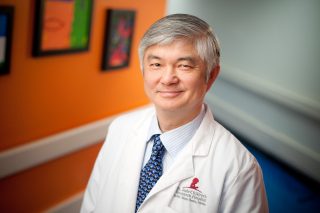 Noted St. Jude Children's Research Hospital clinician and researcher Ching-Hon Pui, MD, whose work has helped change the way the most common type of pediatric cancer is treated around the world, will receive the 2022 Distinguished Career Award from the American Society of Pediatric Hematology/Oncology (ASPHO).
The award honors a senior physician whose work has had a major impact on the field. Pui, chair of the St. Jude Department of Oncology, will receive the honor at ASPHO's annual meeting in Pittsburgh in May.
Known at St. Jude for his steadfast work and humble demeanor, Pui gives credit to those with whom he has worked during his more than 45-year career.
"I would like to share this award with my team at St. Jude and collaborators worldwide, along with the children and families I have been lucky to care for," Pui said. "Research does not happen based on one person's efforts alone, and it has been an honor to work alongside such wonderful collaborators and our inspiring patients."
Pui joined St. Jude in 1977, as a resident doctor in training, when the cure rate for acute lymphoblastic leukemia (ALL) was 40 percent. Since then, Pui has played a central role in developing clinical trials that helped increase the pediatric ALL survival rate to 94 percent at St. Jude today.
Pui's research has helped change the way ALL is treated around the world as well, improving survival rates while providing less toxic treatment for children with ALL. For instance, his work showed that cranial irradiation, once part of standard treatment for childhood ALL, can be omitted altogether, sparing patients the negative long-term effects of such treatment. He has been one of the most highly cited investigators in clinical medicine for the past two decades.
Pui has received many awards including American Cancer Society's Medal of Honor and FM Kirby Clinical Research Professorship, fellow of American Association for the Advancement of Science, American Society of Hematology's Henry Stratton Award, American Society of Clinical Oncology Pediatric Oncology Award and the American Association for Cancer Research's Joseph H. Burchenal Clinical Research Award and Team Science Award.
For decades, Pui has worked to make the highest level of care available to children around the world, collaborating with chairs of leukemia committees of 14 major national study groups around the world. Nowhere has his influence been more profound than in China, where his collaboration with hospitals in Beijing and Shanghai helped convince the Chinese government in 2010 to extend health coverage to childhood leukemia patients.
"I try to find treatments that can improve both the cure rates and quality of life of children with leukemia, including those who live in resource-limited countries," Pui said. "All patients with leukemia around the world are important to me."