Dr. Pui: This
St. Jude

doctor helped change the odds for childhood leukemia patients worldwide
After 44 years at
St. Jude,

Dr. Pui — the "best of the best" in childhood leukemia therapy care — shows no sign of slowing down.

March 31, 2021 • 9 min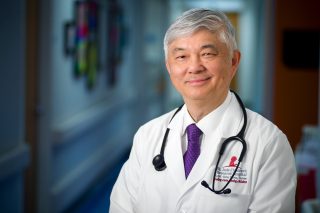 During those first frantic hours following her family's arrival at St. Jude Children's Research Hospital, Nancy wasn't looking for any surprises, but got one, anyway. A good kind of surprise, actually. It came when a diminutive man with graying hair and a white lab coat walked into her little boy's room and introduced himself.
Nancy excitedly phoned her husband, Patrick.
"You've got to get over here," she said. "It's him."
Like countless other parents of kids with leukemia, Nancy and Patrick knew enough about Ching-Hon Pui, MD, chair of the St. Jude Department of Oncology, to regard him as something of a rock star in the field. Pui, after all, was a major reason they wanted 4-year-old Brian treated at St. Jude. It is Pui's imprint that's found on treatment protocols used the world over, and it was his name that kept popping up as they scanned the Internet for the leading experts in pediatric leukemia research and treatment. The first article they found went so far as to call him "the best of the best."
But as comforted as they were to have Brian treated in the same hospital where Pui worked, Nancy and Patrick weren't sure they would ever meet him. Friends and relatives who worked in government research and who knew of Pui told the couple he likely would be too busy traveling the world giving lectures and training health care providers.
Pui is internationally renowned for his work to improve survival rates and the quality of life for kids with acute lymphoblastic leukemia, the most common form of childhood cancer. He's coupled those efforts with a personal campaign to extend that advanced care to families around the world, including those in low- and middle-income countries.
Along the way, he's authored more than 1,000 articles and accumulated prestigious awards from institutions everywhere from Washington, D.C., to Shanghai, China. Since 2004, Pui has been recognized by the Web of Science Group as one of the most highly cited researchers of the decade, and just last year, he received the American Cancer Society Medal of Honor.
But for all his achievements, Pui is perhaps best known among St. Jude families for his comforting, playful rapport with patients — for knowing how to do magic tricks as well as medical procedures.
Now 69 and entering his 45th year at St. Jude, Pui shows no interest in retiring or even cutting back on his 14-hour days. "My work is far from over," he said, "because we are still losing children to leukemia."
The long journey from Hong Kong
It was a movie, of all things, that helped propel Pui on his life-saving path. The film he saw as a middle-school student in his native Hong Kong wasn't about monsters or aliens, but another type of horror. It featured a young boy who survived an atomic bomb blast only to succumb to leukemia resulting from radiation exposure.
"Watching this child and his loving parents suffer helplessly had an enormous impact on me, and I trace my decision to become a pediatric oncologist to that movie," Pui said in a commencement address at the University of the South in Sewanee, Tennessee, in 2017, after receiving an honorary degree there.
Given all the medical and scientific feats he would later accomplish, it may come as a surprise that Pui, by his own admission, wasn't an especially good student as a child. He grew up with two brothers and three sisters. His parents, who both worked, relied on older siblings to help the younger ones, including him, with their schoolwork.
"My oldest brother would rather take me to play with him in the streets than complete the assigned homework. Of course, I was more than happy to comply," he said during the Sewanee speech.
What eventually transformed Pui into a dedicated student wasn't a scolding or ultimatum, but an encouraging, if not entirely accurate, compliment. While he was waiting to catch the bus home one day, a teacher in the Anglican school he attended walked up and praised him for being a good English student.
"Well, that wasn't exactly true. But the compliment stuck and became a motivating force in my academic life. I started doing my homework and began to pay more attention at school because I didn't want to disappoint her."
After blossoming academically, Pui got further encouragement from a high school biology teacher, who recommended he study medicine in Taiwan. He was accepted at the prestigious National Taiwan University.
After earning his MD in 1976, Pui was accepted into a pediatrics program in the U.S., serving as a resident in a St. Louis hospital. He spent a year there before moving on to St. Jude.
The field of pediatric oncology was about to be transformed forever.
A perfect fit at
St. Jude
If you ask Pui, all these years later, what it was about St. Jude that impelled him to stay, he'll speak of the many unique qualities of the place: How the generous support of donors gives doctors and scientists the latitude to conduct wide-ranging research and provide the highest-quality care without ever sending families a bill.
He'll also talk of the groundbreaking history on which he could build. Under the guidance of pioneers such as Donald Pinkel, MD, the research hospital's first director, and later directors such as Joseph Simone, MD, St. Jude piloted studies showing ALL was curable.
And then there's the interdisciplinary collaboration among researchers, clinicians and physicians to develop, test and refine new cures — again, funded with the generous contributions of millions of St. Jude donors.
"It has a world-class team of clinicians and scientists working together to find better ways to cure children with leukemia," he said.
"Since my life-long passion is to take care of children with leukemia, St. Jude is obviously the best place for me to stay."
Still, when Pui arrived in 1977, fewer than half of the children with ALL were surviving long-term. All too often, patients who had gone into remission would relapse and die.
To Pui and his colleagues, the deaths were a cause of heartbreak, but also a source of motivation to develop new and better treatments.
Showing a passion and work ethic that often astonished his colleagues, Pui became the driving force and intellectual leader in ALL research and treatment, said William E. Evans, PharmD, who served as director and CEO of St. Jude from 2004 to 2014 and is now an emeritus faculty member.
"Dr. Pui took the baton, if you will, from Dr. Joseph Simone, who worked with Dr. Pinkel in the earliest days and was part of the team that achieved a 50 percent cure for children with ALL," Evans said.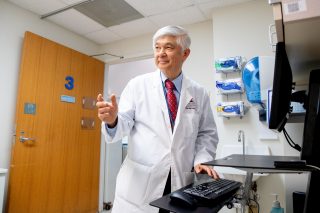 "From that day forward, his goal has been to cure every child and to reduce the toxicity of treatment to ensure a good quality of life."
Pui helped lead the way as St. Jude boosted ALL survival rates past 70 percent in the 1980s and to 90 percent and above in the early 2000s.
With ALL survival rates now reaching 95 percent for St. Jude patients, Pui is looking to raise them further still. Drug dosages and other therapies are carefully calibrated based on patients' individual metabolism rates and the genomic characteristics of their cancer cells.
This kind of precision medicine, which safeguards against the under-treatment or over-treatment of patients, is one of the keys to raising survival rates without increasing toxicity, Pui said.
"Realizing children with leukemia are quite different in many respects, we introduced several innovative treatment approaches with the help of many scientists. We studied the biologic characteristics of the leukemia cells and the normal host cells so we can use the right drugs at the right dose."
Over the years, Pui has expressed optimism that ALL might be completely cured in his lifetime. He acknowledges that achieving a 100 percent survival rate will be difficult, given the research showing that some children are born with genetic predisposition for cancer.
"But we will certainly increase our efforts, not only to cure the leukemia but also to prevent the development of second cancers. Losing a single child from cancer in the dawn of life is unacceptable."
Reducing treatment side effects
Pui is interested in more than just saving lives, however. He wants to make them better.
In what is widely considered one of his signature achievements, he designed and led a clinical trial, called Total 15, to test his bold notion that cranial radiation could be eliminated from the ALL treatment protocol in all patients without any decrease in survival rates.
From its earliest years, St. Jude had pioneered the use of radiation in conjunction with chemotherapy to develop the first-ever cures for children with ALL. But while it killed leukemia cells in the central nervous system and helped prevent relapse, radiation caused often-devastating long-term effects, including IQ loss, endocrine disruption, even fatal brain cancer. Pui has called it "a terrible thing to do to a young brain."
Based on findings from the trial, St. Jude was able to announce in 2009 that with specialized and targeted chemotherapy, survival rates of 90 percent or more could be sustained without cranial radiation.
With those findings, the way in which doctors worldwide would approach treatment for children with ALL dramatically shifted.
Helping children globally
Not satisfied with saving lives and improving treatment at St. Jude and across the U.S., Pui has spent decades working to make the highest level of care available to children around the world, in low- and middle-income countries no matter where a child lives. He's been collaborating with chairs of leukemia committees of 14 major national study groups around the world for more than two decades.
"All patients with leukemia around the world are important to me," he said.
Nowhere has his influence been more profound than in China, where childhood cancer patients long had been left to die at home because of the high cost or lack of access to care. Pui's collaboration with hospitals in Beijing and Shanghai helped convince the Chinese government in 2010 to extend health coverage to childhood leukemia patients.
Pui, in the words of former health minister Zhu Chen, is "the doctor who introduced the most advanced leukemia treatment protocols to China."
At the same time, Pui's work in China has produced reciprocal benefits in the U.S. and elsewhere. Because childhood leukemia is relatively rare, researchers often have trouble enrolling a sufficient number of participants for clinical trials — a problem China's immense population helps alleviate. Just last year, Pui and other researchers were able to report findings from a study involving 20 Chinese hospitals that led to a change in therapy for the more life-threatening form of ALL called Philadelphia chromosome-positive ALL.
Long days of treating patients, doing research
After nearly a half-century of contributions, Pui still pursues his work with the same passion and vigor. He typically arrives at the hospital in the predawn darkness, at 6 a.m. — although he starts work from home around 5 a.m. — and doesn't get home until 7 p.m.
He sees 10 to 12 patients daily and, when not making his rounds, devotes time to research.
"I try to find treatments that can improve both the cure rates and quality of life of children with leukemia, including those who live in resource-limited countries," Pui said.
Evans sees no let-up in his colleague's efforts.
"Dr. Pui is either at the hospital working, or he is thinking about his work when away from the hospital. One of my worries was that he would burn out from working too much. But he has proven me wrong about that, as he has more energy and drive today than he did the first day I met him in 1977," he said.
As serious as he is about his work, Pui reveals a playful, humorous side when interacting with patients. He cracks jokes, does magic tricks and hands out small toys.
"The way he is with the kids is something special," said Patrick, father of former ALL patient Brian. "He becomes a different person."
As Pui sees it, the rapport he develops with the children is a vital part of their treatment and overall St. Jude experience.
"I want to maintain a good relationship with patients so they will not be afraid to come to the hospital for treatment. In fact, most of my patients are looking forward to coming to St. Jude to have a good time. Many of them have a lasting and wonderful memory of their time spent at St. Jude."
In the same way so many patients and families are thankful for Pui, St. Jude itself "owes a debt of gratitude" to him for his many contributions over the past four-plus decades, said James R. Downing, MD, president and CEO of the research hospital.
"His work has not only helped children with leukemia survive, but also thrive once treatment ends. He has shared this work with the world, helping raise survival rates and quality of life for countless children far beyond our Memphis campus.
"Dr. Pui is a tenacious researcher and a compassionate physician," Downing said. "He is also a dedicated educator and mentor, helping shape the careers of many investigators in pediatric oncology."
Like Pinkel and other pioneers at St. Jude, "Dr. Pui is among the visionaries who created a trajectory of discovery and innovation that persists to this day," Downing said.
Those laudatory comments from Pui's boss reflect on a career that's both full and exemplary.
But that's not to say it's anywhere near an end. Pui expresses no interest in retiring, saying he'll work "as long as my mental and physical conditions allow me."
Whenever his career does draw to a close, Pui's impact will remain indelible for patients and their families.
"There should be a movie made about the life of Dr. Pui," Patrick said.
Unlike the film Pui saw so many years ago in Hong Kong, it would be an uplifting production, to say the least.