Stars align on Birdies for
St. Jude

fundraiser at World Golf Championships

From golfer Justin Thomas to One Direction's Niall Horan, PGA TOUR greats and entertainment icons rally their social media followings to help the kids of St. Jude.
What do PGA TOUR star Bryson DeChambeau and One Direction's Niall Horan have in common? The same as Justin Thomas and Darius Rucker.
A cause like no other — helping the kids at St. Jude Children's Research Hospital.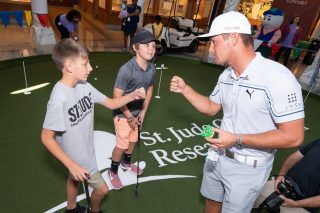 A star-studded array of golfers and other athletes, entertainers and influencers, are calling on their social media fans and followers in the Birdies for St. Jude fundraiser during this week's World Golf Championships-FedEx St. Jude Invitational.
Participants can make a one-time donation or pledge an amount for each birdie their favorite player cards during the WGC-FESJI.
The Birdies for St. Jude website will feature a leaderboard showing the top PGA TOUR fundraisers and create a sense of friendly competition, all while helping the tournament's sole charitable beneficiary.
Horan, a singer and songwriter and member of the pop band One Direction, tweeted his support Monday, urging his followers to "pledge to help these awesome kids."
Other celebrities on board include Rucker, a country star with a long history of supporting St. Jude, along with golfer Jon Rahm, actress Kathryn Newton, actor Pierce Brosnan, NBA player Mike Conley and former NBA star and current college coach Penny Hardaway.