St. Jude

YOU galvanizes college students to take the lead

240 collegians assemble in a virtual seminar to embrace the moment and begin leading together for St. Jude.
What does it mean to be a leader? Ask St. Jude patient and college sophomore Javon, and a few adjectives come to mind.
Confident. Encouraging. Patient. Collaborative. Papa Bear.
That last one came from his days as a high school band nerd. As section leader, Javon ensured everyone stayed on the same page, both literally with their music sheets and in a more figurative sense with their ability to work together, playing in concert for a common goal. Hence the term of endearment.
Papa Bear, err, Javon, recently chatted with fellow childhood cancer survivor Vivian as he met up with 240 other college students from around the country for St. Jude YOU. He shared his experience as a St. Jude patient and how that journey led him to where he is today: On a band scholarship AND the dean's list for a second time.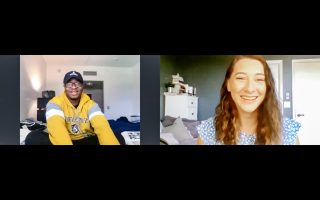 St. Jude YOU, formerly the St. Jude Collegiate Leadership Seminar, virtually presented this newest generation of college students the opportunity to embrace their individuality while also "Leading Together for St. Jude."
Taking the lead is something Javon has been doing for most of his life. Diagnosed at age 2 with acute lymphoblastic leukemia, Javon had to grow up quickly as he went through treatment. Years later, but still a child himself, Javon helped guide his little sister through the same diagnosis. Their mom, Lisa, was also a St. Jude patient as a child, also with an ALL diagnosis.
So to say Javon knows St. Jude may be an understatement. How he's been able to use that experience has been the latest chapter of his journey. He doesn't know quite what to call himself in this latest role: A St. Jude representative, patient or ambassador?
He settles on guide.
He's leading fellow students through the St. Jude mission, inspiring them with his story and empowering them to act with urgency and compassion.
And act they did. During the two-day St. Jude YOU seminar, attendees also heard from Olympic gold medalist Laurie Hernandez, who kicked off the largest ever virtual St. Jude No More Cancer Rally. The seminar raised more than $50,000 for the kids of St. Jude.
Javon, who used to downplay his St. Jude experience, now proudly bears what his friends call his "warrior scars" to show what challenges he has overcome.
He's living up to his Papa Bear nickname as well, encouraging others to use their own voice in concert with others to lead together for St. Jude.