Despite pandemic, World Golf Championships volunteers continue to support
St. Jude
Although the pandemic will keep most WGC-FedEx St. Jude volunteers off the course this year, they continue to raise money through the Hours for St. Jude program.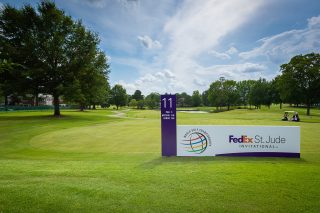 Michael Spano never got paid for all those hours he spent toting a sign across a golf course, but he'll still miss what he wistfully calls "the best job out there."
Like most of the 1,800-plus volunteers who would normally work the World Golf Championships-FedEx St. Jude Invitational, Spano will be sidelined during this year's tourney. With spectators banned because of the COVID-19 pandemic, his volunteer job bearing a sign displaying updated players' scores is considered non-essential, meaning he won't be allowed on the course.
But one part of Spano's tournament week will remain relatively unchanged: Raising money for St. Jude Children's Research Hospital. Through a program called Hours for St. Jude, presented by BlueCross BlueShield of Tennessee, he and other volunteers are collecting thousands of dollars by setting up their personal fundraising web pages and asking friends and family members to contribute.
"It's a good program," Spano said. "The best ideas sometimes are so simple, it's mind-boggling."
Launched in 2013, the program had raised a total of $1.4 million through last year, and donations this year had surpassed $226,000 two days before the start of the tournament. Spano, now in his 24th year of volunteering, has raised nearly $11,000 in 2020, most of which came in the form of a $10,000 donation from UNICO, the largest Italian-American service organization in the U.S.
The secret to the success of Hours for St. Jude is partly timing – it's a good mid-year reminder for donors – but mostly the personal nature of the fundraising, Spano said.
"People can see a commercial on TV all day long and never pick up the phone and make that donation. But if one of their friends calls them … people will get motivated to make that donation."
An avid golfer, Spano looks forward to seeing the tournament – or any sports, for that matter – on TV. But it won't beat the experience of walking alongside the best players in the world and watching their often dazzling shots.
"Because I do love the sport, there's nothing better than being able to walk the whole golf course, be part of the action," he said. "You're really 15-20 feet from the best players in the world."