"I am here with one purpose—to cure my son."
Mothers of Ukrainian cancer patients at
St. Jude

Children's Research Hospital speak of their heartbreak and hope.

March 25, 2022 • 3 min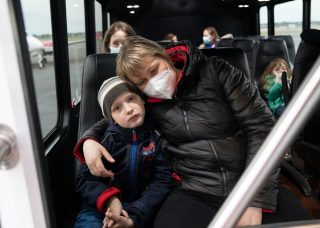 Natalia does not sleep well. At night, she keeps her Ukrainian cell phone on, listening for the ding of an app warning her of an imminent air raid. It's the way she connects with the other half of the family she left behind when she and her 8-year-old son, Bogdan, were evacuated to St. Jude Children's Research Hospital so he could resume cancer treatments.
"I'm scared every time I get a text message," Natalia said of the decision to leave her husband and two teenage daughters behind in their western Ukrainian hometown. "We are away from war, away from Ukraine. My son is safe. However, my soul is hurting. My heart is breaking for my children back at home."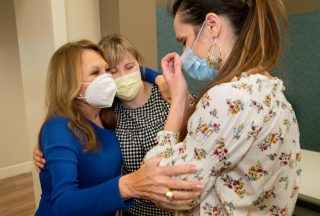 "Now I am here with one purpose—to cure my son," she said through an interpreter.
Natalia is among 10 family members who came to St. Jude with four children with cancer to resume treatments disrupted by the Russian invasion of Ukraine. The kids, ranging in ages from 20 months to 8 years old, are among more than 730 critically ill children who have been moved to safety to continue care over the past four weeks in a humanitarian effort known as SAFER Ukraine. St. Jude has played a key role in this effort from the outset of the war.
The evacuees have been gradually placed in advanced cancer treatment centers, first throughout Europe, and now in Canada and the U.S. The group arriving at St. Jude were the first to reach the U.S.
Natalia's hometown is near an airport and a factory that produces military equipment. Both were frequent targets by Russian forces, and she and her family scrambled to safety in their basement often, she said.
In the lobby of Tri Delta Place patient housing on the St. Jude campus, Natalia and another mother, Roksolana, talked of how the panic and adrenaline they felt in the war zone lingers even now, a month later. Even in Memphis, 5,500 miles away.
"It's not just hard to sleep; it's hard to move and walk in the open," Roksolana said in hushed tones cracking with emotion.
"Hard to move in any direction," she said. "We know we have come to a safe place, and still we feel truly scared."
Roksolana's family of five fled Ukraine early in the conflict, "the seventh or eighth day, I can't remember," Roksolana said.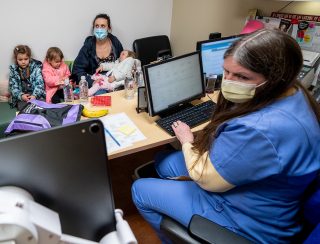 They'd waited months for the right medicines for her 20-month-old daughter, Melanya, who'd just started on the promising protocol when the invasion occurred. But the medicines Melanya needs must be stored at just the right temperature, impossible in a war zone when electricity was unreliable and out for days.
"We decided to cross the border to Poland for the sake of my daughter; she needs this medicine," Roksolana said.
When her daughter was diagnosed with cancer, Roksolana had stumbled across St. Jude online as she scrambled to find places that could treat her youngest child. "But I never dreamed I would have a chance to be here," she said.
On a rare call, Natalia tells her husband she "never knew such a place like this exists." Their son moves from room to room for scans and exams without fear or hesitation, she tells her husband incredulously.
"I keep saying if he knew a little bit of English he would have friends all over St. Jude. The love, care and support we have gotten here mean so much to us."
St. Jude has spent the week evaluating the Ukrainian patients' treatment needs, settling families into housing, and providing them with psychological support and counseling to help address social, emotional and cultural needs as they begin to rebuild their lives so far from home. St. Jude educators are also developing school curriculum for these patients and their siblings.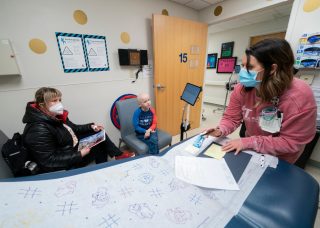 The families' evacuation to the research hospital in Memphis was a result of round-the-clock coordination by St. Jude and ALSAC, the fundraising and awareness organization for St. Jude, working alongside a long-established network of hospital and foundation partners. Each of the evacuated children and families made harrowing journeys, fleeing bombed villages and ravaged city centers in secret convoys that ferried them to safety in nearby Poland where they were evaluated, then moved on to hospitals that agreed to continue their treatment.
Marlo Thomas, St. Jude National Outreach Director and daughter of St. Jude founder Danny Thomas, praised the families' resilience and courage.
"You are the reason why we built this place; This is for you," she told the mothers. "I'm in awe of what you've done, of the bravery you've shown."