Meeting four young Ukrainian cancer patients has renewed my soul
I was a refugee from Ukraine 31 years ago. My welcome to the young evacuees from my homeland at
St. Jude

: You're safe now.

March 24, 2022 • 3 min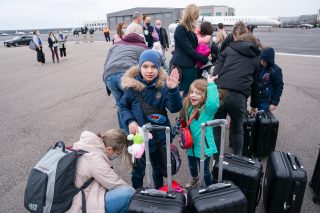 Yuri Yanishevski, an IT Director at ALSAC, the fundraising and awareness organization for St. Jude Children's Research Hospital, was at the airport to meet the first Ukrainian children with cancer arriving at St. Jude. Acting as translator, Yuri, in their native language, assured them they were safe. This is his account.
I nervously climbed the steps to the small plane that had just landed at Memphis International Airport, bringing the Ukrainian families to St. Jude.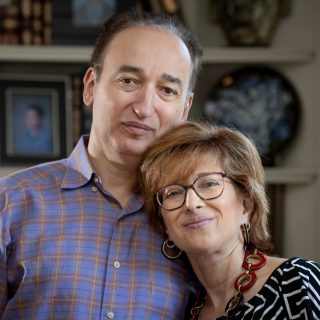 Until this moment, children like the four aboard had been only stories I imagined from the scenes abroad. My wife, Lana, who's a pediatrician, and I have been volunteering with St. Jude Global as translators.
We had worried and wondered, and now I would meet four young patients, ranging in age from 20 months to 8 years old, accompanied by their moms, mostly, and siblings.
They wore their journeys on their faces.
Each of the patients had run out of medicine and holed up in damp basements of hospitals in Ukraine, bombs dropping around them, before making panicked, treacherous trips to safety in Poland.
On Monday before dawn, they left Unicorn Marian Wilemski Clinic, a Polish triage center where St. Jude and Fundacja Herosi work with partners in Poland, Ukraine, and across Europe to ensure the safe passage of every child. The families boarded a U.S. government-operated medical transport aircraft at 5 a.m. and flew 5,000 miles, before finally touching down in Memphis. For most, this was first time they'd flown on an airplane.
Lana and I made a similar journey 31 years ago when we left Kyiv, then part of the former Soviet Union, emigrating to the U.S. I remembered what it felt like to be in a strange new place so far from all the things we knew.
Now I was among a dozen people from St. Jude and ALSAC to meet the families. Some parents cradled sleeping children.
I stayed close to Erica Sirrine, Director of Social Work at St. Jude, and repeated her greeting in Ukrainian:
I want to officially welcome you to the United States!…We want to ensure you and your children feel safe and have everything you need."
Their faces lit up as they heard me speak in the language of their homeland. I had been silently practicing my Ukrainian, which had grown rusty over decades. I asked if they understood Russian and they nodded that they could. I promised they were safe.
We gathered their luggage and helped them off the plane. I stayed by the stairs, worried someone might fall because they were so exhausted, and one mother held her child in her arms. The time difference meant it was close to 1 a.m. for them.
We'd brought a box of water, fruit and snacks, but to my surprise they did not take any.
On the shuttle bus to St. Jude, I handed out water bottles and told them in Ukrainian, "Guys, you were on the flight and you get dehydrated on the flight, so please drink water." The children reached for Oreo cookies.
The drive to St. Jude was just 15 minutes. I reassured them, telling them they had only to worry about their children. Everything else would be taken care of.
At St. Jude, more people helped register the patients before they were checked by medical staff. One little boy, almost 2 years old, cried in his mother's arms. I went from family to family, my arms filled with their toys, stuffed animals and pillows in the hopes of offering comfort with familiar items.
They all seemed under a cloud of utter exhaustion.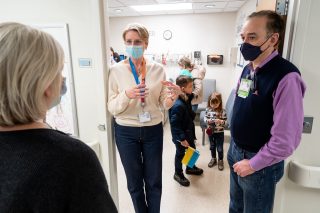 By 9:30 p.m., we took the families to Tri Delta Place, a patient family housing facility on the St. Jude campus, helping with luggage and keys and showing them the white noise machines that would mask the strange sounds of a new city.
The children seemed wide awake now and rushed to play with the toys and art supplies on shelves in their rooms.
One girl, about 4, roughhoused with her brother, about 7, who giggled and called out, "Help me! Help me!"
I laughed, marveling at the resiliency of children.
It was close to 10 p.m. when I got to my car and that's when my emotions began to hit me. Before, I had been operating on adrenalin, not feeling anything.
I called my wife who already was making plans to bring the families borscht, a popular soup in Ukraine. She'd wait up for me to hear more.
From the early days of the war, we watched helplessly as the Russians invaded our homeland, horrified by the destruction and the brutal attacks on civilians. It helped to volunteer. To feel useful. To make a contribution.
But helping these families at St. Jude does even more.
It's saving our souls.
When I am helpless, I feel darkness filling me on the inside, and frustration and depression.
When I can help, there is light that is coming inside, and the darkness goes away.