One mother's actions aimed at improving childhood cancer treatments across Mexico
After her daughter was treated at
St. Jude,

Claudia Blanco vowed to provide better care for other kids back home.

May 26, 2022 • 9 min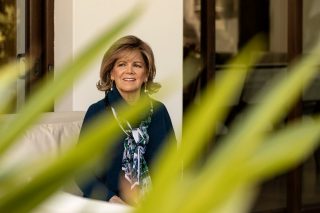 English | Español

Claudia Blanco was 7 years old and had never seen snow.
It was almost Christmas, 1994, and her family's bags were packed for a trip to Pinetop, Arizona. Claudita — little Claudia, as the family called her — was the youngest of five and her mother's namesake. She was tense with excitement, ready to trade the Alamo trees and balmy weather of her home in Culiacán, near the western coast of Mexico, for Ponderosa pines and a wintery wonderland high in the White Mountains.
But Claudita's grandmother noticed something about the little girl. She ate as much as the big kids but seemed emaciated. Claudita tumbled in gymnastics and pliéd in ballet, yet her skin was noticeably pale.
At school, Claudita had fallen playing hide and seek under some construction materials. She knew she wasn't supposed to be there, but it was too tempting a hiding spot. The cut on her chin needed stitches, but the one on her knee wasn't as deep. Yet somehow, the cut kept bleeding.
Claudita's aunt, a pediatrician, insisted Claudita be taken for bloodwork. If she was anemic, high altitude could be dangerous.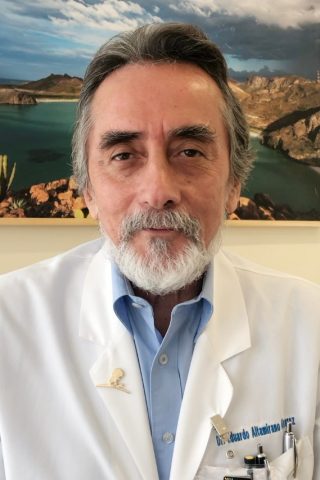 Claudita's doctor found she was anemic and had a high white blood cell count — a sign there might be a problem with her bone marrow. She also had purplish spots on her neck.
Claudita needed a pediatric oncologist, but this was 1994, and there weren't many in Mexico. The Blancos found one named Dr. Eduardo Altamirano.
Claudia, Claudita's mother, noticed how rundown the hospital looked. Doctors were skilled, but all she saw in the makeshift ward were dark stairwells and dirty sheets.
If the family stayed in Culiacán, there was no guarantee the hospital would provide chemotherapy. And the Blancos might've had to find — and buy — everything from IVs to cotton balls to support her treatment.
Claudita had acute lymphoblastic leukemia. They weren't staying.
When Dr. Altamirano arrived in Culiacán in 1988 to set up a pediatric oncology unit, there was no chemotherapy, antibiotics or equipment — not even a blood bank. Practically nothing to treat children with cancer in any comprehensive way. Even pediatricians there believed children with cancer would simply die. Change had been slow, despite his best efforts.
When Dr. Altamirano was a pediatric resident, he'd seen Dr. Donald Pinkel, the first director and CEO at St. Jude Children's Research Hospital in the United States, speak at a conference. It was the first he'd heard of the hospital's reputation for successfully treating kids with cancer. There was a doctor in Mexico City who'd done a rotation at St. Jude. She'd know who to call for a referral.
St. Jude accepted Claudita as a patient.
Since it was so close to the holiday, she'd fly on December 26. The Blancos celebrated Christmas in Culiacán.
"She was beginning to have a bit of fever," her mother remembered. "And she didn't understand how the suitcases where she had put everything for the trip to the snow — I was changing them to go to a place I didn't know."
Claudia worried. But she didn't focus on the "why," but the "what for?"
A strange city and a familiar saint
That answer wouldn't come until years later when she was back in Culiacán, long after their time at St. Jude.
The Blancos arrived in Memphis late on Dec. 26. They got lost using a paper map to find the hospital. But when they finally arrived, Claudia felt as if she'd stepped into the lobby of a five-star hotel. It was clean and bright, with signs directing patients.
And there was the statue of St. Jude Thaddeus, the patron saint of hopeless causes. Claudia's grandmother had a deep devotion to him, and Claudia kept his holy card.
"What better way to have him," she said. "To be at a hospital named after St. Jude."
The first big decision Claudita had to make was whether to have a central venous line. She wouldn't get stuck with needles all the time for chemotherapy, but it also meant she couldn't be in the water. She loved the pool, so she decided against it.
Chemotherapy was hard, and so were bone marrow aspirations. Claudita fought with her mother because she didn't like milk but she needed to drink it for the calcium.
Friends back home asked Claudia what they could do to help the family, but the Blancos had all they needed at St. Jude. Claudia asked them, instead, to support families at their local pediatric hospital. They went, but so many children died, they didn't want to go back.
They would support her with whatever she needed from home. "'But don't ask (us) to go there,'" they told her.
Children with cancer in Culiacán deserve to live, too
"And that was when I felt even more that we had the need to support the hospital."
Around the start of Claudita's treatment at St. Jude, Dr. Altamirano began to draft articles of incorporation — first by hand and then on a typewriter — for a group that could raise money for children with cancer in Culiacán. For years, he realized that going to conferences meant nothing without funding.
"Association" was a bit too formal, he thought. After all, they really were a group of friends. A friend who owned a print shop. An accountant friend. Dr. Altamirano also invited Oscar Blanco, Claudita's father, a businessman. Oscar and Claudia had large, prominent families in Culiacán. They'd offer support, too.
Dr. Altamirano called it Grupo de Amigos de Niños Afectados de Cáncer — Group of Friends of Children Affected by Cancer. GANAC, for short.
Their first office was a tiny room in the hospital. They'd focus on buying chemotherapy drugs because that was the most urgent need.
The fundraising staff works hard to receive donations for children and youth with Cancer in Sinaloa on Monday, January 3, 2022.

Oncology patients in classes with teacher Magaly before going to their doctor appointment at the Pediatric Hospital of Sinaloa on Monday, January 3, 2022.

Patients are treated by the best Pediatric Oncologists in the state such as Dr. Echavarria at the Pediatric Hospital of Sinaloa on Monday, January 3, 2022.

Dr. Daniela Arce, a St Jude-trained pediatric oncologist, on her way to see her patients on Monday, January 3, 2022.
It was a start.
By the end of 1995, Oscar was still traveling back and forth to Memphis so he couldn't commit to the cause full time. And Claudia was in Memphis, too, with their other children while Claudita continued treatment.
Over the next two years, GANAC held fundraising runs and made connections with partners and other foundations. Little by little, this group of friends gained more sponsors.
Meanwhile, Claudita slumped along in treatment. She developed severe osteoporosis, broke one ankle, then the other, then the first one again. First, she walked with crutches and was later confined to a wheelchair. She couldn't walk for a year and was sometimes terrified to try. Instead, she crawled.
Some tears were from pain but mostly from fear she'd break another bone.
But Claudita was improving. She would survive. The Blancos were so thankful they wanted to give other children in Culiacán the same chance their daughter had.
"We longed to do something," Claudia remembered. "A project … on something. But look, God sets things up for you, for something and toward something, right? I'm so glad that I focused on: For what are we living and going through this part of our lives?"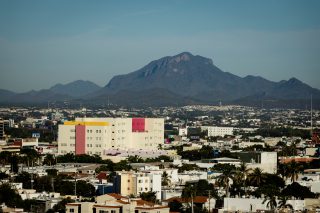 It wouldn't be long before her answer became clear.
By June 1997, Claudita was in remission, and soon the Blanco family headed home.
Shortly after their return, with Claudita feeling well, Claudia began volunteering at Hospital Pediatrico de Sinaloa, the same place her daughter was diagnosed with cancer.
She became fond of a little girl, maybe 5 or 6 years old. She wasn't shy or embarrassed like some of the others. One afternoon, after they'd been playing, Claudia left to talk to a nurse.
"All of a sudden, I heard this girl who had been smiling, laughing out loud with me, crying out in pain — such a wail — so I asked, 'What happened to her?' And that was when they told me: 'We just did the marrow aspiration on her, and so...'
So?
"'No,' she says. 'It's without anesthesia. We don't have it.' "
Claudia ran out of the hospital, haunted.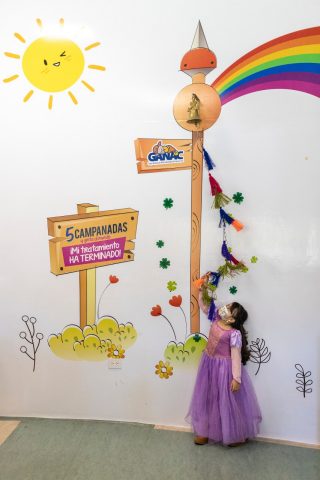 "Oh, God," she told herself. "This can't be happening. It can't be that in 1997 I'm seeing this in a hospital."
Claudia felt angry, powerless and a great sense of injustice. She told her family what she'd witnessed and then everyone she knew.
"This is it," she told herself. "Now, I understand that I have to work hard and raise money to be able to equip the hospital."
Claudia had always volunteered. This mother who'd gone to school to be a kindergarten teacher had walked the streets with a donation can for the Red Cross and wielded a brush when the church needed a new coat of paint. But this was different. Doctors had little more than the basics. They needed an anesthesia machine, chemotherapy drugs. The need seemed endless.
"It was inconceivable," she said. "I couldn't believe one could ask for — raise — so much money. … But I also realized I couldn't stay in my comfort zone, just volunteering and leading other volunteers."
Not long after Claudia witnessed the young girl's suffering she was invited to a religious retreat. She listened to a priest talk about how hard his work was, how discouraged he became at times.
She felt the same way, she told him.
But she confessed: "I feel that there is so much to do, but I don't know how to get it done. … How am I going to get this money? My husband told me, 'Well, it has to be asked for.' And I said no, I'm very embarrassed to ask for money."
Not asking, the priest replied, was a lack of humility.
That single comment changed Claudia's thinking.
Claudia began to see the heartbreaking moment with the little girl and the conversation with the priest as not as coincidencias but Diosidencias. That is, not coincidence, but Providence.
Not the why, but the what for?
They would raise the money for that anesthesia machine so no child would ever again have to suffer the pain Claudia witnessed in the little girl during a bone marrow aspiration.
GANAC raised half the money and another organization put up the other half —$20,000 to $30,000 U.S. dollars. The state-of-the-art machine was so out of place, Claudia remembered, that one doctor said it looked like a Rolls-Royce.
Improvements and impediments
GANAC began to raise more money and hired staff. The foundation also received a large donation to have a real office where people could work.
In 2000, Hospital Pediatrico de Sinaloa in Culiacán joined the International Outreach Program established by St. Jude Children's Research Hospital. The program was designed to address the global disparity in pediatric cancer survival rates by using a "twinning" model to foster one-on-one relationships with hospitals. In 2018, St. Jude Global was launched. This model, which replaced the outreach program, is focused on more regional collaboration.
GANAC also partnered with ALSAC, the fundraising and awareness organization for St. Jude. The best healthcare fundraisers in the world have trained their staff how to raise money at home, themselves.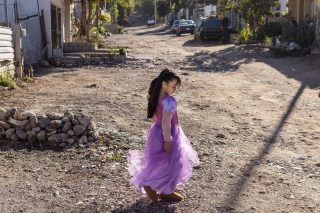 Since its humble beginning as that first group of friends who wanted to help children with cancer in Culiacán and all 18 municipalities of the state of Sinaloa, GANAC has grown exponentially. Today, the foundation provides funding for medication, patient care, transportation, and housing. It also supports the hospital by funding medical equipment, supplies, professional training, and salary support for medical oncology staff.
GANAC also works with the local school system to raise awareness about the early signs of cancer.
"Donors, they place a lot of trust when we say that we have an agreement with St. Jude," said Asminda Zazueta, GANAC's director. "Donors are assured that their social investment is really going to be invested well."
But the needs of children with cancer in Culiacán remain vast.
For several years, the government offered a federally backed health insurance program that covered chemotherapy drug costs, but it is no longer available under the current administration. So GANAC now must cover those costs in full again in addition to everything else.
'Never have I felt so satisfied and happy'
"If it weren't for the donors who trust in GANAC, the children wouldn't have their chemotherapy," Asminda said.
For decades, the Blancos have dedicated their lives to the hope and care of children with cancer in Culiacán and all of the state of Sinaloa. Claudia is less involved in GANAC's daily work these days because of her own cancer diagnosis, though she's still the driving force behind the operation.
Her commitment to the cause is an inspiration to staff, Asminda said. Claudia often reminds them to stay close to the families.
Claudia has watched all five of her own children grow to be happy and healthy. Claudita got to experience snow for the first time in Memphis — just a month after they arrived for treatment. Now, Claudita is married and has two children of her own. All of Claudia's children, in some way, are dedicated to GANAC.
Claudia doesn't see the foundation as her legacy but rather a good example to leave her children about the gift of service.
"As we say, we don't take anything with us the day we leave this world," she said. "What better than leaving your children with a good example rather than words?"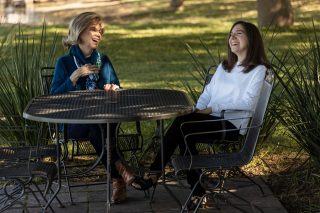 Despite the continued difficulties children with cancer face in Culiacán — and her own health struggles — Claudia has reason to be encouraged.
"I have a great team, there at GANAC, with great willingness, drive and enthusiasm to work," she said. "I admire and respect them. Never have I felt so satisfied and happy."
And still, she looks for Diosidencias, not coinsidencias. Providence, not coincidence.
Never the why, only the what for.
Postscript: Claudia remained a driving force behind the GANAC operation even after she herself was diagnosed with cancer. She died in August 2022 after a long battle with the disease. Claudia's commitment to the cause remains an inspiration to staff.
St. Jude Global launched in May 2018 to train clinical staff in hospitals and clinics around the world, share cutting-edge research, and strengthen partner health systems so even more children receive quality care across the globe. At ALSAC, the fundraising and awareness organization for St. Jude Children's Research Hospital, we teach foundation members of The Global Alliance best practices in fundraising, marketing and communications. There are more than 140 hospitals and clinics, and more than 56 foundations in 50 countries that participate.
For more information about the GANAC Foundation, visit https://ganac.org.mx