Partner foundation in Moldova helps evacuate Ukrainian kids with cancer despite fears for their own safety
Without time to ask 'how, when and how much,' two Moldovan women rushed to join the humanitarian effort when
St. Jude

called for help.

May 18, 2022 • 5 min
Irina Bordeianu's bags are packed, waiting by the front door. Clothes, first aid, food.
It's all ready in case the Russian military crosses the Moldovan border with troops and bombs.
For two months, Irina and Natalia Vilcu at Life Without Leukemia — a non-profit that serves children with cancer in Moldova — have been coordinating the evacuation of Ukrainian children with cancer.
And all that time, they've worried about their own safety and whether they'd eventually have to evacuate Moldovan children to other countries, too.
"I don't know what I will decide in this situation," Irina said. "I understand that we must help all our children here in Moldova. … These patients really need our help, and nobody will help them if we will go and don't do this."
Poland has received much of the international attention for its efforts in evacuating children through the Unicorn Marian Wilemski Clinic, a triage center where hundreds of kids and their families have arrived in convoys before making their way to hospitals across Europe and North America.
It's part of SAFER Ukraine, a humanitarian effort organized by St. Jude Children's Research Hospital that has helped ensure the continued care of more than 1,000 children. St. Jude has leaned on long-established global partners in the region, including Natalia and Irina, to get children to safety.
A joint team of colleagues from St. Jude Global, together with partners at ALSAC, the fundraising and awareness organization for St. Jude, initially appealed to them for support.
Without fanfare, Irina and Natalia have done their part. So far, they've helped evacuate 40 children and their families so treatment can continue.
"It is my first experience as part of this humanitarian chain," Natalia said. "Because it is a chain. … We do not have doctors. We do not have hospitals. But we can at least take those persons from the disaster and provide a safe route to better hospitals."
War so close they could hear it
When Russian bombs hit the city of Odessa in the first days of the war, Natalia could hear the explosions — 100 or so miles across the border from her home in Chișinău, Moldova.

It was like hearing distant thunder with no sign of rain.
Natalia met with a local doctor. If children with cancer fled into Moldova, she thought, could the cancer institute in Chișinău help?
"They started to figure out how many beds they have, how many doctors they have, how many medications," she said.
Then someone from St. Jude called to see if Life Without Leukemia and local doctors could assist pediatric cancer patients and their families in Moldova.
"We understood that there is no time to think how, when and how much," Natalia said. "It was important for us to provide a response."
Early on, 10,000 to 15,000 refugees were crossing the Moldovan border a day. There were not stadiums arranged yet for refugee shelter. And it was cold in late February.
"There were like buses at the border who were taking people to Chișinău," Natalia said. "And during that time, the volunteers (were) asking: 'Can you host one family? Grandmother, mother and two kids. Or can you host like two teenage girls, a mother and one dog? Can you host like a grandmother and a very nice cat?'"
Everyone was helping. Not only the Moldovan government, but ordinary people who traveled to the border to help with transportation, food, medicine, clothes. Some Moldovans hosted families in their own homes.
"In this situation I was very happy about the kindness of our Moldovan people because all our citizens tried to help all they can," Irina said.
Even those suffering economically themselves gave the last of their bread to refugees.
"It shows me that in our world exists kindness, and everything will be OK because we are together, we can help, and we have big hearts," she said. "And this world can be saved."
But parents with sick children who need cancer treatment required much more than that. They needed to know where to go. They needed to be assured that if they crossed the border their children would be treated.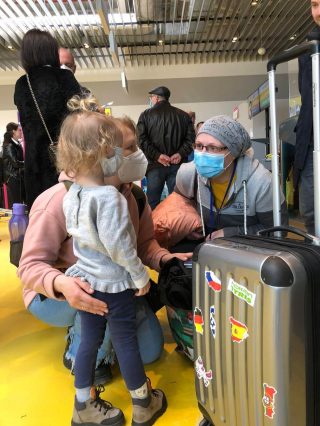 Irina created a banner to post on social media apps where Ukrainians were looking for information about food, shelter and healthcare. Life Without Leukemia is such a small organization they couldn't send anyone to the border. But their phone number was on the banner for parents to find. It was published on official websites created by the Moldovan government and on leaflets distributed to refugees.
Families in Ukraine started calling. They needed emergency transport for their children at the border. Irina and Natalia — on the phone day and night — arranged it all.
Natalia helped one father navigate Ukraine as he fled with his son who has a brain tumor. He'd already called hospitals in Europe, but he needed help to get there once they crossed the border.
Natalia was on the phone with the man for three days. Providing information. Constantly asking where they were.
The family's car broke down in Dnepropetrovsk, so they had to take the train to Odessa. But the young boy wasn't feeling well. He needed a doctor to come to the railway station.
"After 8 o'clock, it was very dangerous for the cars to circulate," Natalia said. "But they managed to give this medical help. And they stabilized him until he got safe to Odessa. And then in Odessa, they just switched the cars. And they came to the border."
The family made it to Chișinău and went on to Germany where the boy is receiving treatment.
Irina and Natalia organized food and found housing for all of the families — for some, hours away from the capital. Irina stayed in the hospital overnight with one cancer patient who had a health crisis. Irina's husband drove half the country delivering families to short, safe-haven stays on their way to the next stop.
Natalia's father asked if she realized how dangerous the operation was and whether she fully understood the enormity of the responsibility.
"I thought, 'Yeah, Natalia. What are you doing? Do you have a solution if someone might need medical help?' Of course, I had. Of course, I had. But I prayed it will not be necessary. And it was not."
Both Irina and Natalia know what it's like for a family to receive a childhood cancer diagnosis. Irina's 11-year-old daughter finished treatment in 2015 and has been cancer-free ever since. Natalia's son died of cancer in 2019. He was 13 years old. They offer words of encouragement and comfort to Ukrainian families that are worried their children need to find treatment fast to survive.
Recent Russian military advancements have put the women on edge about what's next. So have recent mysterious bombings in Transnistria, the Moscow-aligned separatist region in Moldova that borders Ukraine.
Some have fled that region to Chișinău, the capital.
Natalia will never leave Moldova, she said, even if war comes. Even if it means her husband and 16-year-old son are called to fight. The son who was the twin of the one she lost to cancer.
"I try to be optimistic that this catastrophe will not spread," she said.
Irina's plans to flee change by the day, sometimes the hour. There's something about having bags packed and ready at the door — a psychological trick of sorts. They're ready if the time comes.
But if the Russian army does invade, she won't leave until every Moldovan child with cancer has made it to safety. She can't.
"Nobody will do it if we won't," she said.
For more information about the Life Without Leukemia foundation, visit viatafaraleucemie.md.