'We wanted to give back'
St. Jude

helped Memphis school kids by providing science instruction. Now these students are helping the kids of

St. Jude

.

September 15, 2023 • 2 min
In Cheryl Lacy's lab at Whitehaven Elementary STEM School in Memphis, the fifth graders are building a prosthetic hand with everyday materials, such as pipe cleaners, tape and a hand cut from posterboard. STEM schools emphasize science, technology, engineering and mathematics knowledge through specialized learning opportunities.
"What do you notice?" Lacy asks them.
"What do you think about that?"
"What does that make you wonder?"
This is one of the activities provided by St. Jude STEM Club, designed to help the children learn more about the prosthetic devices used to help kids who might lose a limb to bone cancer. The St. Jude STEM Club is conducted in partnership with Shelby County Schools, an urban school district that encompasses Memphis, where St. Jude Children's Research Hospital is located. The club teaches kids about pediatric cancer research.
Lacy calls her students "innovators," and says, "You will be amazed," by the things they can do and the connections they make when given the hands-on tools and the time and space to learn.
The same goes for nurturing kindness, she said. You give them the space and hands-on way to make it grow and watch what happens.
That's why her school does an annual fundraiser for St. Jude where each child gives a dollar donation and in exchange gets to forgo wearing their school uniform for the day.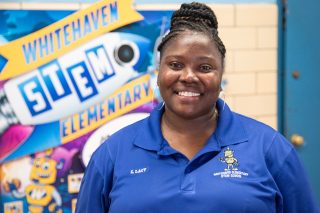 "Instead of St. Jude giving to us, we wanted to give back," said Lacy. "And as my principal said: What better way to show love than children helping children?"
The event takes place on Valentine's Day, so the kids are encouraged to wear red and pink.
Lacy helps ensure each child can take part in the fundraiser and encourages their innovation.
"We're trying to instill that knowledge of empathy and consideration. The love," said Lacy. "You don't have to know these people to help these people. We're trying to instill all of that in our innovators here.
This past Valentine's Day, more than 300 kids at Whitehaven Elementary STEM School wore shades of red to show their love for St. Jude kids.
"It gives kids a feel-good feeling to know they've given back and helped someone out," said Lacy. "It's a tail-wagging feeling that helps them stand a little taller. And that's really what it is. You feel good about helping people."
What to start your own
St. Jude

fundraiser or know someone who might?