13-year-old Chicago artist on mission to help
St. Jude

kids, one painting at a time
Arsh Pal uses art to foster hope and healing and support his charitable giving.

September 15, 2023 • 4 min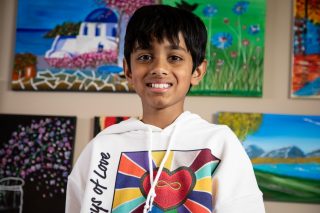 Arsh Pal takes his own publicity calls. His mom, Divya Pal, schedules them. She drifts in and out of the room as he talks on the speakerphone, chiming in if she needs to, but mostly tending to things around their house.
He's answering questions about two passions of his life: his paintings and St. Jude Children's Research Hospital® — just as he's done in dozens of interviews in the past year since winning a prestigious Diana Award for his charitable efforts.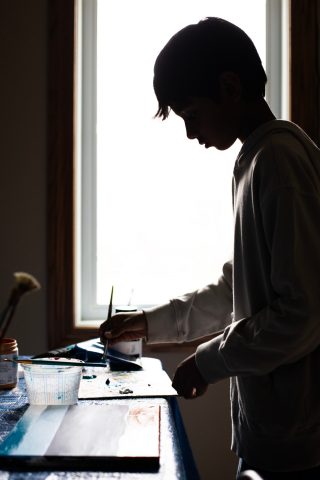 Yes, that Diana, the Princess of Wales.
"I am very proud," said Divya. "He's using his skills and talent, and every little bit helps."
Nearby, in Arsh's art studio, an abstract painting sits on an easel to dry. It depicts a blazing orange sun offset against a dark blue sky with multiple layers of acrylic paint adding texture and mood. The day before, he and Divya had posted a video of him painting this scene on his Art By Arsh Facebook account with this caption: "Keep trying until you are happy with your art!! There is no right or wrong way."
That's so Arsh: always passionate about art, always using it to encourage.
For the past five years, Arsh has been selling his artwork to help people everywhere, including St. Jude kids.
"I decided to donate the money to St. Jude because St. Jude is run with donations, and it helps kids with cancer, so that really stood out to me," he said.
His first donation to St. Jude, when he was 8, was for $1,000.
He's donated $1,000 to St. Jude every year since then, until this year when he decided to take part in something even bigger.
A shared humanity
Arsh shares the story of how, on his eighth birthday, his family gave him acrylic painting supplies and he became obsessed with the medium, producing painting after painting. He found endless inspiration in nature and the world at large, including the downtown murals near his then-home in Dubuque, Iowa. The family has since moved to Chicago.
"One day, I had the idea of selling my paintings," said Arsh.
At around this time, Divya started bringing Arsh with her to her job as an occupational therapist at a nursing home so he could help with the activities.
As Arsh was leading the residents in a painting tutorial, he noticed the attention he showed them as they created their paintings of a simple landscape scene, brought them joy.
"We can all be learning the same simple thing, like a mountain or a cloud, and the activity makes us happy," said Arsh.
The moment affected Arsh deeply, and something clicked: He realized the residents, though decades older, had the same desire for connection and fun that he did. But he also saw that sometimes they were hurting and lonely.
Heavy thoughts for an 8-year-old.
"That made me want to help someone," said Arsh. Someone else who was hurting.
Remembering how he'd wanted to sell his paintings, he thought, "You're too young to earn money, but this is the way you can support someone, using your talents."
Families helping families
Arsh and Divya often paint side by side.
"She just teaches me different techniques, and I just learn with her," said Arsh.
Arsh often works on four canvases at once, so while one canvas dries he can add a layer of primer or paint to another. He works mostly in acrylics but said he loves new mediums, such as resin.
"You can be free with art," said Arsh. "You can make mistakes, and it doesn't matter because you can always just paint over it."
Some of his paintings are breathtakingly good.
Arsh has taken virtual marketing seminars to help him sell art. "A lot of things are behind it," said Arsh, "and it's a lot of work." He said he believes these skills will help him throughout life.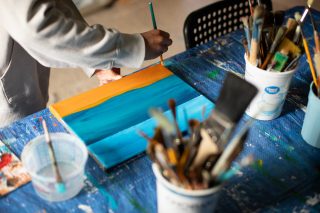 Divya has been his pressure-release valve, taking the harder things off his shoulders so he can focus on creating the art itself.
"She's kind of my manager, actually, because she's handling a lot of things. She created my Facebook account and Instagram page, and she takes pictures. And she handles, like, the meetings and emails and a lot of different things," Arsh said. "Without her, I really can't do it."
Divya said that's OK because she knows how blessed her family is to have their health, and her heart goes out to St. Jude families.
"Being a mom, too, I can completely see what a St. Jude family could go through," said Divya. "Supporting them is the least we could do."
Arsh recently received an award for his art talent from International Star Kids Awards. It included a recognition of his mentor: his mom.
Saving somebody's life
Late last year, an artist from Los Angeles named Ehsan contacted Divya through Arsh's Facebook page after seeing his story.
"He reached out and was like, 'Hey, do you maybe want to do a painting together where we can raise money for St. Jude?' And I'm like, 'Yeah, why not?'" said Arsh.
The painting is called "Rays of Love."
"It's like a heart with different colors coming out of it," said Arsh. "And it was a really exciting project, and I'm happy we did it." Now, their collaborative painting will be auctioned and could raise a great deal for St. Jude — meaning Arsh can help more kids through his paintings than ever before.
"It can be really painful for them to go through all that treatment, and I know I'm helping them," said Arsh. "And it makes me feel good because I'm pretty much saving somebody's life."
What to start your own
St. Jude

fundraiser or know someone who might?