Little Lucas is 'Home from
St. Jude

' after a brain tumor threatened his life.
Family celebrates mundane again after nearly a year of treatments, 'No More Chemo' party, and emotional homecoming.

November 15, 2021 • 6 min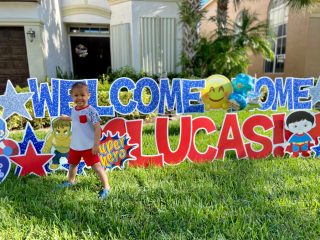 Four-year-old Lucas is napping, so his mom, Stephanie, has a precious few moments to talk. But then all moments are precious now, she'll tell you.
"Even if we're just going on a walk, it's amazing," she says. "It's not like we have to go to some big amusement park. We're literally on the sidewalk walking and it's awesome, because he's talking and he's walking, and he's running around picking flowers."
It's a late October afternoon in Memphis, two days past the No More Chemo party that traditionally marks the end of treatment at St. Jude Children's Research Hospital, when staff gather in Lucas's room to throw confetti and sing:
_Oh, we love to see you every day
But now's the time we get to say
Pack up your bags
Get out the door
You don't get chemo anymore_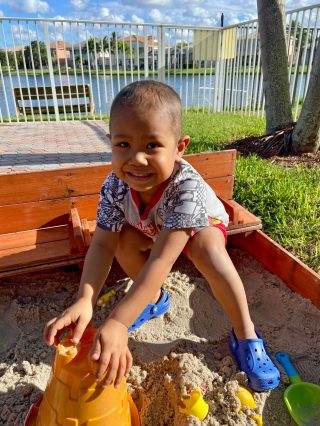 "When we had the No More Chemo party, he's like, 'Oh, so does that mean I don't come to St. Jude anymore?'" Stephanie says. "I think he was finally realizing what it meant."
So maybe the little boy, as he drifts to sleep, is dreaming of fishing with his dad, and that time he caught a one-pound bass all by himself. Maybe he's thinking about taking little brother Noah for a spin in his little yellow Power Wheels truck. Or playing with their cousins who live across the street.
Maybe he's dreaming of that magical, faraway place called home.
Yes, Lucas is finally going home after treatment at St. Jude for medulloblastoma, a brain tumor of the cerebellum. After spending most of 2021 so far removed from everything he'd ever known. After 30 radiation treatments and seven cycles of chemotherapy. After port placement surgery, sedations, six MRIs, five lumbar punctures and, in his mom's words on a social media post chronicling it all: "More than any child his age should EVER have to endure."
After all that — and short-term side effects from hair loss to fever to neuropathy in his fingers, legs and eyelids — Lucas and 2-year-old Noah and their parents, Stephanie and Amgad, are going back to Florida, to family and friends, to the simple pleasures of life, like …
Toys. That's what Lucas misses most.
For mom, it's her own bed. And her grocery store, she says with a laugh.
Ah, the little things that make home home.
"But I think seeing our family," she says, "will probably be the biggest thing."
And dad?
"I think what I look forward to is seeing my kid smiling and happy," Amgad says. "That's priceless."
Home is comfort and sanctuary and the glorious mundane. Home is quiet time, a sigh at the end of a workday. Home is the four-part harmony of family laughter around the dinner table, or in front of the TV, or out for a walk.
"Usually in the evening we like to do stuff outdoors," Stephanie says, painting from memory a picture of home. "We live on a lake. So probably fishing on the lake. The boys love that with my husband. Or going on a walk around the neighborhood.
"They just like being outdoors. We have swings nearby.
"And, of course, they love going to the neighborhood park."
But then, sometimes you can't fully grasp the glory of the mundane until it's gone.
Around Thanksgiving of 2020, Lucas was complaining of headaches. His parents thought he just wanted attention — what 3-year-old, mom thought, gets headaches? By early December, his daycare teacher called to say he was laying on the ground, complaining about his aching head. He was walking funny. He didn't want to play — what 3-year-old doesn't want to play?
An MRI was scheduled. Lucas was excited because he was going to get his "head fixed," mom says. But a 30-minute procedure stretched to two hours.
"They finally called back to the recovery room to help wake my baby up," Stephanie wrote on social media. "Once he heard my voice, he opened his eyes and asked to play with toys. Within moments, a doctor walked up and introduced herself to me as a pediatric neurosurgeon. My heart dropped. Why do I need to talk to a neurosurgeon?!"
One day you're measuring the size of the fish your little boy caught, all by himself.
The next you're being told the size of the tumor in the back of his head, and that he needs emergency surgery.
A few weeks after an eight-hour operation in a children's hospital near their home — and after a delay due to the whole family testing positive for COVID-19 — they were bound for Memphis, for months of treatment at St. Jude.
A thousand miles from home, and millions from the mundane.
St. Jude wasn't that house on the lake and Memphis wasn't Florida, but over the course of some 10 months, Stephanie, Amgad, Lucas and Noah found a second home. They found joy and made some of their own.
They all got their heads shaved in a downtown salon, in solidarity with Lucas. They discovered parks to play in. They visited a pumpkin farm, picked apples. At St. Jude, Lucas made friends with facility dogs Puggle and Huckleberry, joined in the homecoming celebration for St. Jude survivor and physician assistant Hayley Arceneaux after her historic Inspiration4 mission to space, and dressed as a Minion for Halloween.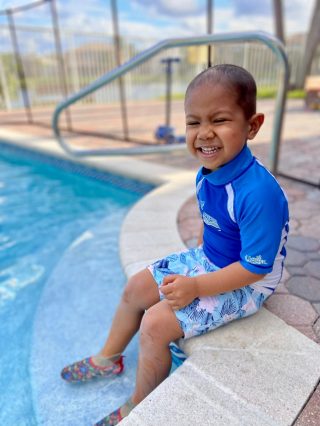 Ask the family, and they'll say what a lot of families say: It's not just the medicine that heals at St. Jude.
"We had the royal treatment," Amgad said.
Which is to say, the regular treatment.
"This definitely became our home. We were comfortable," Stephanie says. "And just everyone at St. Jude was always so nice to Lucas. He always looked forward to going there. They were his friends. Even the valet guys, he was like, 'They're my friends.' And every day he's looking for them." She laughs. "If they're not there, he's like, 'Where are they?' Oh, yeah, and if they're wearing something different, he's like, 'Oh, look. He changed his shirt.'
"He loves Puggle and Huckleberry. They were at his (No More Chemo) party, too. Every time he saw them in the hallway he would get so excited. He always talked about them.
"They've been his little pets here, and they've helped him a lot."
Think about it. Lucas has spent nearly a quarter of his life in and around St. Jude. For little brother Noah, it's been nearly half his life.
Leaving St. Jude has always been the goal, of course. Leaving is the dream, the light at the end of the turmoil. Because leaving means Lucas is healthy enough to go home.
"He's really excited, and we are, too," Stephanie says, and yet: "It's almost scary to go home, too, just to be away from St. Jude. Because it's been such a comfort here, and we feel like we're in such a bubble.
"When we got here initially, my husband and I were just like, are we in the movies? Because everyone was so nice. Everyone acknowledges you.
"It's just not normal. We're not used to getting treated like that. And, of course, over the weeks we just got used to it, and now I'm like scared to go back to the real world." She laughs and adds, "People aren't like that in the real world.
"So, I'm pretty anxious about that, even just dealing with normal people again, versus St. Jude's angels. Really, it's the truth."
But then, they're taking an angel with them, aren't they? They're taking their little boy home. And Lucas, he's an angel with a superpower.
"He loves pleasing people, making everyone happy," Stephanie says. "That's a big thing."
It's not Hayley Arceneaux and Inspiration4, splashing down off the coast after making history with the first all-civilian crew into orbit, but as Florida homecomings go, this one's pretty sweet.
"Coming home was somewhat surreal. I couldn't stop crying," Stephanie says by text on a beautiful, blue-sky Florida afternoon in early November.
On the plane ride home it hit her, she says. While her family is starting a new chapter, "I remembered all the families we left who are still battling."
She added an emoji of a broken heart.
But a broken heart can swell with happiness, too. Because this is their time, their moment. Finally, after so much pain and worry. Lucas and Noah and Stephanie and Amgad are back in their house on the lake — the house with the colorful, star-filled "Welcome Home Lucas!" sign fairly bursting out of the front yard.
Mom takes pictures. Lucas in front of the yard sign. Lucas in his bedroom, hugging a stuffed animal. Lucas playing in his sandbox. Lucas by the pool.
"I was overwhelmed with happiness that we were back here with our 2 amazing sons who were so excited and running, talking, jumping around," Stephanie texts. "So grateful to St. Jude for giving us a second opportunity ... giving Lucas another chance.
"We are so excited to be back in Florida."
Back home, where so much of the glorious mundane awaits.
Cousins to play with. Family walks to take.
And if we know Lucas and his dad, fish to catch.