Sure cure for the blues: How
St. Jude

founder Danny Thomas put the street back into Beale Street
'Bring Back Our Beale Street' swayed city fathers and raised funds for his beloved cause,
St. Jude

Children's Research Hospital

September 01, 2020 • 2 min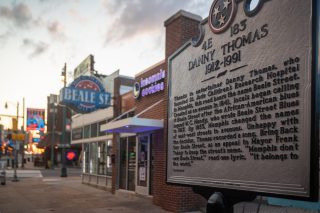 Imagine Beale Street — steeped in African-American history and celebrated in composer W.C. Handy's iconic "Beale Street Blues" — by another name.
Beale Avenue? It just doesn't have quite the same Memphis beat, does it?
So in 1955, when entertainer Danny Thomas discovered Beale had become an avenue, in accordance with a city ordinance that avenues run east-west and streets north-south, he sought to sway the city fathers in a most fitting way — with song.
Visiting Memphis to raise money for his planned St. Jude Children's Research Hospital in the city, Thomas wrote the song "Bring Back Our Beale Street." He then performed it at a benefit show for a crowd of 15,000 — among them, Mayor Frank Tobey.
They say you can't fight city hall. But Thomas, the 1955 Emmy Award-winner for his starring role in the TV sitcom Make Room for Daddy, charmed it, with lyrics like:
Sweet, sweet Beale Street, what have they done to you?
I fell asleep on Beale Street, woke up on Beale Avenue
And,
Oh, for all your proud possessions, may your banners stay unfurled
But Memphis don't own Beale Street, it belongs to the world
According to an account in local newspaper The Commercial Appeal, the crowd went crazy, and Mayor Tobey took the stage to pledge his support for the idea.
When Thomas returned to Hollywood, he recorded the song for release on the Decca label. Back in Memphis, Beale became a street again — and Thomas's song became a fundraiser for St. Jude, with proceeds from local jukebox plays going to the cause.
"Comic Thomas turns cleffer, publisher and singer for this blues lament for a street that's now an avenue," said Billboard magazine in a review. "Good job; should get spins."
Over a blues beat with brassy orchestral backing, and a bit of that Danny Thomas wit, he sings:
They say I'd get to likin' it, if I tried very hard
By the time I get to like it, they'll call it boulevard
And now there's a Tennessee Historical Commission marker on the famed street, commemorating how Beale Street's good name was restored by a blues-singing Arab-American who later became, yes, a boulevard himself — Danny Thomas Boulevard, a stretch of U.S. 51 bordering the Memphis campus of St. Jude.