Rev. Melvin Smith: 'Another Side of Humanity'
As the segregationist laws of the 1950s and '60s kept African Americans from advancing socially and professionally,
St. Jude

offered a safe environment where equality was the order of the day.

March 04, 2020 • 5 min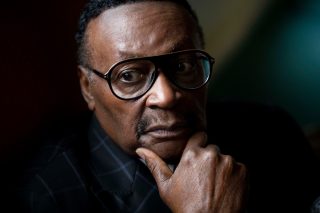 Melvin Charles Smith was in his early 20s, college-educated and looking to make a larger impact in the world than his job in shipping and receiving at a department store in Memphis, Tennessee, would allow.
But this was 1962 and white collar work for a black man in the South was difficult — if not impossible — to come by.
Across town, though, was something new and different — a research institution specializing in the treatment of leukemia and other catastrophic diseases affecting children. Along with saving young lives, it also aimed to break down social barriers, as the first fully integrated children's hospital in the South, a place where African-American patients were treated in the same rooms as white patients, where African-American researchers, doctors and nurses worked alongside white colleagues. And the designer of the original star-shaped hospital building was a renowned African-American architect.
So Smith called the human resources department of St. Jude Children's Research Hospital and was told he sounded like someone Dr. Allan Granoff, chairman of the Virology and Immunology Department at the time, might like to speak with.
"After about 10 minutes of conversation," Smith recalled, "he said, 'Mel, you're hired.'"
Smith began work on Sept. 2, 1962, almost seven months to the day famed entertainer Danny Thomas unveiled a marble statue of St. Jude Thaddeus and opened the doors to the world.
It would prove to be a far different world than the South Memphis neighborhood where Smith grew up. Born in 1938, he lived with his grandmother and aunt within walking distance of Mason Temple, where Dr. Martin Luther King Jr. would give his last speech.
His grandmother had been a sharecropper and had a strong independent streak despite having gone blind. His aunt ran her late husband's business of chopping and delivering wood for cooking and heating homes. At just 7 years old, young Melvin was using an axe to cut wood and learning the value of responsibility and hard work.
Eight years later, he would have his first real-world experiences with hostility while working at John Gaston Hospital. "When I went to John Gaston, that was not my community, it was a wider world and I could see and hear things that I never saw or heard before. I would see an old man called 'boy,' grown women called 'gal' or 'girl.' I saw criminals brought in in chains and how awful it was for them. All of these were eye-opening things to me."
Equally as eye-opening, yet from a different perspective, was his time working at St. Jude. He began in glassware, sterilizing the tools used by scientists.
Sterilization, he recalls Granoff and Dr. Donald Pinkel, the first medical director of St. Jude, saying, was "where the research begins."
Referred to as Mr. Smith even by those above him in the organizational chart, he found the dignity he'd longed for even as his brother, William Hudson, a bus driver for Memphis Area Transit Authority and later named the first African-American president of that organization, was not permitted to eat in restaurants along his route.
He would instead stop near St. Jude and Smith would join him for lunch, the two sitting and talking on the parked bus during his break.
At St. Jude, just blocks away from where Smith and his brother ate sack lunches, a new world had opened to Smith, "a different environment, a different kind of spirit, one that did not exist in the city any other place."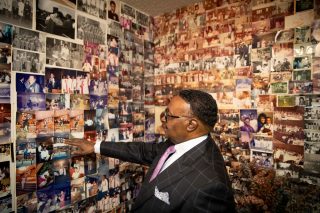 Blacks and whites worked alongside each other and supported one another. Smith rose in the ranks from glassware sterilization to technologist to senior technologist. Throughout that time, his friendship with Granoff grew.
"We would have long conversations about life and about people and about things, and those were some of the most precious times of my life because it was a bonding that allowed me to see another side of humanity that I had not seen," Smith said.
Granoff, originally from Connecticut, was endlessly curious about Memphis, and so Smith said he "showed him Black Memphis and the entertainment part" where Granoff, an amateur drummer, would often ask to sit in with the band.
"He always thought you should have a life outside of the lab," Smith said of Granoff, "but when you're in the lab, put 100 percent into what you're doing."
Smith and his family were invited for birthdays and dinners at the homes of his colleagues. This, too, was a measure of dignity he'd never experienced. "Never as a young African American man had I been invited to someone's home for dinner unless I was asked to go to the back door."
But his colleagues wouldn't hear of their friend and colleague entering any way but the front door.
Smith said Granoff, especially, seemed to have a deep understanding of what was happening outside the lab and away from the campus of St. Jude. He understood the climate in the South and as Smith became more involved with the burgeoning civil rights movement of the early- and mid-60s — and became pastor of Mt. Moriah-East Baptist Church, while still working at St. Jude — he was given the time and space to explore that calling.
"We had a lot of rallies, we had a lot of meetings, we had a lot of marches and I was always free to do that as long as my work was done here at St. Jude."
Smith was at the March 28, 1968, march in support of the Memphis sanitation workers that turned deadly when a 16-year-old was shot and killed by police officers.
"It was horrible," he recalled. "We had the police, dogs and hoses, the batons . . . It was a very frightening time."
He was at Mason Temple for Dr. King's "I've Been to the Mountaintop" speech, and the following evening was on his way to preside over a funeral at his church when he heard the news of King's assassination.
He was given the time he needed to grieve and attend King's funeral services in Atlanta. In this way, Smith says, "the hospital was indirectly, with its staff members, a part of that movement in a very positive way. No one ever said you shouldn't go, no one ever said you can't go. I was free to go when I needed to go."
St. Jude was created to save children's lives. But Smith is living proof that it also changed the lives of adults who joined its mission.
"St. Jude was an open door to a greater world," Smith said. "It said to me, 'Your dreams can be realized, opportunities are going to come.' If you're able to go through this door, how many more doors will you be able to go through?"