When he lost his right eye to cancer, Ty drew and baked for comfort, but also to help
St. Jude
Ty's creativity has raised thousands and helps him connect with others to support
St. Jude

.

March 04, 2021 • 4 min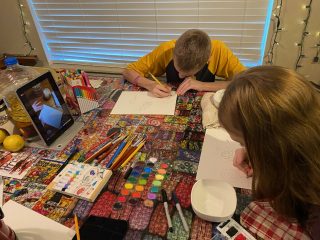 Ty's eyes always drew attention.
They are bright blue. A clear April morning blue. A just-bloomed hydrangea blue.
But when he was 2, celebrating his older sister's birthday at a bowling alley, running in circles under disco laser lights and posing for family photos, Ty's eyes drew his aunt's attention for another reason.
Under the pulsating lights, she saw his right eye held a flat whiteness in the center of that radiant blue iris. A discordant dim in the sparkle. Later, as they looked through photos of the family celebration, Ty's right eye was white, haunting every image of him.
His parents, David and Sandy, took him to an eye doctor. It could be a cataract, the doctor said, but then Sandy saw his face and tone change with the next words, "...or a tumor."
At the doctor's urging, they took Ty in for scans which confirmed he had retinoblastoma, a rare eye cancer diagnosed in fewer than 300 children a year in America.
Even after the CT scan and the official diagnosis, Sandy said, "I don't know why, but I didn't make the connection it was cancer."
"I didn't know how serious it was. I had never heard of retinoblastoma," she said.
Two days later, after a referral to St. Jude Children's Research Hospital, they learned exactly what was at stake.
Ty's condition was advanced. His tumor had filled his eye socket and had spread into the tissues surrounding the eye.
He would lose his right eye.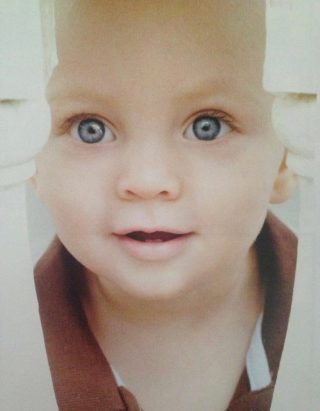 Sandy looked at her son's face and into those pools of blue. How could something so beautiful, so enchanting, be bad? So bad that it needed to be removed?
"That was really hard," she said. "Ty never complained. He just pushed through it ... so strong, stronger than we were."
Ty's surgery was successful and doctors said he'd need five rounds of chemotherapy to ensure the cancer was all gone. On his visits, he whimpered at the blood pressure cuff tightening and the painful tug of the chemotherapy port.
Through it all, the inpatient visits and checkups and chemo, Ty turned to art for comfort. If there was pain, nausea, pressure, it didn't faze him as long as he had a canvas and paint nearby.
He was so passionate about it even at 2 and 3 years old that the staff at St. Jude made sure to have art supplies ready for him to use after procedures that required him to be placed under anesthesia.
"He'd wake up from these evaluations and paint," David said.
By the time Ty emerged from his treatment at St. Jude cancer free in 2009, he'd become a local celebrity. He led his small town's annual St. Jude Trike-A-Thon every year for seven years to raise money for St. Jude. He was the grand marshal leading a motley crew of local kids along a route around a nearby school campus.
He began to bake when he was just 7 years old, using his drawing talent to elaborately frost sugar cookies: snow globes and Christmas trees for the holidays, multicolored hearts for Valentine's Day, daisies and butterflies for birthdays. By the time he was 9, he had begun baking three-tiered, satiny white wedding cakes. He was featured on the local TV news and radio stations. The orders poured in. Along the way, he'd held enough St. Jude Trike-A-Thons and holiday toy drives, and sold enough cakes and cookies to raise more than $3,000 for St. Jude.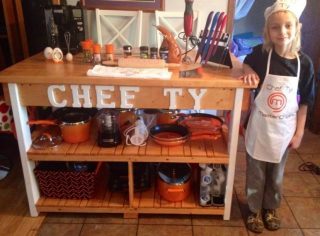 Baking and art had been just for comfort — but now they held purpose, too.
Word spread of the soft-spoken boy with uncommon culinary talent. Celebrity chef Bobby Flay wrote to him encouraging his budding talent and a fancy restaurant in New Orleans invited him to be executive chef for a day.
It was a heady time, full of dreams and possibility. But that couldn't last forever.
Almost a decade after his treatment, Ty began to feel the latent effects from chemotherapy, a dull ache and weariness that groaned across the deepest recesses of his body. Standing at the counter for hours, stirring and frosting wore him out. The baking orders were hard to manage along with the fatigue.
Ty reluctantly stopped baking. He grew restless without an outlet for that artistic mind swirling with design and creativity.
Resting in bed, when he was too tired to do anything else, his fingers, loosely gripping pencil and brush, sketched across paper and canvas. He drew absent-mindedly at first. But then with reawakened purpose and fervor, he began to sketch and paint again, just as he had in his first months at St. Jude.
He joined a Facebook Live art class taught by a former St. Jude patient every week. It is a bilingual class that he attends with Spanish-speaking families. He listened to his teacher alternate between Spanish and English. His favorite word to say is azul. Blue.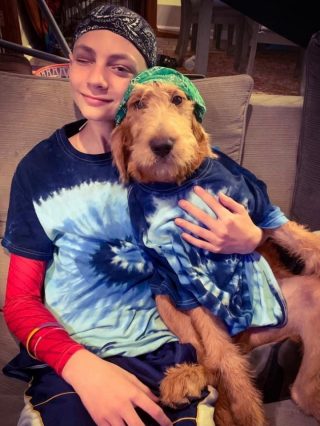 On a recent Thursday, he learned to draw characters to form a Chinese zodiac booklet. He played with shape and color and texture, and recently started experimenting with coffee as a medium.
He uses instant coffee, steeping the grounds in varying depths of water to coax out their myriad browns.
Art has slowly revived him, helped him forget the pain. He's painted dozens of pieces and put them up for sale. Ty plans to donate the earnings from sales to St. Jude on his 14th birthday this month.
His art teacher tells him, "When you have positive energy, when you put that energy out there, it makes an instant connection with people, traveling faster than light."
Ty listens to her and thinks about himself. About energy and light. And about the art he creates to make a connection with the legion of survivors and donors who support the lifesaving mission of St. Jude.