The Longest Lap
After a summer lost to cancer treatment, Katherine has found her way back into the water, and back into the stream of high school life.

February 18, 2019 • 7 min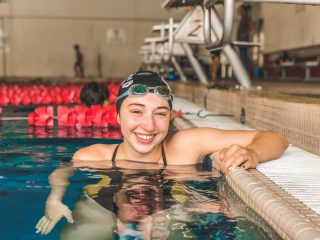 Visit any swim club on a weekend, and you're bound to walk into a scene like this one in Baton Rouge, Louisiana, with the girls lined up on diving blocks to begin their competition, readjusting swimsuit straps and goggles. Their parents stand b­­ehind them holding timers, sharing last words of encouragement. Then the horn blasts for the start of the race.
The 1,000-yard women's freestyle is an endurance event. The competitors dive deep into the water, gliding forward into a front crawl, alternating arms in circular strokes and kicking their legs. They exhale underwater so their lungs are empty when they turn their head up for a quick deep breath of air.
On the side of the pool, the coach gesticulates and urges them on. Perseverance is important because this race lasts 20 Olympic pool laps.
This is Katherine's first competition at 1,000 yards after previously racing at shorter distances. Her goal isn't just to finish — she wants to post a time that qualifies her for the state meet.
But she's faced bigger challenges — life and death challenges — and prevailed. Because Katherine, 16, is a St. Jude Children's Research Hospital patient and a cancer survivor.
As the race continues, her shoulders hurt. Her lungs are bursting. But Katherine won't stop. She's not going to stop.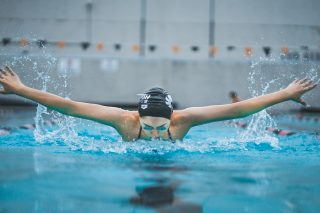 Surgeries, and a box of sunshine
It started in early 2018 with a lump that stayed put while other things in Katherine's life changed. She had switched schools for the second half of her freshman year of high school. She had recently left her old swim club for a new one. Summer was about to start, and she had family trips and camps lined up.
"The lump was pretty big," says Katherine. But the casual onlooker couldn't see it because it would be like finding a white ball in a snowy field — practically impossible unless you already knew it was there.
She could move the lump with her fingertips. It sat next to her left collarbone.
"I thought it was cool," says Katherine.
So she started to show the lump off to friends.
"I would do this" — she circles her left shoulder forward, then back — "and it would just bulge. The first time I showed people, they were like, 'Katherine, this is not OK.'"
Katherine laughs, remembering her nonchalance in the face of their full-blown horror.
"They were like, 'That could be a tumor! That could be cancer!' and I was like, 'What? I was just showing you guys my lump!'"
So she finally told her mom and dad about the lump.
In May 2018, Katherine's mom took her to have the growth looked at by a pediatrician-on-call, but bloodwork came back normal. The next week, Katherine and her mom visited her regular pediatrician, who tried to reassure them. "It's just lymph nodes doing what they do," he said. "If it's not better next week, let me know."
The family was ultimately referred to a surgeon, who ordered an ultrasound, which revealed not just one lump, but three. "It needs to come out," the surgeon told them.
So on the day she had been scheduled to take the last final exam of her freshman year, Katherine instead had a biopsy. Katherine's lump was identified as Hodgkin lymphoma, a type of blood cancer. Within 24 hours, Katherine became a patient at St. Jude Children's Research Hospital and underwent surgery to put a port in her chest, allowing blood to be drawn and chemotherapy to be administered.
Friends and family brought care packages. Her swim team brought a wooden crate they'd painted yellow and labeled "Box of Sunshine." They filled it with food and coloring books.
Katherine's parents made it easy for friends to visit by giving rides, making sure there was always dinner ready for everyone and throwing the idea of a normal curfew out the window. It was OK if they stayed up late laughing and talking.
"I wanted Katherine to take ownership of what was going on, the things that she could take charge of," says Katherine's mom, Elizabeth.
Katherine took her first round of chemotherapy at St. Jude, and took the other seven rounds at the St. Jude Baton Rouge affiliate clinic.
"Her doctor in Memphis was super impressive in her ability to communicate clearly to Katherine, as well as to us, what was going on," says Elizabeth. "The day we signed the paperwork for Katherine's protocol, she said, 'Let me give you my cell phone number,' and she looked straight at Katherine and said, 'Let me give it to you first.' I thought it was completely impressive because in the real world, that doesn't happen that way, or maybe it does, but not often."
Katherine got in the water whenever she could. "I swam once a week some weeks and three times a week other weeks. It just depended on how I felt," she says.
"She had three surgeries basically within two-and-a-half months. The biopsy, the port, and then we had the port removal. So each time, all those big incisions had to heal," says Elizabeth.
Her treatment took eight weeks — her entire summer.
It was as though she had stepped out of time, left her real life during the last week of her freshman year of high school and got plopped back down, her hair itchy and falling off in patches, at the beginning of her sophomore year. Her alien abduction summer.
"Because literally my last day of school, I was diagnosed. And the first day of school, I had my last treatment," says Katherine. "I was having a hard time with friends because I felt like people were just kind of brushing me off, but the thing was, it was just me. It was in my head."
It wasn't any easier in the water. She couldn't shake the notion that she could be so much better than she was.
"I get mad when I think that cancer has taken away where I could be in swimming right now," says Katherine. She was setting herself up in competition against someone she could never beat — an idealized version of herself. The Katherine she could have been.
In September 2018, Katherine, who had always loved the water, was on the verge of quitting swimming.
"I would tell my mom and dad every day, 'I want to quit, I want to quit.' And I was crying every day. It was just not a good time."
"You are letting the cancer win," her mom told her, and Katherine felt the truth of that.
Katherine points to a framed photo on her bedroom wall. "This is from homecoming 2018," she says. She's with a young man and another couple. They are all dressed up, and she is bald.
"I was going to quit swimming, and then one day this past September, my friend Thomas was like, 'Do you want to go to homecoming?'"
The link between getting asked to homecoming and feeling a renewed dedication to swimming is unclear, and Katherine knows it.
"He had these cupcakes. It was such, like, a moment," she says and laughs.
Except that maybe homecoming represents normalcy, and being asked to homecoming represents acceptance, and when you put the two together and add cupcakes, Katherine was being invited back to that part of teenage life that's all about fun.
"He made sure I had a good time," says Katherine. "Homecoming was so much fun for me. I was feeling so good that day that I was saying hey to people I wouldn't usually say hey to."
She's been building on that good feeling and working hard to stay strong in spirit by, among other things, journaling her feelings.
She's rededicated herself to swimming and has not looked back.
At Katherine's No More Chemo party this past August, her St. Jude Baton Rouge affiliate clinic care team gave her a card. One of the nurses had signed his name with a quote from the Bible: "For I know the plans I have for you. They are plans for good and not for disaster, to give you a future and a hope."
Something about that verse moved Katherine, so she copied it onto a light box and posted it to the bulletin board in her bedroom so it will glow. So she can see it all the time.
There is a plan, she believes, and a hand that is guiding her.
Today, because of her St. Jude experience, Katherine aspires to be a doctor or have a medical career. She became a member of the St. Jude Leadership Society, a philanthropic program for high school students to grow as leaders and support St. Jude. Her chapter had its first meeting this past December.
In the swimming pool, she's replaced her fear with hope. "I used to get so nervous before a swim meet, but now I'm just like, 'Katherine, you've gone through something worse than this. It's just a swim meet. You swim every day.' So I relax now."
She believes this newfound confidence will make her a better swimmer. She has learned to take the long view.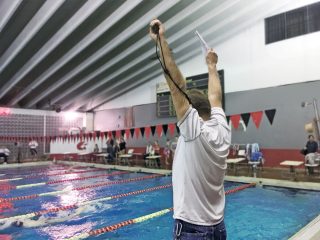 It's Feb. 1, 2019. Katherine finishes her first 1,000-yard freestyle event, and she winces as she catches her breath. She says her shoulders hurt and she feels like she has the worst case of acid reflux. But she emerges from the water and shakes it off. She has done what she set out to do.
Katherine hugs her parents and talks with them for a moment.
She heads for her coach. He smiles and slings his arm on her shoulder.
"My heart and lungs feel like they're on fire," she tells him, and even though that sounds terrible, they both laugh.
"I'm proud of you," he says. "You're back out there."
Katherine smiles and nods.
She is happy, no doubt about it.
Her teammates emerge from the locker room, join their parents, and begin, one by one, to head out.
Her gaze drifts to the water. The waves, choppy during the competition, have calmed. Soon the lights will go down, and it will be silent here until tomorrow. There's a rhythm here, and she knows, finally, that she is part of it.
She's earned her spot in the state swim meet.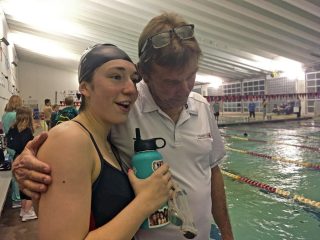 See Katherine's story on TODAY with Marlo Thomas.