Caleb's 'spectacular' podcast of hope
Longtime
St. Jude

patient hopes to inspire others, especially those with special needs, to persevere and achieve goals.

June 08, 2021 • 2 min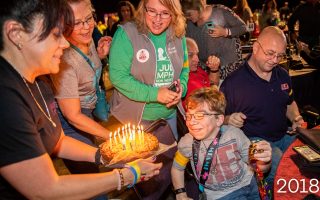 Caleb will never run a marathon or join the military, but it's hard to imagine anyone more at ease cracking wise with an accomplished distance runner or an Army recruiter. His face stretches into a mischievous grin, and his voice bubbles with enthusiasm and mirth.
"You're taller than me. I don't judge you there at all," the 4-foot Caleb tells 6-foot-9-inch-tall Staff Sgt. Jonathan Walker, an Army recruiter.
At 20 years old, Caleb has been treated by St. Jude Children's Research Hospital nearly all of his life for Hurler syndrome, the most severe form of a rare and incurable genetic disease known as MPS1. His body lacks an enzyme needed to break down and dispose of certain sugar molecules, which consequently accumulate and cause progressive damage, attacking the heart and other organs. Few people born with it survive past age 10.
Caleb has done more than just survive, though. He's bounced back — from all the transplants, surgeries and procedures needed to slow the progression of the disease, from heart and kidney problems and loss of mobility — to embrace laughter, music and the joy of everyday living. Last year he graduated from high school and attended a pandemic-restricted virtual prom. He plans to get a job soon.
"He's always happy, always smiling, and he can have a good time no matter what the circumstances are," Richard C. Shadyac Jr., president and CEO of ALSAC, the fundraising and awareness organization for St. Jude, said in a recent video chat.
And now, Caleb has found a new way, as his mom Kelly says, to "spread his joy." It's through a podcast.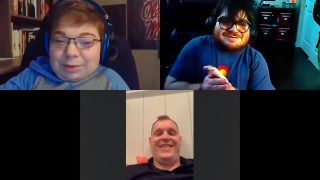 Called "The Spectacular Trio," it features Caleb, who lives in Mississippi, and another young man in Colorado with Hurler named Nolan, with the third seat rotated among friends. Their goal is to inspire others, especially those with special needs, and to give them courage so they don't give up on their dreams in the face of difficulty.
"I want to show and tell people that they don't have to be special needs or non-special needs to reach their dreams or talent," Caleb told Shadyac.
And, besides, as he told sidekick Nolan on one episode: "I thought that I was more capable of doing something than just sitting on the couch all day."
Guests on the podcast have included Walker, the recruiter; marathon-runner Justin Gillette; radio host Zach Sang; Thomas Russell, author of a book on bullying; and Jeff "Swampy" Marsh, co-creator of the animated musical series 'Phineas and Ferb,' as well as local clergy members and friends. Tune in to any given episode, and you're likely to hear ad-libs about everything from restaurants and art to super heroes and theme parks.
During his appearance, Walker asked Caleb and Nolan what inspired them to launch the podcast. The two spoke of their shared disease, how others put them down because of it. How they believed no one should have to endure put-downs. How everyone should be assured of their worth.
"Dude, that's awesome," Walker responded.
"We've both been through a lot," Nolan continued, "and we kind of realized that we shouldn't, um…."
And this is where Caleb broke in to finish his sentence.
"Be ashamed of who we are."
Awesome, indeed.