From Syria to
St. Jude,

a refugee recounts a harrowing journey to save his son
In desperation, Hussam knocked on every door he could think of after his son was diagnosed with eye cancer, and found help in an unlikely place.

April 29, 2021 • 7 min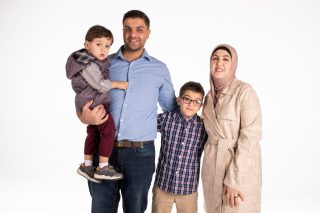 Hussam had 21 days to save his son.
It had been less than six months since Syria's civil war forced Hussam to flee his home in Damascus with his wife and six-month-old son, as their country plunged into violence.
He'd been struggling to survive in Jordan as a refugee, packed with his extended family into an apartment in the khaki-colored desert city of Amman.
That's when the terrible news came: Their son, Farouk, had a rare cancer of the eye. Left untreated, it could spread to his bones or brain.
He knew medical care and jobs were scarce for Syrians in a country swamped by an historic refugee crisis. Already financially stressed, his family would need to find the money to pay for Farouk's care in a foreign country. Hussam had three weeks to find the money.
He begged government agencies. He considered selling his kidney. "My son is dying," he would say.
Each night he lay wide awake, knowing the clock was ticking.
"I was desperate," he said. "It was my only son."
He'd never heard of St. Jude Children's Research Hospital, or its home city of Memphis. He knew nothing about its global reach. He only knew he had to find a way.
Just two years earlier, Hussam saw limitless possibilities for his growing family.
The son of a small electronics and appliance shopkeeper in the ancient city of Damascus, he earned good money working as a dental lab technician. His two brothers lived nearby. He'd recently gotten married to Linda, whom he'd met through his parents.
"You know when you get married and you're excited to have a house and a family, you buy everything brand new?" Hussam recalled. "That's what I did."
But around the same time, the pro-Democracy "Arab Spring" protests that broke out in several Middle East countries had reached Syria. Before long, clashes with armed anti-government groups began turning his country into an increasingly dangerous battleground that threatened to ensnare him.
"I didn't want to be with any side," he said. "I wanted to be on the side of my family."
Not long after Hussam and Linda's son, Farouk, was born in April 2012 — and named after Hussam's father — Syria's conflict had moved into Damascus. That July, there was major fighting between anti-government and government forces.
His family spent much of that year moving to different houses around Damascus to avoid the fighting, and by early 2013, Hussam's father gathered him and his two brothers. He worried they'd be caught up in the fighting. It was time to flee, he said.
"Why do we have to move? We're fine. We just have to keep moving," Hussam argued.
"No," his father said. "We need to leave. Just for a month or two, and we'll come back."
Around February, they packed small bags with some clothes and money, leaving their homes and belongings. Hussam bought a double lock for the front door of his house. His father closed his shop. Linda left her own parents, afraid of the unknown that lay ahead.
Traveling south to Jordan was too dangerous. And if they made it, they might be stuck at the Zaatari Refugee camp, ten miles from the Syrian border, a sea of tents, tiny caravans, tarps and tin sheeting that grew to more than 100,000 residents.
Instead, they hired taxis to drive West to reach Beirut, Lebanon. They had passports, Hassam said, "but it was scary."
The next day they flew by jet to Amman, the largest city in Jordan, a nation that would become a location of refuge for many displaced Syrians.
In all, more than 5 million Syrians would flee to neighboring countries, placing unprecedented strain and overwhelming humanitarian aid agencies' ability to provide enough food, shelter and medical care.
For many, that meant living in ramshackle apartments, struggling to find work.
Hussam's whole family, including his parents and two brothers' families, rented a single apartment. "It was really expensive, but we said, OK, we'll just rent for a month," he said.
But back home, things only worsened. They got word his father's store had been looted, losing everything. Hussam figured his home was gone, too.
"There was no way to go back," Linda said.
Hussam was lucky. He found work in a dental lab, but it only paid $13 a day. Linda struggled too, she recalled: "I'm in a new country, I know no one, my parents were still in Syria. When I had Farouk, I was 19 years old," she said. "We were struggling to survive there."
That summer, Hussam noticed his son's eye was looking in a different direction. Probably he needed glasses, he thought.
But a visit to an eye doctor brought news they didn't want to believe. They were referred to the King Hussein Cancer Center, where Farouk was diagnosed with retinoblastoma, an eye cancer. "No! The doctor, he doesn't know what he is talking about. No, no," Linda recalled telling her husband.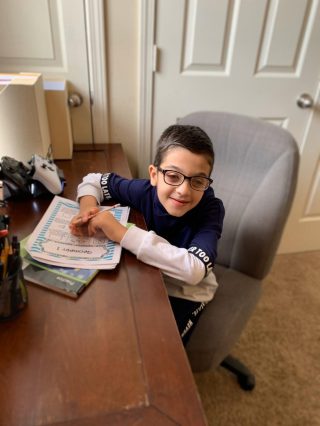 "He seemed normal. He just needs glasses," Hussam told the doctor.
No. He has cancer, the doctor told him, helping him understand the diagnosis.
The doctor explained symptoms such as having one or both eyes turning inward or outward, or so-called Cat's eye, with a white-yellow mass or glow seen through the pupil. Untreated, retinoblastoma can spread into the optic nerve, brain or bones and bone marrow.
Doctors said Farouk's other eye was at risk. He would need his first chemotherapy treatment as soon as possible, the family was told.
"OK. I'll do whatever you say. It's my son," Hussam replied.
Worries about the cancer were soon competing with his worries about paying for Farouk's continuing treatment.
"For 21 days, I didn't sleep," Hussam said. "I knocked on every door I could find."
In despair, he wrote to Jordanian Princess Ghida Talal, the wife of Prince Talal bin Muhammad of Jordan, the nephew of King Hussein. Hussam knew the Princess serves as chairperson for the prominent cancer hospital's foundation, which has a partnership with St. Jude.
"I didn't think it would help," Hussam said. "She's a princess. I'm just a Syrian refugee. But you'll do anything to save your son's life."
Then, by miracle, a response came on Facebook: Tell me about your son, the message read.
Soon he met an assistant at a local shopping mall. He brought documents, passports, medical papers. The next day was his scheduled chemotherapy appointment.
"Tomorrow, go to the hospital," the assistant said.
"What about finances?" he asked.
"Just go," the princess' assistant replied.
He went home and collapsed into sleep that night. "My wife, she couldn't believe it. I couldn't either. It was like a dream."
At the hospital the next day, Hussam still wasn't certain.
At the registration window, he asked the clerk if Farouk's treatment was covered. The clerk said yes, up to about $25,000. He went to the bathroom, washed his face, and then tried another clerk. Is Farouk covered? The answer was the same.
"That was the best day in my life," he said.
He eventually learned that St. Jude helped start a retinoblastoma program at the King Hussein Cancer Center in 2003. Before that, there was little treatment for that cancer, according to Dr. Ibrahim Al-Nawaiseh, a founding ophthalmologist.
It became a member of the St. Jude Global Alliance, the research hospital's initiative to bring education, training and program-building to nations worldwide.
It's critical work. More than 80% of children with cancer live in low- and middle-income countries, where many lack access to adequate diagnosis and treatment. Most of those children die from their diseases.
Farouk's doctor was trained by St. Jude. The prognosis was comforting: Diagnosed early, the cure rate is extremely high. After a year and a half of treatment, Hussam said, "the cancer was stopped."
But the family's story — and its connection to St. Jude — was only just beginning.
Hussam wanted to find a place where continuing care could be assured. Syria remained wracked by war, and life in Jordan too difficult to build the life he wanted for his family.
After more than a year and a half of interviews and security checks, the family took their place among the tiny percentage of refugees who are resettled in third countries such as the United States.
In March 2016, the family arrived in Memphis, marking only the second time they had traveled on a commercial airplane.
The family was settled with the help of a Memphis nonprofit, immersing them in support and filling days with English classes, new jobs and school.
"Everything was different. A whole new tradition and culture and language," Linda said.
One of their first stops was St. Jude. Farouk's doctor had told the family that St. Jude was "the best in the United States." They were met at the hospital with interpreters and told that they would never receive a bill from St. Jude. The feeling of relief was overwhelming.
"They accepted my son just like that. It was amazing. They didn't ask about insurance, money — I was shocked," he said. "It's like somebody has a hand and held all my worries and threw them all away."
The family was also happy to learn of another connection: That Danny Thomas, the son of Lebanese immigrants, had worked with Arabic-speaking groups to help open St. Jude in 1962. That led to its fundraising organization being called the American Lebanese Syrian Associated Charities, or ALSAC.
In the years since, Farouk — now 9 years old — has been healthy and has thrived, despite having 90% damage in one eye and 30% in the other, Hussam said.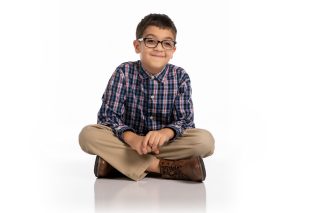 He's a sociable third-grader, waiting eagerly to return to school after the COVID-19 pandemic. He's a kid who loves pizza, superheroes and watching videos online.
Farouk said he especially loves visits to St. Jude, where he feels welcomed. "I like St Jude Hospital a lot. They're not like other hospitals. They're funny and they have a lot of toys and stuff," he said.
After six months in the refugee program, including starting his first warehouse job knowing just 200 English words, Hussam now works at a dental lab. Hard work at extra jobs recently allowed them to buy their first house — the first since they left Syria all those years ago.
"It's been nearly ten years," said Hussam, now 32. "Now I feel like I finally have a house, a home, something to feel safe. And St. Jude is always there, too."
But St. Jude's impact on the family's life wasn't done.
The couple found out through genetic testing their second child would not be impacted by the cancer. In 2017, their second son was born — and they named him Jude.
"Jude in Arabic means to give without requiring anything in return," Linda said, explaining they wanted to honor St. Jude and its role in their family's journey.
That journey has left Farouk with a dream. He wants to become a doctor.
"My dream when I grow up is to visit Syria and make a hospital just like St Jude. Because I appreciate St. Jude, what they've done for me," he said.