Best Buddies: A Lifetime of Friendship that Started at
St. Jude

March 06, 2020 • 3 min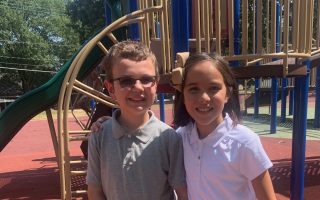 When it came time to choose his Best Buddy at school, Josiah didn't need long to think about the decision. Alivia was his first – and only – choice.
Now 11, he has known her almost his entire life. And despite their young ages, both he and Alivia have already mastered what it means to be a friend. It's a lesson they learned through their families' shared experience at St. Jude Children's Research Hospital.
Earlier this year, students in Josiah's special education class got to choose a student from a general education class to be their partner in the school's Best Buddies club. The buddies spend time together once a month, participating in activities such as playing board games, watching movies or having themed parties.
"Josiah knows he has handicaps and, more importantly, he knows that Alivia is one of those special people who happily embraces him exactly as he is," said his mom, Merri.
Though they'd been in school together for years, Josiah and Alivia's friendship started many years before, when Josiah and Alivia's big sister, Arianna, were both undergoing treatment for brain cancer at St. Jude.
The three kids were like stair steps – Josiah a year old, Alivia not quite 2 and Arianna 3 – when they met in 2009 by the jukebox in the common area of the inpatient floor.
"Arianna was there with her dad, Enrique. Both our babes had recently had feeding tubes placed and were, to me, mirrors of each other: both smiley, thumb-sucking children with no hair," said Merri. "And we've all been friends ever since."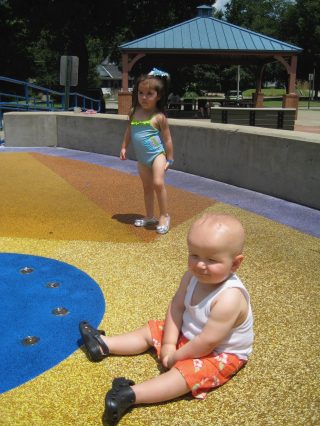 Alivia may not have been sick, but she was right there, too.
"St. Jude is so family-oriented," said Arianna and Alivia's mom, Leticia. "Alivia really was right by Arianna's side all during treatment, and she was always exposed to others who, like her sister and Josiah, were undergoing treatment. And because of that, she was taught compassion and empathy for those in need, and to want to spend time and play with kids who were sick."
When Arianna passed away in 2014, her family remained close with Josiah's, and it's helped their families to watch Alivia and Josiah's friendship blossom.
"Josiah is like a string between Alivia and her sister," said Leticia. "He was Arianna's friend first, and he remembers her. He's one of the few friends Alivia has that's connected to her sister, and she holds that very dear."
Good friendships are marked by acceptance, and compassion, but also sacrifice. And Josiah and Alivia's is no different.
Alivia participates in an accelerated art program that meets every Thursday.
"Art is her thing," said Leticia. "Art is what helped her when Arianna passed away."
To become a Best Buddy, however, she would have to miss her art class once a month. Could she give that up for Josiah?
For her friend, she could.
"Alivia didn't think twice about it," Leticia said. "She didn't give it a second thought."
Watching Alivia with Josiah, you see her kindness and empathy. And you see her happy. Because being with Josiah gives her something, too.
"Alivia was too young to really be able to help Arianna, but she has that ability now," said Leticia. "And they're essentially helping each other. As much of a support system Alivia is for Josiah, Josiah is for her."