Coming Home to
St. Jude
Khushi and her family love to visit the place of 'big blessings' after successful treatment for a rare cancerous tumor.

October 04, 2019 • 3 min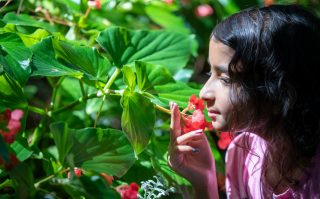 Imagine a hospital you'd choose to visit, without an appointment, without any reason except, of course, the best reason of all — because the place saved your daughter's life.

For one family from Huntsville, Alabama, that place is St. Jude Children's Research Hospital, which treated their little girl Khushi for neuroblastoma, a rare type of cancerous tumor, over 18 months starting in October 2015.
"We always love to come here," says Chirag, Khushi's dad. "We visit St. Jude even if we don't have any appointment. We just randomly come."
It might be spring break from school. Or maybe it's fall break. They'll pick a day, get an early start and pile into the car for the drive to Memphis — 215 miles, as the time flies. What's three-and-a-half hours each way, after all, in return for a child's second chance at a lifetime?
"You never pay back," says Chirag, who is talking about more than just the fact that families never receive a bill from St. Jude for treatment, travel, food or housing. He's talking about gratitude, and giving back. "You owe them, right, for what they have done for us. It's a great thing."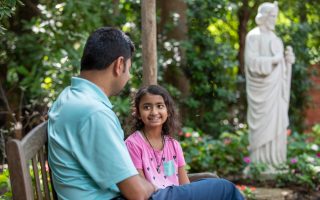 Vaishali, Khushi's mom, says St. Jude represents "big blessings" for their daughter. She says the people of St. Jude gave the family "a kind of positive outlook to humanity."
And so the family occasionally comes to spend the day, seeing doctors and nurses and whomever else they remember from Khushi's time at St. Jude. They get reacquainted with the place, share some memories — and then head back home.
"Just spend a day here and go back at night," Chirag says and then laughs, as if it's just occurred to him that spending seven hours on the road, round trip in one day, to visit a children's cancer hospital is not everyone's idea of spring break.
Chirag was talking during a recent scheduled visit — one of Khushi's regular six-month checkups. They'd left the medicine room and were sitting for a few minutes in a waiting room before the drive home, talking about St. Jude and their profound gratitude for the place.
Khushi, who is 10 now, says in a soft voice, "I feel so thankful for St. Jude saving my life." She says she has happy memories of St. Jude, and made "lots of friends" here. Then she retires to a table nearby, takes up crayons and begins to color.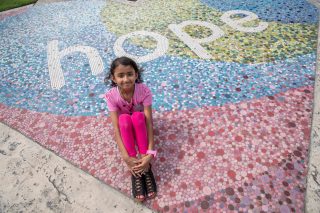 Khushi loves art; interviews, not so much.
Her parents tell the family's St. Jude story. At St. Jude, they met other families whose children were being treated for neuroblastoma. So they weren't alone in a strange, new place, battling a rare disease; they were in a community of like minds and kind hearts, speaking a common language.
"Some of them were taking treatment, some of them were almost done," Chirag says. "We feel blessed to hear from other parents. After hearing those good stories and good reports from different parents, we got real energetic and thought, 'OK. (The doctors and staff of St. Jude) have been here for long and know exactly what they are doing.' "
Or, Vaishali says, sharing what advice she'd give to new patient families: "Just go for it. Close your eyes and go for it. Don't worry about it. They take care of everything. I know it."
For Khushi, St. Jude isn't just where she got well from cancer. It's where she pursued her love of art, got a henna tattoo, dressed as a princess for a portrait, attended a pizza party, and met members of the NBA's Sacramento Kings.
"She loved everything," Vaishali says. "She loved the nurses. She made all the friends. She loved the volunteers. It was blessed. We cannot describe it — everything she loved. She never had anything to complain of."
Back home in Huntsville, they spread the word about St. Jude. Chirag, who owns a convenience store with his cousin, often wears St. Jude T-shirts to work — a perfect conversation starter.
"People know about St. Jude," he says. "They say, 'Oh, it's a great organization.' I tell them the story about Khushi, that our daughter is a patient there. I just tell them, 'Hey, we were there.'"