Immunocompromised during COVID-19, Luxe came to
St. Jude

for a cure
Luxe had a failing immune system as the COVID-19 pandemic swept the world.
St. Jude

helped heal her and kept her safe.

October 12, 2021 • 4 min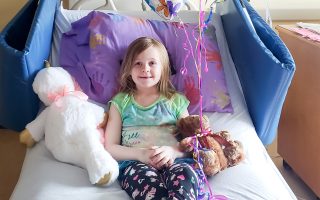 No one knows how long 6-year-old Luxe was on the edge of disaster every, normal day.
The dangers? Her kindergarten classroom. Her loosening baby teeth. Cheerleading with the church's youth athletic program, jumping up and down beside the basketball court. Even the busy home where strep throat had recently sickened her three siblings, but somehow, not Luxe.
All this represents incredible luck. Because, unbeknownst to everyone, Luxe was walking around with a crippled immune system and a platelet count so low, her blood could not properly clot. Had she caught a virus, lost a tooth, taken a tumble, it would have been a serious risk to her life.
"A normal number for platelets is 250,000 to 450,000," said her mom, Meagan. "The pediatrician took a blood sample, and hers was less than 10,000. Her only option was a bone marrow transplant."
It's hardly uncommon for 6-year-old kids to have bruises. But that day in February, Luxe's legs sticking out of the purple and gold cheer uniform were black and blue. Meagan took her to the doctor, expecting low iron. Instead, Luxe was diagnosed with severe aplastic anemia. Her bone marrow (the body's producer of red blood cells to carry oxygen, white blood cells to fight infection, and platelets to stop bleeding and to respond to immune threats) was a factory in shutdown.
And here's another reason, in retrospect, that Luxe was lucky. All of this was discovered less than a month before COVID-19 became a global crisis. By March 2020, Luxe was at St. Jude Children's Research Hospital, where pandemic precautions were already in place, preparing to receive her brother's stem cells.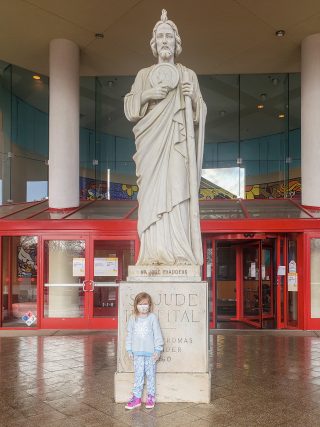 On March 12, the day after the World Health Organization officially declared COVID-19 a pandemic, St. Jude implemented the St. Jude Emergency Operations Plan. Behind the scenes, changes were far-reaching and nearly instantaneous. The campus was closed to all but essential personnel and sectored into clinical and nonclinical zones, with restricted access. St. Jude quickly developed a comprehensive COVID-19 screening program that included regular testing of all employees on campus. 3D printers across campus were repurposed to churn out personal protective equipment. Routine patient care was provided, whenever possible, at St. Jude housing instead of the hospital itself.
If it was among the worst times to be immunocompromised, to Meagan, it was one of the best places. "We had a child with no immune system, and now we are in a pandemic. St. Jude did a wonderful job in trying to keep COVID out of the hospital. They made sure our child was safe."
And there was another comfort: During this uncertain time for both the world and Luxe's family, St. Jude went above and beyond just standard medical care.
"We were surprised by the fact they provided everything for us. We knew the medical bills were taken care of, and we knew they had housing for families, but we did not know they provided groceries, gas reimbursement, and transportation from lodging to the hospital," Meagan said. "We did not have to worry about a thing, while we were in Memphis."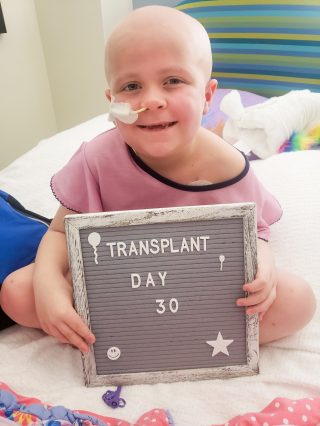 Patients typically undergo chemotherapy and radiation therapy to disable their own bone marrow prior to transplant. In Luxe's case, said Meagan, "her body basically did the work." She required many platelet and blood transfusions, but just a few days of chemotherapy before the procedure.
After her transplant, Luxe remained inpatient for 100 days, then in an apartment in St. Jude housing, in near total isolation until May. Shut down were the playgrounds, the common dining room, the music room, the game room. It was a big change, coming from a bustling family of six. But Luxe took it in stride. Though outgoing, "she is also very much happy to be in her own world," said Meagan's brother, Chase. "Luxe can go in a room and just be by herself and play for hours on end."
In July 2020, Luxe was released to go home. In April 2021, it was deemed safe for her to re-enter normal life – or as normal as what most everyone else was doing, as COVID-19 infection rates in the U.S. stubbornly hung on.
"A Brother Is Born For A Time Of Adversity"
Even though Luxe enjoyed living as an only child at St. Jude "a little too much," joked Meagan, her little brother, Asher, played a key role in her healing. All her siblings were tested, but 4-year-old Asher was the best match to be her donor.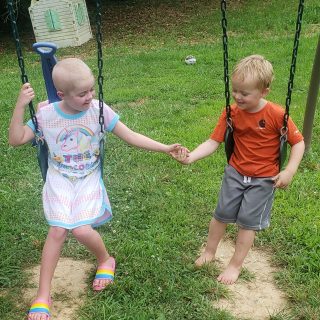 Meagan and the kids' dad, Landon, explained it to Asher like this: Here was his chance to be a real-life superhero, and save his sister's life. "Of course, there was no doubt in his mind," said Meagan, "he wanted to do it. He would tell everybody that he was a superhero. We tried to explain as much as possible what the procedure was going to be, and he never acted scared. The only time he actually shed a tear was when they put his IV in."
When Asher's role was complete, the kids' Uncle Chase, in his own role as a brother in time of adversity, picked the little superhero up and drove him the seven-and-a-half hours home.
That phrase from Proverbs — "a brother is born for a time of adversity" — resonates for Chase, a pastor. After Luxe's diagnosis, he spent a lot of hours frankly angry and unable to focus on his work. But then he remembered: He was powerless to change the circumstances, but he wasn't powerless full stop. He refocused his energies on being a spiritual and practical help to Meagan and Landon in their time of need. And with Luxe out of danger, Chase's gratitude to St. Jude led him to compete in the St. Jude IRONMAN 70.3 Memphis as – not a superhero, which is Asher's territory – but a St. Jude Hero, raising funds for the research hospital.
"Seeing the blessing that St. Jude was to my family, how they cared for them, even in the craziest season ever with COVID, I wasn't going to pass up the opportunity to race in Memphis on behalf of St. Jude," he said.
"You just have to say thank you. There's a few things in life that we get to be proud of, and this kind of fell in my lap, this brother-sister relationship. And Asher, he was born a donor match for Luxe, it was just him being him that helped save her life. We didn't do anything outside of what we were born to do, and we got to be part of an extraordinary outcome."