St. Jude

cancer survivor shines in international paraclimbing competitions

After treatment for Ewing sarcoma, Micah discovered a love of climbing and a path to an identity beyond his battle with cancer.

October 29, 2021 • 7 min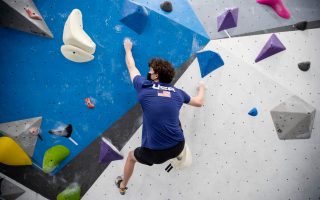 Micah moved among yellow-hued holds bolted to a 60-foot wall, scaling miniscule nubs and outcroppings that defied easy purchase.
With graceful swings of his legs and reaching grabs with muscled arms, the 16-year-old ascended ever higher before a crowd cheering him on.
It was June 2021, and Micah — a survivor of childhood cancer that had nearly taken his left leg — was competing in the Paraclimbing National Championships in Salt Lake City.
On the wall, he thought only of his next move.
Not the tumor that almost cost him his life.
Not his titanium rod in place of his femur.
Not the muscle loss in his leg that made difficult climbs far more difficult.
Micah was "just motoring his way up," an announcer said, at one point citing his "creative use of the knee — you've to use whatever you've got."
High on the wall, Micah struggled to climb through a difficult patch. "He's fighting for it, he's fighting for it," the announcer said.
By the end of the competition, Micah had won the Gold Medal in his category — and a place on the U.S. Paraclimbing Team.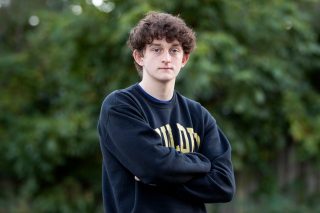 Micah's story — his journey from a 9-year-old St. Jude Children's Research Hospital patient with an aggressive bone cancer to a Paraclimbing National Champion — is one of chance encounters, overcoming odds and the powerful forces of family and a community found in climbing.
"Climbing is a huge part of what's helped him heal," said his mother, Felicia.
His story begins half a world away in China. In 2008, when he was three years old, Felicia and Jason moved the family there to work for a faith-based aid group working with special-needs orphans.
They also started a business to connect U.S. entrepreneurs with Chinese manufacturing companies. Micah was a "wild and crazy rambunctious little boy" who loved to climb trees with his older brother, Hudson.
In December 2014, when Micah was 9, the family returned to their home city of Atlanta to visit relatives and finalize adoption papers for his sister, Maggie Li. Micah told his parents that his leg hurt.
"We totally just thought it was growing pains. Or he had gotten bumped or bruised, because they were always tackling and wrestling, climbing up and jumping out of trees," Felicia said.
When it persisted, they decided to get it checked before they returned to China.
Two days after Christmas, a pediatrician took an X-ray and delivered news that would change the trajectory of their life.
There is a shadow. This is a tumor. Your son has cancer.
It was Ewing sarcoma, the second most common type of bone cancer in children. About 200 children and young adults are found to have Ewing sarcoma each year in the United States. About 70 percent of children with Ewing sarcoma are cured.
But those odds sounded scary to Jason. And he'll probably lose his leg, Jason recalled hearing as he struggled to process it all.
"That morning, I woke up and my kid was healthy, and now he has cancer, he's gonna lose his leg, and he might not survive this," Jason thought at the time.
They decided to undertake treatment six hours away at St. Jude Children's Research Hospital in Memphis, which offered cutting-edge clinical trials investigating new drug combinations to improve survival, with an emphasis on working to keep Micah's leg.
"It was good to know that, hey, we're at the best hospital that treats kids with cancer ... we were very grateful that we have been able to come to St. Jude," Jason said.
As they learned about what lay ahead, it would mean that they had to leave their life in China behind for good. Their home. Their friends. Their business. Their belongings.
"We kind of showed up at St. Jude with all the stuff we owned in the world, which was in suitcases in the car," Jason said. "St. Jude was a lifesaver — providing so much not just for Micah, but for the whole family, giving us a place to stay."
By then, the cancer had spread to Micah's ribs and spine. Chemotherapy started in January. By that summer, he had most of his left femur removed, along with muscle and nerves, replacing it with a titanium rod.
Micah endured about 20 chemotherapy treatments and multiple surgeries. His parents said it was a miserable time.
He felt terrible. He lost weight. He was isolated to keep from getting infections. Steroids made him grumpy. He didn't want to take medicine. During chemo sessions, he only wanted his mother there while he was hooked up to machines. It took him 13 months to walk again without crutches after his first surgery.
"In general, he shut down. Shut people out," his mother said.
Little things helped. Visits from his brother where they would sit and play games. Soon the treatments had the cancer in retreat, but that meant many months of physical therapy and lingering pain.
"It all hurt," Micah recalled. "They took out bone and nerves and muscles, so it was just a ton of physical therapy … just waiting for the muscles and everything to heal."
As energy and spirits returned, doctors were adamant: No contact sports like football or basketball. But Micah, still the same physical kid who had been practicing jiu jistsu in China, needed something — and it came at a chance encounter.
In 2017, Micah and his father attended The Warburton Celebrity Golf Tournament benefiting St. Jude in Palm Desert, California. There they met Tom Shadyac, a Hollywood film director known for directing hits such as "Ace Ventura: Pet Detective" and "Bruce Almighty." His father, Richard C. Shadyac Sr. , once served as CEO of ALSAC, the fundraising and awareness organization for St. Jude. Today Tom's brother, Richard Shadyac Jr., holds that role.
In conversation, Tom invited Micah to visit his soon-to-open South Memphis climbing gym called Memphis Rox, a non-profit climbing gym and community center opened to serve everyone regardless of their ability to pay.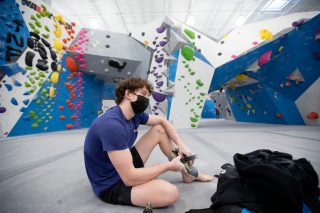 "The first day it was open Micah was like, 'We gotta go, we gotta go,'" Felicia said.
Inside the gym, where walls are filled with artificial rock faces and brightly colored handholds, something just clicked. Not only was Micah a natural, he was drawn to the welcoming and encouraging environment.
"He took to it. And he never looked back," Felicia said.
He joined the Memphis Rox youth team, learning an array of new movements and techniques: how to control his center of gravity while clinging to rock holds. How to move efficiently to avoid exhaustion. How to twist hips and switch feet as he climbed.
And he did all that with limited range of motion, including a substantially weakened left leg and a foot whose limited motion made it difficult to perform toe or heel hooks. That meant approaching the route, which climbers call "problems," to figure workarounds.
"It's super fun because every problem is different. It's always something to figure out with different movements," Micah said. "Everyone on the team is super encouraging, and super fun to climb with. We push each other, but also encourage each other."
At 14, he had another surgery that included a hip replacement. It wasn't long after that he dislocated his hip on a climbing wall.
Kaje Simpson, the Memphis Rox "Soulsenders" climbing team head coach, held him to the wall for 45 minutes until he could be safely brought down and to the hospital, he said.
But instead of deciding it was too risky, he was back to climbing within a month — and more determined than ever. While his leg couldn't hold weight, he developed his upper body strength. "That was when his climbing really took off," Simpson said.
Climbing became a source of newfound confidence, a way of healing emotionally and a path to an identity beyond his battle with cancer, his parents said.
"During treatment, you lose so much of the control. And climbing was a way for him to kind of regain a lot of that control. When he climbs on the wall, his next move is up to him. If he finishes the route, it's up to him," Jason said. "He's proud to be a survivor, but he isn't just the kid with cancer. He's Micah the climber."
Micah met another climber at Memphis Rox who had a lower leg amputated, who told him about paraclimbing competitions.
Paraclimbing athletes are placed into classes based on similar disabilities. Climbers, who use a top rope attached to the wall, are scored based on how far they can reach on their assigned routes as well as speed.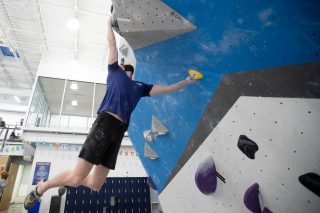 When Micah signed up for the championships in Salt Lake City, Jason wondered if a poor result would shatter his confidence. He also struggled with fears of heights in sport climbing, as opposed to the rope-less, lower-altitude bouldering that he'd concentrated on.
But Micah won his RP3 category, and a place of the national team.
That also gave him a chance to travel to the World Championships in Moscow this fall, placing seventh overall in his category.
"My first international competition in Russia, that felt bigger than anything. Going to Russia and just being there, I was nervous. But when I was actually climbing, I was fine," he said.
More recently, Micah also won his category at a World Cup competition in Los Angeles.
"The kid is psyched all the time. And he brings fire to every climb," his coach said. "His movement, his strategy on the wall, the quality of his decision-making on the wall are better than a lot of his peers."
Micah is now a sophomore in high school, at times staying up late to finish homework ahead of the next competition. The family has found a home in Memphis and Micah returns to St. Jude for regular checkups.
In January, he had his five year mark and is considered cancer free. And that has opened the door for big dreams.
After sport climbing made its debut at the recent Olympic Games, many expect that the sport will be in the Paralympics in Los Angeles 2028. Micah wants to be there.
"For me that's at least seven more years of training...which is like, pretty good spot to be in," he said.
While he's looking forward, Micah's parents continue to marvel at a son who has long seemed to defy gravity.
"We see him climbing and doing these really awesome things that really impress people. And it's hard not to see little nine- and 10-year-old Micah, sick at the hospital," Jason said. "It's never far from our mind of how far he has come."