Love, positivity and ice cream sundaes —
St. Jude

patient Victoria brings her art to the World Golf Championships
TaylorMade putter covers at WGC-FedEx
St. Jude

Invitational feature patients' inspired works of art.

July 30, 2020 • 5 min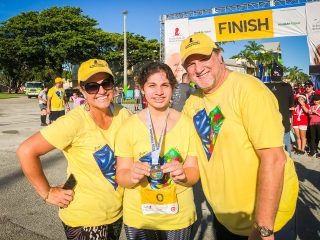 One painting she dreamed — literally dreamed it: An angel who looked just like her, wearing a blue and gold dress.
She woke up in her hospital bed and hurriedly sketched it out, capturing the image until she could get her art supplies and make it a proper painting.
But Victoria's muse doesn't just reside in her subconscious and come out while she sleeps. It lives in the heart and soul, mind and imagination of this 13-year-old girl whose paintings brim with a positivity that belies all she's been through.
Take the one she calls "The St. Jude Tree of Life," which wasn't dreamed but rather deeply thought out. The trunk, she says, represents St. Jude Children's Research Hospital, where she was treated with proton therapy after having undergone two surgeries on a brain tumor, called meningioma, that's rare in children.
"The long branches," Victoria explained, "are all the departments, facilities and all the different parts of St. Jude. The little branches are all the doctors and nurses, and the donors, as well, who take care of St. Jude.
"Then all the leaves are the patients who are there. And if you look at it, there are some falling leaves. Those represent the patients who have passed away."
The painting is colorful, uplifting and filled with love — as sure a sign that it's a Victoria original as her printed name in the bottom, right-hand corner.
"She's just our ray of light," said Marlene, a family friend who founded the Team Victoria fundraising juggernaut, which has raised more than $200,000 for
St. Jude. "I've never seen her down, not one time. She's just amazing."
Consider Victoria's artistic contribution to the World Golf Championships-FedEx St. Jude Invitational. It's characteristically uplifting — an ice cream sundae. It appears alongside the art of other patients on TaylorMade putter covers used by golfers Dustin Johnson, Rory McIlroy, Jon Rahm, Jason Day, Matthew Wolff and Collin Morikawa.
"I like to paint things I believe in and I love," Victoria said. "So, sundaes, I absolutely love. I mean, who doesn't?"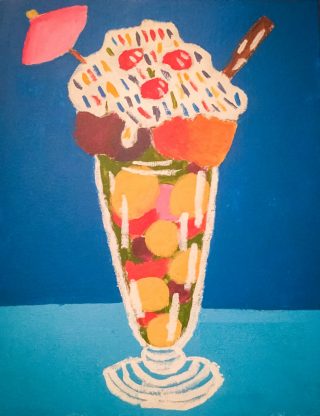 Bright colors and deep meaning
Two surgeries for brain tumors — the first around her pituitary gland, the second around her optic nerve, and neither able to fully remove the mass. A stroke. A seizure. Paralysis on her left side. Rehab to relearn how to walk and talk. Doctors' warnings that she might lose 50% of her sight and 30% of her hearing. A third operation to remove the surgical clips from the second.
And then, finally, on to St. Jude, for 30 days of high-dose radiation treatments at the world's first proton therapy center solely for children.
All when she was 8 and 9 years old.
"As a parent, you never think you can learn from your child," said her father, Gus. But he said Victoria's handling of her disease "really made the whole family understand what is the meaning of life, what is the meaning of the world."
Those lessons extended to Victoria's older brothers, Gustavo William and Gustavo Andres, who each spent a month at St. Jude with their sister, helping them understand, Gus said, "how blessed we were and are to have a place like St. Jude."
"Victoria's an old soul," said her mom, Damary.
"She's 13 going on, like, 55," Marlene said. "For the age she is, it's incredible. Because all of her art has a meaning and a story behind it. It's not like she just picks up the brush and starts painting. It has a meaning. And she adds the story to it."
Victoria wants art to always be a part of her life, but she'd like to be a radiation oncologist at St. Jude when she grows up. Or maybe, she said, work for ALSAC, the fundraising and awareness organization for St. Jude. She seems qualified for the latter job already — she's 13 going on chief marketing officer.
She's told her St. Jude story numerous times, from fundraising galas to TV news stories. She's the beaming face of Team Victoria, a St. Jude Walk/Run team that's expanded to multiple cities, thanks to sponsor Douglas Elliman, the real estate company where Gus and Marlene both work.
Along with the Walk/Run itself, Team Victoria stages a fashion show and a bowl-a-thon. And art flows through it all. Victoria's paintings have been auctioned to raise money for St. Jude, and she's collaborated with a noted South Florida artist, Alex Mijares, on the Team Victoria T-shirt art for the annual Walk/Run. Amid the pandemic, they held a virtual "painting live with Victoria" event.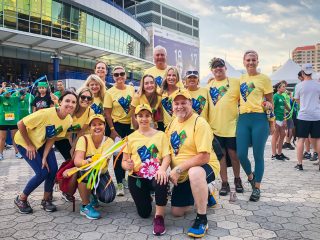 "I call her the boss," Marlene said. "My boss."
Hearing it all, you have to remind yourself Victoria is barely a teenager — still living with tumors, and always will, the family has been told. "It seems the tumors are as stubborn and resilient as Victoria herself," Gus said.
But, he added: "Father's Day, when we were there for her six-month checkup, we were very lucky and blessed to hear that the tumor has started to shrink a little bit."
Future doctor? Fundraiser? Artist. All of the above?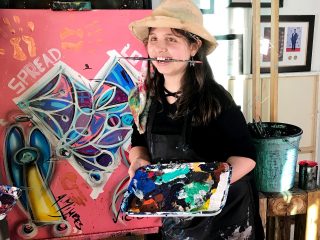 Whatever she does in life, we can assume people will feel a little better because of it.
Speaking of which, Gus wants to tell a story about Victoria, a story that "really showed me who my daughter is."
They were back at St. Jude for a checkup. They were at Tri Delta Place, the short-term housing facility on campus, playing air hockey. A mom walked in with her daughter, about three or four years younger than Victoria.
The parents got to talking. The kids, too.
It turned out the girl was having proton therapy, just like Victoria had. It's tough. For ideal results, patients should remain awake during the 50 or so minutes of the treatment — all while staying extremely still, with their face fully covered by a mask.
"So as you can imagine it's very daunting for a child, or even an adult," Gus said.
The mother was telling Gus this, and all the while Victoria was talking to the daughter, but listening to the adults, too.
And then, Gus said: "We shut up then as parents, and Victoria and her daughter started talking about why does this happen. The child started saying, 'Well, I get very antsy, I get nervous, I don't like it, I get claustrophobic.'"
So Victoria told the little girl how she'd gotten through the same thing, by going to her "happy places," taking her dolls with her, even, in her mind.
"She started explaining to her," Gus said, "how her imagination would take her to different places during the treatment.
"We both started crying, as parents, when her daughter said to her, 'You know, Mom, tomorrow I think I'm going to do it without anesthesia.'
"After many doctors had tried to convince her, after many nurses had tried to convince her, even her own mother tried to convince her, she was never willing to try it. But she was willing to try it, because of speaking to my daughter.
"And that's pretty amazing."
Call it the art of compassion, and sign it Victoria.