A victory against cancer and a holiday celebration like no other
With their daughter back home, Marlene and Juan Manuel are looking forward to a Christmas filled with food, family and the giggles of little Mikayla.

November 25, 2021 • 5 min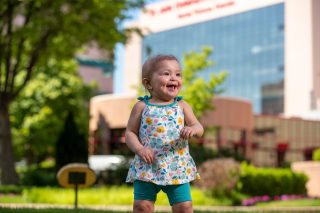 English | Español
Mikayla did not want to play or eat. Her face was pale, so were her lips.

The one-year-old with the dark hair, sparkly eyes and dimpled smile did not laugh when tickled and slept for hours despite a whirlwind of Christmas activity around her last December.
Could something be wrong? her grandmother wondered. No, she must be tired from traveling for the holidays, she reasoned. Or maybe, just maybe, she could be slightly anemic.
Mikayla's mother and father, Marlene and Juan Manuel, also had seen the change in their youngest child. They'd recently moved from California to Missouri. At first, they too thought it could be anemia, or their daughter adjusting to the colder, gloomier weather in their new home state that kept them all indoors more.
But after the holidays, the usually active girl continued to be lethargic with no appetite. Results from bloodwork showed Mikayla's hemoglobin levels were alarmingly low. She was admitted to a local hospital where she was given several blood transfusions during a four-day stay. Doctors ordered a bone marrow biopsy. Mikayla's family was worried, but hopeful.
"She was back to eating, she had her color back, but it was kind of like the blood was a temporary fix,'' her mother recalled. "It was fixing the symptoms of that moment, but at the same time we didn't want to think it was the worst."
More than a week later, after Mikayla underwent a bone marrow biopsy, the couple received the devastating diagnosis: Mikayla had leukemia.
"We didn't know what we were up against,'' said Juan Manuel. "There are experiences I think in human life where we run out of tears, and that was one of them."
Doctors referred the family to St. Jude Children's Research Hospital in Memphis, a six-hour drive from where they lived. It was there that the couple found out Mikayla had acute myeloid leukemia (AML), a cancer of the blood and bone marrow that would require months of chemotherapy. Only about 500 children a year are found to have AML in the United States.
"Our world feels like it's upside down and forever changed, " Marlene wrote on her Facebook page as she processed the news and the months of treatment ahead. "My heart hurts knowing that I cannot take this all away from her and at times it feels like it's just a nightmare."
Generations of
St. Jude

followers
The couple felt comfort knowing Mikayla would be treated at St. Jude. Mikayla's great-grandmother, Elvia, had donated to the hospital for a decade. Around the time Mikayla was diagnosed, Elvia received a certificate of appreciation for supporting St. Jude, which Marlene took as a sign that they were meant to go to Memphis.
Marlene comes from a family with Mexican roots and with several members who have long been devout followers of St. Jude, the patron saint of lost causes.
More than a half-century before Mikayla arrived at St. Jude Children's Research Hospital, her great-uncle, Edward Flores, was a Marine Corps serviceman attending naval aviation school in Millington, Tenn., in the mid-1960s. He would travel by bus every day through Memphis. One day, he noticed for the first time a 10-foot-tall marble statue of St. Jude Thaddeus outside the research hospital. He thought of his mother, and immediately got off the bus.
His mother, Gertrude Flores, gave him a St. Jude medal before he left home for the military which he always carried with him. He wanted to send her a memento of his encounter with the statue. A figure of St. Jude in a local souvenir shop caught his eye.
"My mother always prayed to St. Jude, so I had it shipped to her, and she put it in a shrine at home,'' said Flores, a Vietnam War veteran. "It was there all the years I was in the military, and thereafter."
Years later, after his mother's death, his sister, Elvia, asked him if she could inherit the statue.
"I told her absolutely, I would pass it on to her,'' he said.
Edward Flores, who was diagnosed with cancer in 2007, said after Mikayla became a patient at St. Jude Children's Research Hospital, he signed up to be a monthly donor.
"I thought that would help Mikayla and other little kids who end up at St. Jude,'' he said.
The statue, now adorned with rosary beads and standing on a glass table in Elvia's home, continues to provide solace for the family. When Elvia was told of Mikayla's leukemia, she turned to St. Jude and prayed.
Another move, this time to Memphis
"She was such a little thing and I wondered why they have to go through it, but I don't have to question why, it just happens,'' she said. "I believed that St. Jude would help her, and the prayers would go far."
Marlene and Juan Manuel were in the midst of the move to their new house in Missouri when Mikayla was diagnosed, and the couple had to figure out how they would be there for Mikayla, and at the same time for their oldest son, Mark. They decided Juan Manuel would stay behind with their son, while Marlene and Mikayla would move to a two-bedroom apartment at Target House, a long-term housing facility for St. Jude patient families.
Marlene's mother, who lived outside Los Angeles, would join them. She'd battled breast cancer two decades earlier.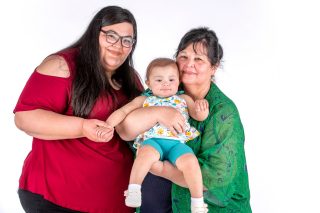 "I said I'm going to go with you, I didn't have to think about it, I had to be there,'' she said. "Especially, since I knew what Mikayla was going to go through with the chemo."
Mikayla underwent five rounds of chemotherapy. Though the drugs killed the cancer cells, they also wiped-out Mikayla's immune system, making her susceptible to other illnesses. After the last two rounds of chemotherapy, she developed several infections, her mother said, which led to multiple and longer hospital stays.
"With the last round, it was the home stretch, but we were in the hospital three times,'' Marlene said. "It took a really long time for her to recover so that we would be able to go home."
Mikayla's grandmother said that there were some days and nights after chemotherapy that Mikayla would cry and that was difficult. Although she had known of St. Jude and its work in treating sick children, being on the hospital campus and at Target House gave her a better understanding of the different ways families are assisted.
"They fed us, they gave us cards to spend on groceries,'' she said. "This is wonderful that they can do this for families, without them I don't know what they would have done. It's like hitting the lottery without winning money."
Juan Manuel said Mikayla's illness reminded him that the world doesn't stop, even though they were dealing with one of the biggest challenges in their lives. He was grateful he didn't have to worry about paying medical bills.
"If they would have told me it would be a million dollars to fix your little daughter, then alright, I would put it on the credit cards, and I would have worked for the rest of my life," he said. "I would gladly do it and work for her health, but I didn't have to do that and that was wonderful."
Eight months after Mikayla began treatment, Marlene is on the phone, and the sounds of her nearly 2-year-old daughter, Mikayla, can be heard in the background. Mikayla is learning more words, and her shrieks and giggles can be heard as she plays around their house.
Her grandmother, who returned to California, said Mikayla is her old self.
"Our Mikayla is back,'' she said.
In September, the family was told they could return home because Mikayla is in remission.
Juan Manuel said he's looking forward to celebrating the holidays this year, and to seeing Mikayla with her grandmothers and extended family playing, laughing and eating home-made tamales.
"I'm just grateful,'' said Juan Manuel. "There is so much going on that you start losing faith in humanity, and then you see acts like this and that there are good people out there, and there is something greater out there, and that is caring for one another."