How to train for the
St. Jude

Walk/Run: Just keep walking
Follow along through September as writer Karina Bland recruits her 'virtual'
St. Jude

Walk/Run team, dons a tutu, and raises money for a mission that matters.

September 22, 2021 • 4 min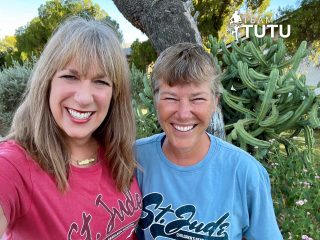 Had I started training for the St. Jude Walk/Run yet? My cousin Theresa wanted to know.
I'm a team captain for the annual event to raise money for St. Jude Children's Research Hospital. This year, it's virtual, and 20 people joined my Team Tutu. I'd set a fundraising goal of $1,500.
Um, sure, I told Theresa, I've been training. Sort of.
I pulled on athletic wear and stretched (to reach the TV remote). I did leg lifts (onto the ottoman to watch "Murder, She Wrote"). I did arm curls (oh, sure, I had a glass of wine in my hand at the time).
Maybe I should take this more seriously.
Patrick McElroy was at his first St. Jude Walk/Run in Harrisburg, Penn., in 2014 when Kevin O'Brien spoke to the crowd. Kevin's daughter, Catie, was 7 when she died of cancer in 2009.
Kevin thanked the participants for what they had done and then he asked if everyone could do a little bit more. "I took that to heart," Patrick told me.
He'd signed up for the walk as an alumni member of the Susquehanna University chapter of Tau Kappa Epsilon. St. Jude founder Danny Thomas had been a member. That year, Patrick had raised $1,225. Could he do a little bit more?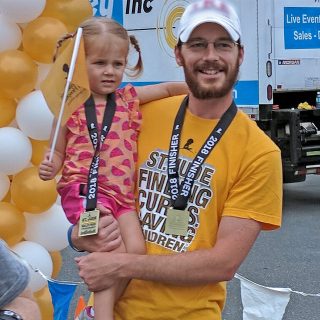 The next year, Patrick raised $2,050.99. Just a little bit more. In 2016, he did a lot more, raising $11,680 by promising to shave his head if he reached his goal of $11,000.
The words of Catie's father stuck with Patrick. Could he do a little bit more?
Deborah Levi, of Baltimore, Maryland, understands that feeling. Once she started raising money for St. Jude, she wanted to do a little bit more. Turns out, it's in her blood.
Deborah used to watch Danny Thomas on television with her grandmother. Her aunt was an avid donor to St. Jude. Both women encouraged Deborah to volunteer for others.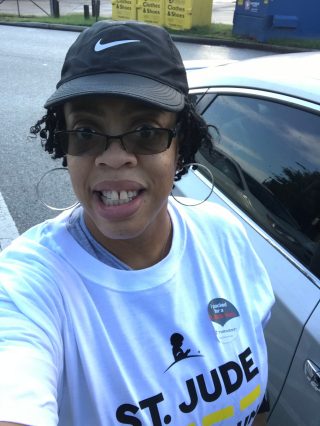 "When you give, you get back, but you have to give," Deborah said.
She teaches autistic children at Cedarmere Elementary School in Reisterstown. While working on her master's degree at Notre Dame of Maryland University, she joined the Zeta Omega Sigma chapter of Sigma Gamma Rho Sorority. Her grandmother had been a member.
For the third year running, she's captain of the chapter's St. Jude Walk/Run team.
Last year, her team raised almost $8,000. This year, she's hoping for $10,000.
"Every team member is geared up and pumped up about being a part of St. Jude," she said.
Deborah, who's 52, and her 7-year-old son, Tre, pull themselves away from playing Mortal Kombat to walk daily on the track at Milford Mill Academy. She reminds me that the effort is nothing like what kids at St. Jude go through. She toured St. Jude in Memphis 10 years ago while visiting family.
She and her teammates log their steps on the St. Jude Walk/Run app, competing for bragging rights. It makes training more fun.
On the day of the walk, they'll meet at Drew Hill Park and walk together.
"That is the joy of it," Deborah said, "when you come together with good people, and you do something good to help the families of St. Jude."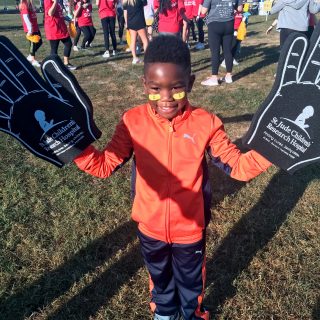 They're giving those families more than money, Deborah said: "You give them hope."
In Coatesville, Penn., in 2017, Patrick came up with a big way to do a little more. He would walk the 70 miles from his home to the St. Jude Walk/Run at City Island Park in Harrisburg.
The 32-year-old accountant wasn't particularly athletic, but how hard could it be? He thought, "I'll just walk until I get there. It's just walking. I'll just keep walking."
He set a goal of $15,000.
Patrick started out on the Wednesday before the Saturday event. His feet burned. His knees ached. He collapsed on hotel beds at night and woke still hurting.
"The walk there broke me," Patrick said. "It absolutely broke me."
He stopped at 9 p.m. the night before the event, still more than a mile away. The next morning, it took him an hour and a half to walk to the starting line. He faced another 3.1 miles.
Patrick was bolstered by the crowd and the excitement. All those people doing a little bit more.
"Just keep walking," Patrick told himself.
He was the last to finish the 5K an hour and a half later, his family walking with him.
He raised $16,520.72 – and shaved his head again.
The next year, in 2018, Patrick walked 100 miles to the event, starting at the statue of Rocky outside the Philadelphia Museum of Art, clocking 25 miles a day for four days.
This time, he trained hard, logging more than 400 miles that summer. He raised $25,000.
Patrick kept training, walking early in the morning and late at night, sometimes wearing a weighted vest. Just keep walking, he told himself.
In 2019, he walked to the event from his alma mater, Susquehanna University in Selinsgrove, 60 miles in one day, and raised $12,322.92.
The event was virtual in 2020 because of the pandemic, so Patrick pledged to walk 100 miles in one day, circling a quarter-mile route in his neighborhood. It took him 23 hours and 56 minutes. He raised $19,080.
Altogether, Patrick has raised $92,457.63 for St. Jude. This year, he hopes to break $100,000.
Patrick, who's 36, is planning to do a triathlon. That means training even harder. Doing a little more.
"You can do anything if you put your mind to it," he told me. "Just keep walking."
So I pulled myself away from "Murder, She Wrote" to walk, taking the dog – and sometimes cousin Theresa – with me.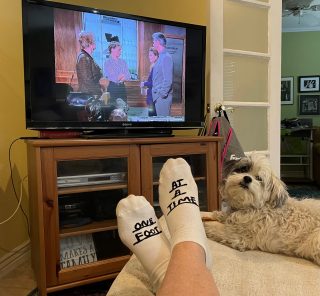 I ordered a banner for my team to carry when we make a 3.1-mile loop from my house. The 20 of us, in St. Jude T-shirts and tutus, will carry buckets to collect donations from passersby along the way.
I doubled my team's goal to $3,000.
Because we all can do a little more. Just keep walking.
Karina Bland's columns will appear each week in September as she recruits team members and trains for her first St. Jude Walk/Run. Then watch for her on race day: She'll be the one in the tutu.