It's hard to ask for help – unless it's for kids at
St. Jude
Follow along through September as writer Karina Bland recruits her 'virtual'
St. Jude

Walk/Run team, dons a tutu, and raises money for a mission that matters.

September 15, 2021 • 3 min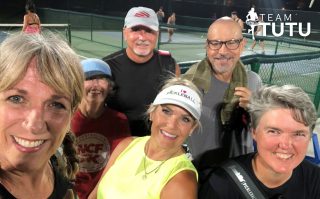 It's hard to ask for help. No one wants to feel like a burden.
I get that. I figured out how to unclog the bathroom sink and change a tire from YouTube tutorials. I once moved a couch by myself by propping it up on a "Star Wars" skateboard.
But there were times I couldn't do it by myself.
When my son Sawyer was little and needed to be somewhere, and I couldn't be in two places at the same time.
When I wanted to hang huge triangles of canvas to shade the backyard pool.
When my refrigerator door fell off its hinges, and I clung to it while Sawyer ran to the neighbors for help. (Scott and Kat rushed over, saw me hugging the door heavy with condiments and cracked up. I burst into tears.)
Asking for help still makes me uncomfortable. Now I needed to ask for money.
I signed up to be a team captain for the virtual Sept. 25 St. Jude Walk/Run to raise money for St. Jude Children's Research Hospital. I set my Team Tutu's goal at $1,500. I'd need help to reach it.
I'm an easy mark for a scout in uniform selling cookies. I've bought endless rolls of gift wrap to help the marching band go on its California trip and collected money to support a friend with breast cancer.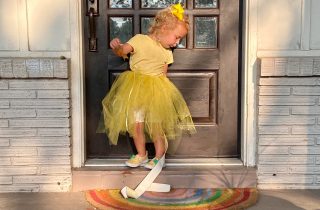 I should keep that in mind, Jessica Hall who organizes the St. Jude Walk/Run in Arizona told me. I'm not asking for myself.
Jessica is shameless when raising money for St. Jude, asking people to give up buying fancy coffee drinks or lunch out for a day (or a week) and donate that money instead.
"It's much easier to ask for money — and train to run — when there are greater stakes at play," she said. "There are kids who can't leave their hospital bed, a mission that needs to continue."
Kids to save. Every child saved at St. Jude means doctors and scientists can use that knowledge to save thousands more children around the world.
Jessica suggested I post my plea for money on social media.
Technology has changed how we support our favorite charities, especially during the pandemic when fundraising events had to go virtual. I've donated to fundraisers on Facebook and to GoFundMe for a friend who was in a car accident. It's so easy.
I hit up my mom in person. She's donated to St. Jude before. "Not very much," she said sheepishly.
I told her that St. Jude founder Danny Thomas contended he'd rather a million people each gave $1 than one person donate $1 million. "That way you've got a million people involved," Thomas said.
It all adds up.
Just $3 helps provide pediatric isolation masks; $10 can buy a new toy for hospital play areas; and $57 covers necessities for parents who hurriedly left home after a child's diagnosis.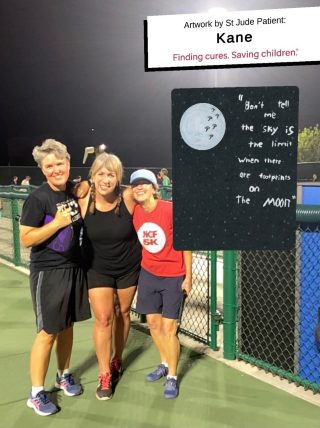 A patient family's meals for a week costs about $250; $500 pays for a platelet transfusion for a child receiving chemotherapy; and $750 covers five days of oxygen for a young patient.
No matter the amount, Jessica told me, people want to help. Some give when things are good for them. Others give when they're struggling, better understanding the fragility of life.
Not only because of the good their money can do but also because it feels good.
There's something else.
In the times that I asked for help, when friends showed up with power tools, or family came to my rescue, or people said yes to supporting someone in need, I didn't feel like a burden. I felt a sense of community.
That's what it takes. A community.
Karina Bland's columns will appear each week in September as she recruits team members and trains for her first St. Jude Walk/Run. Then watch for her on race day: She'll be the one in the tutu.