First-time runners at
St. Jude

Memphis Marathon see 'never give up' attitude first hand
Along the route, runners are inspired by grateful
St. Jude

patients and families

December 04, 2021 • 2 min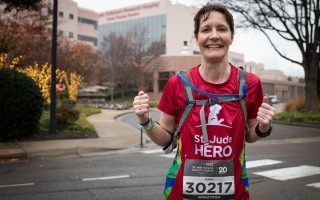 Jamie Swain was waiting, a cowbell in one hand, pom-poms in the other, as the sun rose and the first runners reached the entrance to St. Jude Children's Research Hospital.
It was her first time at the St. Jude Memphis Marathon without her daughter, Abi Blankenship, who was 12 when she died last year of bone cancer.
Some run to help children they've never met. Others run for children they love, wearing coordinated shirts of all colors: Team Super Hayden in red, Team Corbin in pink, Team Landon in purple.
Jamie suddenly darted after a runner, a former patient, and the women hugged, smiling and crying. She would hug every runner if she could. What they were doing means everything to families like hers.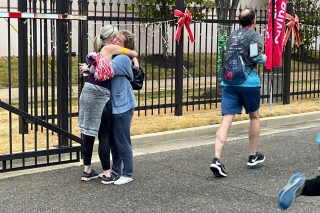 "You're never alone in this," Jamie said. "You know that the minute you walk in the door of St. Jude."
This was the 20th St. Jude Memphis Marathon but a poignant experience for those participating for the first time.
Chikezie Madu finished his first 5K in 25 minutes and circled back to St. Jude to give his medal to his daughter, Elechi, 16, who has sickle cell disease.
"I was determined to finish this race without stopping because she never stops fighting. She never gives up," he said. "I cannot thank St. Jude enough because they also never give up."
Inside the hospital buildings is another race. A race to find better treatments. To save lives. Race participants are making that possible, raising more than $12 million this year.
"It was almost as if we are carrying the weight of the children on our shoulders," Chikezie said. He cried as he ran, moved by their efforts.
"It changed my view of humanity," Chikezie. "These are good people."
Kaden knows that. The second grader, who was cheering on runners, was diagnosed at 14 months with hemoglobin Nottingham, a rare blood disorder.
"Mom, if everyone in the world was just as nice as everyone at St. Jude, wouldn't that be great?" Kaden said.
He'll need a lifetime of treatment. These runners mean he'll get it, and his family won't ever receive a bill from St. Jude.
Kaden waved at Lisa Schamus, of Phoenix, Ariz., who was running the marathon for the first time. "You can do it!" he shouted.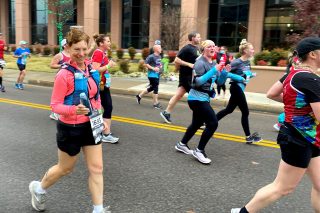 She's run 24 marathons and more than 100 half-marathons, but she'd never seen so many supporters lining the route. "It was really moving," she said.
Back at the St. Jude entrance almost five hours later, Abi's mom, Jamie, and her family still cheered on the runners.
Jamie remembered how, at the race in 2016, Abi had pushed herself out of a wheelchair and took tentative steps to hug runners. In the following years, she'd held up a sign that said, "Free high 5s," and counted how many runners veered off the course to slap her hand.
In 2019, Abi had danced next to the band not far from the spot where Jamie stood now. She hooted and yelled, "Thank you!" as runners passed by. Jamie and her family stayed until the last one made it through.
"I want them all to know how much it means to us," Jamie said. "This is what you do for family. This is family."