St. Jude

Memphis Marathon: Team SuperSam is savoring a life and supporting a cause
Sam was a 5-year-old boy who loved super heroes. To family and friends who run and raise money in his honor, he was one.

December 03, 2020 • 5 min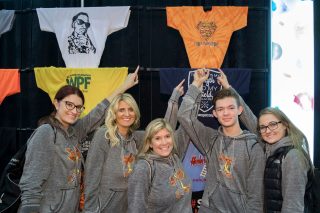 Sam Jones would have graduated from high school this year, so his family threw him a party outdoors and with precautions for COVID-19.
They had a high school graduation gown and Sam's own preschool graduation gown, and because he loved super heroes, there were capes draped from every chair. His preschool teacher, kindergarten teacher and elementary school principal all came, with memories of the spirited little boy who died at age 5 from an inoperable brain tumor.
Instead of gifts, guests brought donations for St. Jude Children's Research Hospital, where treatment gave Sam and his family extra time together — quality time, precious time.
Twelve years later, those memories remain vivid and alive as the family and their friends honor Sam by raising money and awareness through the St. Jude Memphis Marathon and their St. Jude Heroes team. Despite the year, despite a pandemic that has turned an in-person race into a virtual affair, Sam's supporters remain all in for St. Jude.
Team SuperSam, they call themselves in a nod to the super heroes he loved. And to the little super hero he was to them.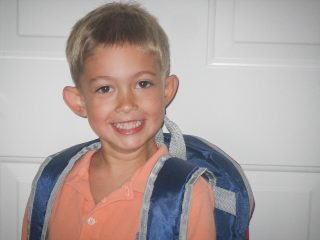 "He ended up living 14 months post-diagnosis. And living," his mom, Becky, said. "We brought him home, put him back in school. Everybody said, 'How can you let him go to school? I'd want him with me every minute.' I'm like, 'He wants to go to school. He wants to be a normal kid.'"
Because these weren't just the last months for the family — Becky and husband Marc, and their younger children, Max and Sally — to savor Sam.
They were Sam's last months to savor life.
"He went back to preschool. He started kindergarten," Becky said. "We traveled all summer long. We went to beaches. We went to Florida to visit family, Georgia to visit family. We were able to do all of that stuff, I believe, because of St. Jude. We didn't just bring him home and put him in a bed and that was that.
"We made memories."
Memories of an unforgettable kid, one with super powers.
What else would you call it, the way children cope with catastrophic diseases that are, to some, like Sam, a death sentence?
What else would you call that grace and strength and sense of hope, if not super human?
"He was very spirited," Becky said of Sam, who was diagnosed with a diffuse intrinsic pontine glioma (DIPG), a tumor that started in his brain stem, in 2006, at age 4. "Very stubborn and hard-headed. Everybody used to say that's a trait that would serve him very well later on.
"As it turned out, it very much did. It helped him through everything. He was very strong."
Ask her, all these years later, to describe Sam and it's like she's looking across the room at him.
"Extremely smart. Just matter-of-fact. First child, type A," she said. "He was funny, he loved knock-knock jokes. He had a beautiful smile and gorgeous eyelashes. He was very social. He was very active. He loved to be at school. He loved to be with his friends."
Picturing Sam as he was is the easy part. He's "just everywhere," Becky said. He's in pictures around the house, in family conversations with Max, Sally and the youngest, Cooper, who never met his big brother. And he's there when they're rallying their favorite cause, St. Jude, whether it's raising money during the marathon or at their annual summer golf fundraiser. He was absolutely there for his graduation party.
"We bring him into our everyday lives all the time," Becky said. "We celebrate his birthday. All the neighborhood kids who were friends with him come over and do a balloon release. We do something on the anniversary of the day that he passed, every year. Typically, both of those times we pull out videos, we let the kids see how he interacted with them."
And he's still that little boy, 5 going on 6.
It's harder to imagine Sam as he might have been, as he might be today.
Becky wonders about that all the time.
"You think of what sports would he have liked and would he have a girlfriend," she said. "What would he look like is one I struggle with all the time. Because yes, he is still that 5-year-old little boy in my head."
Does a day go by without thinking about him?
"No," she said.
She doesn't sound sad when she says it, though there's sadness in there, there's heartbreak; there's quite possibly the worst sort of heartbreak in all of the human experience — losing your child.
But what you hear more is love, gratitude and whatever you call it when a memory named Sam runs happy and smiling through your daily life.
The gratitude is for St. Jude, which Sam loved.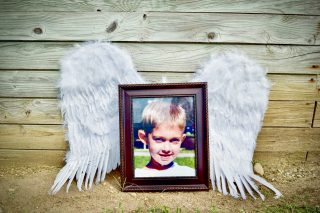 "In my experience, I thought, if you didn't know why you were there it would feel like you were at summer camp," Becky said. "You go in, you get your agenda for the day, there's all these fun things to do.
"Obviously I knew the sad truth behind that. But for them, it's fun. Everything was made fun."
She tells a story about that. Sam had finished two-and-a-half-months of treatment at St. Jude, had endured chemotherapy and radiation therapy and all manner of sticks and pokes.
"We were back at home, reading a book in bed one day. It was a book about being sick and heaven and stuff like that," she said. "All of the sudden he sat up in bed and said, 'Mom, you have to take me to the doctor.' And I panicked. I said, 'Why, what's wrong?' He said, 'Well, so they can get this thing out of my head.'"
She paused.
"He didn't realize, those two-and-a-half-months, that's all we were trying to do," she said. "Because they made it so wonderful."
Marc, who explained Sam's tumor to him in super hero terms, saying doctors were fighting it with laser beams like in the movies, said St. Jude gave the family everything they needed — medical options, altruistic care and reason to hope.
"They gave us an opportunity to fight for the most important thing in the world," he said.
That's why Sam's family works so hard to help the cause. Because St. Jude did so much for Sam, giving him extra, unexpected months with a good quality of life. Because in helping St. Jude, they're helping fund research into Sam's particular disease and potentially changing the outcome for kids in the future. Because if tumor is one of the most chilling of all words, inoperable is even worse.
So the family and their friends have been marathon regulars since 2008, the year Sam died. For Becky, it's a time when she can think just about Sam, "without having to worry about making any of my other kids feel like they're any less than he was, if that makes sense."
But a couple of years ago, Max came to Memphis with his mom for marathon weekend. "For him to go and experience that and run and see all the teams and all the people, that was really powerful," she said.
Most years, four or five members of Team SuperSam make the trip to Memphis for the marathon. But this isn't most years. This is the year of going virtual because of the pandemic, so Sam's family has adjusted.
Their goal had been to raise $20,000 in 2020, through the marathon and their summer golf outing. They're still raising money but deferring to next year, hoping to donate $21,000 in 2021 — a bereaved family's gift to a place that gave them the precious gift of time with their little boy Sam.
Time, and something even more.
Timeless memories.