St. Jude

Memphis Marathon: He's run all around the world, spreading motivation and empathy every step of the way
Tony Reed, co-founder of the National Black Marathoners Association, brings his positive message to
St. Jude

.

December 03, 2020 • 3 min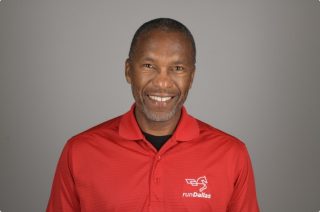 In Tony Reed's first high school cross country meet, he finished 142nd out of 143 runners.
"I passed one guy who got sick," he said. "I can remember as I was going through the chute at the finish line, a lady said, 'So there's still people out there on the course?'"
That was a long time ago.
It was 131 marathons ago, in all 50 states and on all seven continents.
It was more than 45,000 miles ago for a runner who's a co-founder of the National Black Marathoners Association (NBMA) and an inspiration to runners everywhere — including those taking to streets across the country for this year's virtual St. Jude Memphis Marathon, raising money for kids with catastrophic diseases while taking COVID-19 precautions.
Because in this slog of a year where every step has been a struggle, who better to be inspired by than a man who has committed his adult life to running as a means to good health and helping others?
For Reed, who lives in Dallas, running "gives me that excuse to just go outside and enjoy the beauty that God has given us," he said. "And at the same time, you can easily start to think about the people who aren't able to experience those very things."
That's why it was natural for Reed to be among the special guests for a St. Jude Heroes U series of classes to motivate runners in advance of the virtual marathon. And why, as executive director of the National Black Marathoners Association, he's leading the organization's partnership with St. Jude Children's Research Hospital.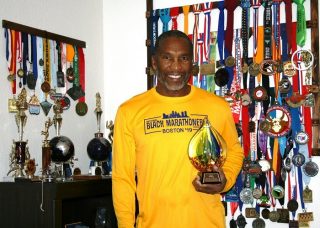 It's not just because he's such an accomplished runner — the first Black person in the world to run a marathon on all seven continents, and one of 50 people in the world to complete the hat trick of at least 100 marathons, a marathon in all 50 states and on all seven continents — but because he's such a good example and an empathetic soul.
He began to run for the sake of his health, having been diagnosed as a youngster with a pre-diabetic condition and told he would go on insulin by the time he was a teenager. It was as a teenager that he read that diabetics who maintain a fitness program might not need insulin.
"I set a lifetime goal of averaging just three miles a day of running, walking or crawling," Reed said. "I felt if I could do that, then I may not have to go on insulin.
"I am 65. I have logged over 45,000 miles. Since I've kept my running journal, beginning in 1976, I averaged exactly three miles a day, and I'm still not on insulin."
None of this was easy, mind you. He wasn't a natural runner — remember that 142nd place finish. It wasn't his favorite sport or his best sport. But he started running and didn't stop, except to meet other people and bring them along on the journey.
Lots of people — the National Black Marathoners' Association, which Reed co-founded in 2004 with fellow runner Charlotte Simmons of Atlanta, has 6,000 members in its database and 16,000 on its Facebook page. Along with gathering to run races nationally and internationally, the group also awards scholarships — more than $50,000 worth, so far — to underprivileged students, and has established a hall of fame that recognizes not only athletic achievement, but contributions to the sport and the running community.
And its members have fallen in step with the thousands of runners who raise money for the cause of sick children through the St. Jude Memphis Marathon Weekend.
Originally, they planned to hold their annual summit in Memphis to coincide with this year's marathon weekend. That would have meant some 300 or 400 members of the association running through the streets of Memphis, and through the campus of St. Jude, cheered on by patients and families, caregivers and supporters, raising money and rallying support for the cause.
That experience will have to wait a year because of the pandemic — the NBMA now hopes to be in Memphis for the 2021 St. Jude Memphis Marathon Weekend — but Reed knows it will be a special moment when it happens.
He knows because of all the miles he's logged in his life and the lessons he learned along the way. He knows because of the people he's met, the ones he's inspired and been inspired by.
He knows also about those who would doubt or dissuade. What better motivation to keep running, to keep pushing on?
"People around you get in your head," said Reed, who spoke to the St. Jude Heroes U class about setting goals and seeing them through. "You can't let them dictate what you can and can't do. Or live in a box that other people want to put you in."