Yodeling. Friendly goats. The beauty of the Swiss Alps.
This is what happens when the
St. Jude

Memphis Marathon goes virtual.

December 03, 2020 • 2 min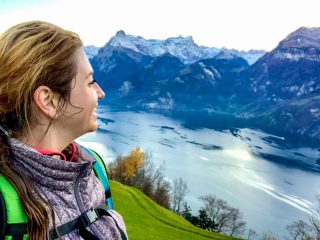 It could only happen in 2020, a year when virtual became real and real became what you made of it.
Rebecca Krynski Cox, in her debut as a St. Jude Hero, made it a St. Jude Memphis Marathon race like no other. She ran the half-marathon through the breathtakingly beautiful countryside of Switzerland — yes, Switzerland — with views of the Alps and Lake Lucerne. She made stops along the way for yodeling — heard for miles, no doubt; she's a professional opera singer — and to pet some friendly goats, all the while raising money for the kids of St. Jude.
"I've been running a lot since last March, when everything began shutting down. My running and fitness routine have been the only consistent thing in my life since then," said Cox, who lives in Lucerne, nearly 5,000 miles from Memphis, but who could join the cause because the marathon went virtual in this pandemic year.
Originally from Charlotte, North Carolina, she was aware of St. Jude and had contributed, but was a first-time fundraiser. "I was blown away by the positive response," she said. "Within the first 24 hours of posting that I was running, I had nearly doubled my fundraising goal. Everyone that donated did so very enthusiastically, and expressed to me how much they love St. Jude."
Virtual events have kept us emotionally tethered this year, but faces on screens and cardboard spectators in arenas also serve to remind us of what we're missing: the electricity of the crowd, moving as one, that social energy off which we feed.
But Cox's half marathon shows there are unexpected pleasures in the virtual. A local event becomes a global event. A cause hits home, wherever in the world home may be. And we're all connected by it, when it's shared.
So it is for an American-born opera singer in Switzerland, with no personal connection to St. Jude other than, as she said, "admiring everything that it provides for so many children and their families."
And so it is for thousands of runners around the country, and around the world, in this year like no other, this year in which the race is virtual but the cause — and the love behind it — is as real as ever.