"Sweat equity" philanthropy drives efforts for Miami and
St. Jude
For
St. Jude

supporter Andres Asion, paying it forward means making the extra effort.

August 24, 2020 • 3 min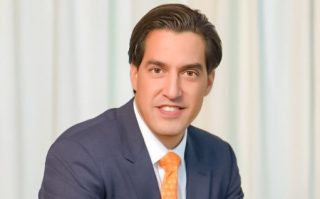 Before his successful Miami real estate career, before his philanthropy motivated by a dear late friend, Andres Asion was a kid accompanying his Cuban-born father to charity events.
An air conditioning mechanic by trade, Julian Asion would make giant pans of paella, and young Andres helped – exchanging plates for fundraising tickets or stirring the massive dish with a big mixing oar.
"My father was giving back through sweat equity – he wasn't cutting checks," Asion said. "Since I was a little kid, I've been involved in serving."
Asion is grateful his success has allowed him to help fund charity events, like the Friends of St. Jude Miami's signature gala, It's All About the Kids, that he has supported as presenting sponsor.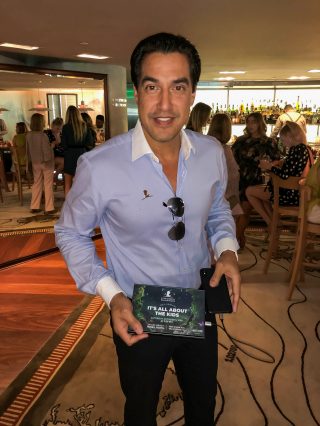 But that "sweat equity" modeled by his father remains an essential component of Asion's philanthropic efforts.
"Andres is special – he isn't just content to be a sponsor, he makes sure to get super involved," said Desi Valls, executive committee chair for Friends of St. Jude Miami.
Since shortly after the COVID-19 hit, Asion has channeled that do-good energy into an unexpected outlet: grocery giveaways to help alleviate economic burdens among fellow Miami residents.
It started after a morning bike ride when Asion made a video showing a line of cars stretched for blocks in South Beach for a food distribution event.
"I put it on social media and somebody saw it and was taken aback by the need they saw," Asion said.
A follower offered $500 to Asion to rally additional help. Through a contact, Asion connected with a Miami grocery store which agreed to host a giveaway – and to match donations.
By late that afternoon, Asion was surprising customers at the checkout of Presidente Supermarket, covering bills totaling $4,000. Since then, his foundation has directed more than $120,000 for grocery store giveaways in the Miami area.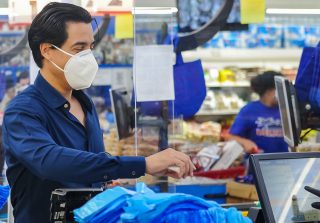 "When you spend a few hours in a supermarket, you hear these stories and learn a lot of people are going through so much, job losses and closing businesses," Asion said. "And you hear from some who have had family members who are very sick with COVID or have died."
Asion's family, too, has been directly affected by COVID-19.
First, it infected his father, although Julian, now 90, did not suffer severe symptoms. But his mother, Maria, was in intensive care for a month before returning home.
Through it all, Asion continued the grocery giveaways funded through his Andres Asion Foundation, which also has provided support for the Friends of St. Jude Miami event, It's All About The Kids. This year, the event is being transformed into a two-week virtual fundraiser for St. Jude that begins October 1 and culminates with a livestream celebration on October 15.
"Our event chair, Ashley Jimenez-Gonzalez, has been incredible," said Valls. "At the end of the day, we know St. Jude still needs the funds to be able to run and treat kids and do research."
Like many involved with the event, Valls and Asion came to the St. Jude mission through Wendy Grant, the founder of Friends of St. Jude Miami. Grant died of cancer in 2018, but Asion credits her with motivating him to use his influence to persuade other young professionals they could make an impact.
"She was such a pay-it-forward person, and she wanted to educate the next generation to be better leaders and better philanthropists," Asion said. "She taught me that even if you think you can compare yourself favorably to what other people are doing, you should instead focus on what more can you do to help others."