Pennsylvania teen supports
St. Jude

Mission: Inspired to honor her best friend
Olivia's best friend didn't survive pediatric cancer. By fundraising for
St. Jude,

she hopes other families will get to see their children grow up.

June 09, 2021 • 2 min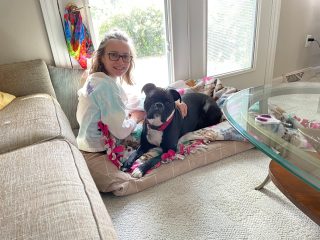 In many ways, Olivia Jones-Haldeman is like most 13 year olds. She's nervous, but excited about starting high school this fall, and she's looking forward to her family's beach trip this summer.
But two years ago, Olivia experienced something no teenager should have to go through: She lost her childhood best friend to cancer.
Olivia and Megan's relationship went all the way back to kindergarten. They grew up together, went to the same elementary school. A leukemia diagnosis separated the two friends in the 4th grade.
Still, they remained close. Olivia's parents gave her a smartphone so the girls could keep in touch while Megan underwent treatment at St. Jude Children's Research Hospital.
"My best friend, she got to be down in St. Jude. She loved it down there," Olivia said. "The original hospital she was in, it was boring. She just sat there. The food was boring."
At St. Jude, Olivia recalls, Megan always had something fun to do, like bingo. And when they chatted on the phone twice a week, she always had a smile on her face.
"We were still very close even though she was across America," Olivia said. "Our friendship really didn't change at all."
Separated by the circumstances, Olivia began fundraising to support the research hospital that was taking such good care of her friend.
"They exhausted all resources in our area," Olivia's mom, Rebecca Jones, said. "St. Jude was the last chance to give her a life. [Fundraising] was a coping mechanism since there wasn't much we could do for them."
When Megan was in remission, she was able to return to school in March of 2018. By June, she was on her way back to St. Jude. Megan passed away in 2019.
"I didn't know what to do, but I knew if I started fundraising, it could help her family and so many other families with not stressing about getting a bill," Olivia said. "They could just worry about their child. They didn't have to worry about their next payment and their financial future instead of health."
Since then, Olivia has participated in the St. Jude Walk/Run twice and done several fundraisers, the latest being Mission: Inspired, a fundraising campaign tied to Inspiration4, the world's first all-civilian mission to space. Inspiration4 aims to inspire support and raise $200 million for St. Jude.
Olivia talked to her family and friends. She talked to Megan's family, and they shared Megan's story on Facebook, raising $125 so far. Her goal is $150.
"I really don't stop," Olivia said.
"She'll just go on to the next one," her mom Rebecca said. "It tends to be a continuous flow. It has helped her cope with the loss of her childhood friend, which no child should have to experience."