Behind the scenes of a
St. Jude

Dream Home® Giveaway
In Colorado Springs, builder Covington Homes joins with its trade partners to make a dream come true for one lucky winner, all in support of
St. Jude

.

January 15, 2021 • 4 min
A few years back, the St. Jude Dream Home® Giveaway in Colorado Springs, Colorado, came together like the finale of a TV show.
Heavy snow cut the typical build time in half.
It was a mad dash with subcontractors working on top of subcontractors to put the finishing touches on the home in time for the big giveaway.
This might sound like a made-for-television script, but it was reality for Colorado Springs-based home builder Covington Homes. And with social distancing and quarantine precautions due to the COVID-19 pandemic, they're planning for nothing short of dramatic this year as well.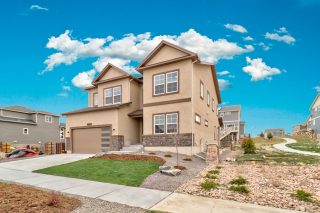 "If we have to work after hours or work on a weekend, we will," said Grace Covington, the company's co-owner and principal.
Each year, homes are built in cities across America and raffled off to benefit St. Jude Children's Research Hospital. Known as the St. Jude Dream Home Giveaway, the program has raised more than $450 million by way of $100 raffle tickets since it began in 1991, making it one of the largest St. Jude fundraisers.
Support from the fundraiser enables doctors and scientists at St. Jude to develop groundbreaking discoveries that are freely shared around the world, and ensures patient families never receive a bill from St. Jude.
Organizing the people who volunteer to build these homes requires massive effort and coordination. Construction partners, including developers and builders, volunteer their time and get most materials and labor donated, so the homes come in at little to no cost to St. Jude.
"We see the Dream Home as less of a fundraising program or event, but how we became part of the St. Jude family," Grace said.
Grace and her husband, Ron, coordinate the 95 construction trade companies who have helped construct the St. Jude Dream Home Giveaway house in Colorado Springs for the past five years.
"We have a trade base who is working nonstop," Grace said of the volunteers. "That takes away from a homeowner who wants their house finished, but we're doing this because we believe in St. Jude and saving the lives of hundreds of thousands of kids. Because of that, we're going to build an amazing house, not get paid for it and donate money when issues and fees come up."
With the single-family housing market seeing its highest rates since 2007, the construction trade companies are already stretched thin, but they are more than willing to interrupt daily operations for the benefit of St. Jude.
That's partly because of the way Grace and Ron share the message of St. Jude with their partners.
They "work very hard to talk to all the trades," said Scott Thorson, chief operating officer at Oakwood Homes, which donates the Colorado Springs home site each year and builds its own St Jude Dream Home Giveaway house in Denver. "It's not hard to make [everyone] see the value of what they are doing. Everyone knows giving feels better than receiving. We don't have to work hard for people to see the value of what their donation does."
For Ramon Serrano, a subcontractor with Westech Framing, bringing his crew of four to frame the St. Jude Dream Home Giveaway house each year reminds him how grateful he is to have the ability to work.
Ramon came to the U.S. from El Salvador during a period of civil war, landing in Los Angeles in 1985. A decade later, he moved to Colorado Springs. As a father and now grandfather, Ramon thanks God for his family's health and prays for the patient families at St. Jude.
"I pray to God to heal those kids with cancer. It's terrible. I believe in God and I am blessing those kids," Ramon said. "I feel so happy when I donate my time and work — everything for St. Jude's help."
The people who build the St. Jude Dream Home Giveaway house each year are a microcosm of the construction industry itself.
"Our industry is probably the most culturally diverse industry," Grace said. "All of our partners comprise hundreds of different cultures and nationalities. If you want to work hard and live out the American dream, working in construction is the best way to do it."
In addition to the trade companies who donate materials and labor, there are also several supporters — called Architects of Hope — who fill in the gaps with monetary donations so the Colorado Springs home can be built free of any expense to St. Jude.
"It's our way of giving back in the best way we know how," said Tobi Mondejar, a senior loan consultant at loanDepot who partners with two other coworkers to give $10,000 with a $1,000 company match each year. "We've all had a family member — some of us personally have gone through cancer. We won't stop until no child has to suffer or pass away from pediatric cancer."
Each year, the donated St. Jude Dream Home Giveaway house in Colorado Springs is valued at an estimated $450,000. It raises nearly $1 million annually for the research hospital.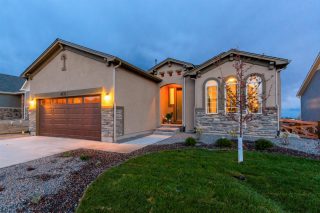 Covington Homes recently broke ground on its sixth St. Jude Dream Home Giveaway house, the eighth in Colorado Springs.
"Grace and Ron have always been very active participants in their community, whether it's St. Jude or as a home builder," Thorson said. "It was natural for them to do this. If you've met them, you can see in their hearts they are perfect for this."
Ron and Grace were convinced to take the project on from another builder after they visited the St. Jude campus in Memphis and saw the amazing work taking place there.
"We saw that and thought this is such an amazing cause," Grace said. "We're not there creating breakthroughs, but we can build a house to keep giving to this amazing place that saves children."
Each year when Covington Homes hosts a trade appreciation breakfast, Grace asks how many people have kids. How many know a kid? How many know someone who has a kid?
Then she asks, how many people here know a child who has cancer?
One by one the hands go up and she is amazed by the number of people who are impacted.
"From digging ditches to framing, pouring concrete, superintending or installing cabinets, we all have one common shared experience and, unfortunately, that's childhood cancer," Grace said. "It's what motivates everyone to build this house every year."