For Carli Taylor-Drake, understanding
St. Jude

starts with the ABCs
Carli has become part of the lifeblood of
St. Jude

fundraising in Northern Colorado by bringing the

St. Jude

experience to them.

December 04, 2020 • 5 min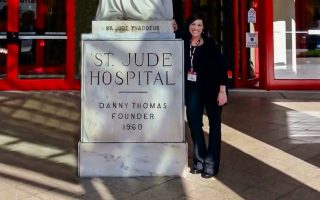 Creative and energetic, Carli Taylor-Drake never heard a good idea that she didn't want to…tweak a little.
Case in point: When she began working as a senior marketing consultant for iHeartMedia in Loveland, Colorado, and they held their annual Country Cares for St. Jude Kids® Radiothon, it was her job to drum up sponsorships. She could have simply asked for a donation to St. Jude Children's Research Hospital from the businesses she approached, but she wondered:
What if, instead of asking for a one-time $2,000 donation from a car dealership, she asked them to pledge $100 from the sale of every car in March to St. Jude? Could that lead to even more support?
She was always looking for some new angle.
During her nine years with the radio station, she helped raise hundreds of thousands of dollars for St. Jude. And that wasn't all. In 2012 and 2013, she chaired the St. Jude Give Thanks. Walk. event in northern Colorado and marshalled the efforts of the entire community to make it a success.
"It was really a year-round focus and a daily focus of what more we could do," said Carli. She'd work her client list to secure auction items to raise additional money. "I'd call George Strait's label, 'Can I get a cowboy hat for our auction?'"
She left radio three years ago for a director of marketing and practice development position at Orthopaedic and Spine Center of the Rockies, where she's continued to unite people to support St. Jude. "Our physicians, leadership team and staff are passionate about giving back to the community," said Carli. They sponsor the radiothon and other events throughout year.
She's part of the lifeblood of St. Jude fundraising in northern Colorado and points out that many other people are as well.
To move hearts and minds, she's become convinced, you have to make the St. Jude experience feel real for people.
The same way her grandmother made St. Jude feel real for her.
The kids we prayed for
Carli's grandmother would unfold the monthly fundraising letters from St. Jude, press out the creases and read to the little girl about the children they were helping.
For years, she had been employed by the Walsenburg, Colorado, welfare department, and she considered it her life's work to help others.
"She was enthralled about taking care of the kids and giving back," said Carli. "I just grew up with that."
The mailings included a prayer card with a St. Jude medallion. Her grandmother used to peel the medallion from its backing and give it to Carli, saying, "Nothing is hopeless with St. Jude on your side."
Her grandmother died years ago, but "I still carry the medallions in my car, in my wallet," said Carli. "I travel with them. It's just a remembrance thing and just to keep me safe."
So St. Jude has always been a living, breathing thing to her. A real place with real kids, and it was her job to help.
Giving back
Long-time St. Jude supporter and iHeartMedia executive Stu Haskell, who passed away recently, made sure everyone at the stations knew how he felt about St. Jude, and what a wonderful place it was.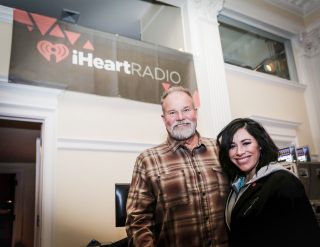 "He was my mentor," said Carli. "He was the biggest St. Jude supporter I think I've ever been around in my life."
And that sparked something in Carli at a critical time in her career: She realized she could weave her love of St. Jude, which had felt so personal, into her professional life. The same savvy she bought to her job, she could use to help St. Jude.
Haskell saw this in her.
"He would be, besides my grandmother, one of the biggest pieces of my St. Jude experience ever," said Carli. "He said, 'You need to go to Memphis. We need you to be the liaison for St. Jude.' It was him."
Since 2011, she's visited St. Jude five times.
If you asked her to describe St. Jude in one word, she'd insist on using 26 — and urge you to take a look at the St. Jude ABCs of Cancer wall.
The ABCs of Cancer artwork adorns a long hallway near the Kay Kafe at St. Jude. Kids at St. Jude have used each letter of the alphabet to represent a different aspect of life with cancer. Some of the letters are humorous, while others are poignant or brutally frank.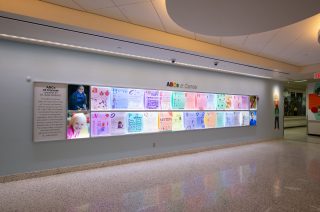 A is for Alive, and V is for Vomit.
Each letter provides a small window into one child's story.
As a teenager, she'd suffered from a hip issue requiring numerous hospital trips and a major orthopedic surgery. Not the same thing as cancer, but seeing the ABCs of Cancer wall brought it all back.
"I can imagine what these kids are going through. Not knowing what's going to happen with their life," said Carli. Seeing the wall for the first time "hit me pretty hard."
These kids deserved the best we could give them, she believed.
Her wheels were already turning.
Once back home in Colorado, Carli got permission to replicate the ABCs of Cancer hallway as a display at her St. Jude events. She even used the ABCs of Cancer concept to create a set of radio ads for St. Jude in her market.
"I started with my daughter, Addyson, reading the letters, then asked other kids at iHeart to record more alphabet letters, including Stu's grandkids," said Carli. "Each letter was brought to the listener by a sponsor."
Her campaign won a Colorado Broadcast Award.
A love story
There's one other thing, and it's a big one: Carli met her husband, Dana, at St. Jude.
She saw him for the first time from across the crowded space during a tour of St. Jude nearly eight years ago. He was handsome, sure, but she also had the distinct impression she already knew him.
Soon, she did.
They were at St. Jude for a radio employee sales seminar. St. Jude had paired her Colorado group with his Boise, Idaho, group. She sat with his group for dinner at B.B. King's restaurant on Beale Street that night.
If you don't think these sound like the ingredients for romance, you're wrong.
"We started talking, and we just had very similar interests and very similar ideas about life, what we did, and all these different hopes and dreams. There was an instant connection, like I had known him for years," said Carli.
"And he lived in Boise, and I lived in Colorado, and we just hit it off."
Carli quickly went from wondering if she knew him at all — to not being able imagine her life without him.
"We're very philanthropic, and we both care about the same things," said Carli.
Five years ago, they got married. Today, they work hard at their careers and stay busy with family and the causes, like St. Jude, that mean so much to them.
Being with Dana has made her a better person, she says, and a more mindful one. Her work for St. Jude has done that, too.
"Love and life are precious gifts," said Carli. "We're doing all we can to give back and to make this world a better place. We're trying to live our life by making good choices to help people. With every action, we're making our mark in this world.
"We all are, every one of us. Every action, no matter how small we think it is, can contribute to the good. That's what it's all about."