Carnival Cruise Line Reveals $15M Commitment for
St. Jude

During Day of Play

After reaching its fundraising goal a year early, Carnival is ready to increase its support for St. Jude.

September 27, 2019 • 2 min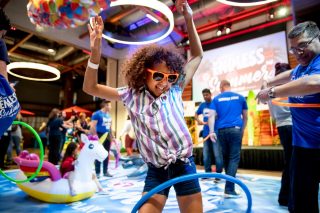 After presenting an oversized $10 million check and unveiling patient art to be displayed on a new ship, Carnival Cruise Line president Christine Duffy paused for a moment and then uttered two words that her audience at St. Jude Children's Research Hospital probably didn't expect.
"There's more," she said.
More, indeed. The Miami-based cruise line is pledging to donate an additional $15 million to St. Jude over the next five years, Duffy announced. The new pledge will boost to $33 million the sum that Carnival has committed to the hospital since its partnership with St. Jude began in 2010.
The announcement came during Carnival's seventh annual Day of Play at St. Jude, an event that began with a gathering of the company's leaders and ended with colorful beach balls cascading onto the floor as patients played games. The atmosphere reflected the feeling of celebration on Carnival's ships, where guests have the opportunity to Groove for St. Jude and to purchase specialty items that benefit the hospital.
"Carnival is the reason we were introduced to St. Jude," said Linda Powell, whose family has a long history of sailing with the cruise line. During the Day of Play, the Powell family continued a tradition by dedicating a St. Jude pathway brick to a shipboard official who helped the family's autistic son during a recent cruise.
The Powells have given more than $13,000 to St. Jude by paying for 10 bricks dedicated to Carnival staff members. Supporting the hospital with the brick purchases is their way of thanking the cruise line for its years of helping their son, who is now 28, become independent in a safe, comfortable environment.
Later in the day, Carnival presented renderings of art pieces inspired by St. Jude patients' drawings. They'll be installed on the ship Mardi Gras, slated to join the Carnival fleet next year. The vessel will accommodate 5,300 passengers and feature what the company calls the first roller coaster at sea.
"We are excited that we will have this (art) as a constant reminder of our support for St. Jude to the hundreds of thousands of guests who will sail on the Mardi Gras each and every year," Duffy said.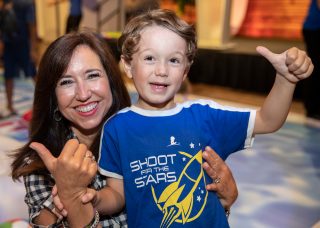 In presenting the $10 million check, Duffy noted that Carnival reached its fundraising goal a year early.
Rick Shadyac, president and CEO of ALSAC, the fundraising and awareness organization for St. Jude, voiced gratitude for Carnival's support and praised the company for "bringing our mission to millions of people around the world."
Donations from Carnival and other partners will help propel St. Jude on its quest to raise childhood cancer-survival rates worldwide, especially in low- and middle-income countries plagued by poor healthcare, Shadyac said. Through the St. Jude Global initiative launched last year, the hospital hopes to boost the survival rate for the six most common types of pediatric cancer from 20 to 60 percent by 2030, saving an additional 1 million kids around the world.
"You allow us to dream audaciously, to try to tackle what some people say is the impossible," Shadyac said.