From Tim McGraw to Luis Fonsi, something for everybody at Music Gives: Together #forStJude livestream
CMT's Marley Sherwood is thrilled to be a host of a virtual festival supporting a cause she's known since childhood.

August 11, 2020 • 3 min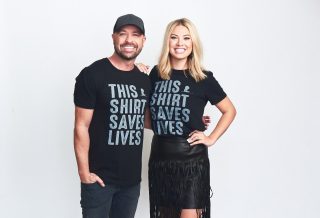 CMT personality Marley Sherwood knows how easy it is to fall in love with the cause of saving kids' lives.
For her, it was child's play.
Long before Sherwood agreed to help host the August 13 Music Gives: Together #forStJude livestream — a virtual festival featuring performances by everyone from Tim McGraw to Luis Fonsi, Darius Rucker to Seal — she was a young gymnast tumbling her heart out for St. Jude.
"It was a St. Jude Tumblethon," she said. "I had to be maybe 9, 10 years old, and we all had sponsors and they would pledge for either how much we tumbled or what our scores were."
The gymnasts each wore a button bearing the name of a patient — the patient they were tumbling for that day.
And Sherwood also remembers sitting in front of the TV growing up, just a "normal young kid watching whatever show you have on," and seeing commercials for St. Jude, and thinking:
"They are my age, those could be my friends."
Messages imprinted on us as kids have a way of sticking with us as adults. So it is for Sherwood, a host of CMT's Hot 20 music video countdown show — and of the country-flavored "Give Back Stage" on the multi-genre, star-studded Music Gives livestream.
The little girl who once tumbled for St. Jude has come a long way, but her heart's where it's always been: the right place.
Music, food and a singular cause
The pandemic has stolen so much of what we love about live entertainment. But Music Gives: Together #forStJude probably couldn't exist anywhere but the virtual world.
How many real-world festivals have line-ups diverse enough to include pop, R&B, gospel, Christian, Regional Mexican, Spanish pop, rock, Americana and country? Plus culinary segments featuring celebrity chefs such as Adrianne Calvo, Lorena Garcia and Seamus Mullen — and St. Jude survivor and chef Carly.
And along with the six stages of entertainment, a singular cause that brings it all back home — to St. Jude.
"To have it virtually, and to have so many people be able to be involved because of technology, is the coolest thing," said Sherwood, who will host the country stage with her CMT Hot 20 partner, Cody Alan, another veteran to the cause who visited St. Jude in January, serving as an emcee at the Country Cares for St. Jude Kids® Seminar and broadcasting CMT's Hot 20 show live from Memphis.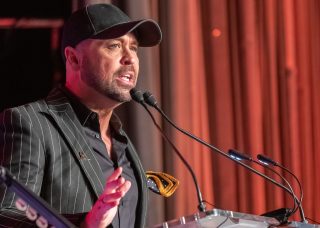 The country stage will close the Music Gives: Together #forStJude festival, with performances by Brett Eldredge, Keith Urban, Brad Paisley, Darius Rucker, Lady A, Tim McGraw and Alabama lead singer and Country Cares for St. Jude Kids co-founder, Randy Owen.
By the time the festival goes country, fans will already have heard pop and R&B on the Hope Stage (performers include Fonsi, Jason Mraz and Anthony Hamilton), gospel and Christian on the Faith Stage (CeCe Winans, For King & Country, MercyMe and more), Regional Mexican and Spanish on the Armor Stage (Fonsi, Natalia Jimenez, La Energia Norteña), multi-genre moments on the Kindness Stage (Seal, Cash Cash & ABIR and more), plus rock and Americana on the Gratitude Stage (Skillet, Us the Duo, Johnnyswim and others).
"These are huge names and stars that people want to see, and were going to see at festivals this summer (before the pandemic struck)," Sherwood said. "So to watch them virtually through a show like this, you kind of get your own personal concert."
A chance to smile, a reason to give
How's this for things coming full circle? Sherwood's previous hosting gig on behalf of St. Jude was 2018's This Show Saves Lives, a fundraiser in which her co-host was … a gymnast — Olympic gold medalist Shawn Johnson East.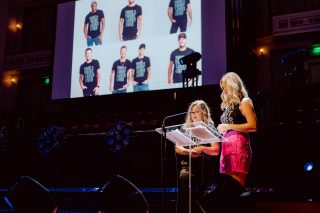 "This Show Saves Lives was unbelievable," Sherwood said. "I will talk about that all day."
The show, which kicked off the celebrity-driven This Shirt Saves Lives T-shirt campaign, was a night of fashion, music, magic and of the stories of St. Jude patients.
"It was very exhilarating for me, and it was so high-energy," Sherwood said. "But then to think about the change that we made through that, and to just be a part of it. It was one of those experiences, I walked away and was like, why are people thanking me for hosting this? … It's the least I could do."
Less than two years later, we find ourselves in a moment that could use a little magic. The pandemic drags on. People are struggling. Our sense of community has been strained. And no one knows when life as we knew it might resume.
In other words, Sherwood said, Music Gives: Together #forStJude arrives just in time.
"I think it's kind of no-brainer — to not only tune in, but to put your money where it's going to make a difference."