Meet the College Students and Staff Who Are Helping the Kids of
St. Jude

July 2, 2019  •  3 min
It's become an annual summer tradition on the campus of St. Jude Children's Research Hospital: Collegiate Leadership Seminar. Hundreds of students from all walks of life, representing colleges and universities across the nation travel to Memphis for tours, seminars and networking.
St. Jude Inspire caught up with several of those students as well as two campus advisors during their visit and they opened up about what motivates them to support the St. Jude mission. Say hello to…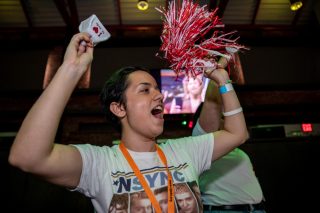 Cece Castronuovo
The George Washington University
Major: Journalism & Mass Communication, minor in International Affairs
Her St. Jude connection: A member of her high school Key Club was a childhood cancer survivor who was treated at St. Jude.
"From her, and through service events we did, such as the St. Jude Walk, I was inspired by St. Jude's mission to eradicate childhood cancer and to provide treatment at no cost to the families."
Most memorable St. Jude moment: Her Epsilon Sigma Alpha chapter's No More Cancer Rally
"It was amazing to see how much we were able to raise in just one day, as well as in that entire month. It definitely served as a testament to how much good can be done when you have a supportive community all pushing for change together."
Career goals: Become a journalist
"I want to use my profession to elevate the stories of people like the young children being treated at St. Jude. Providing a human face when reporting on serious illnesses can help bring increased attention, and thus increased support, to St. Jude — support which is ultimately given back to those children."
St. Jude is: "Hope."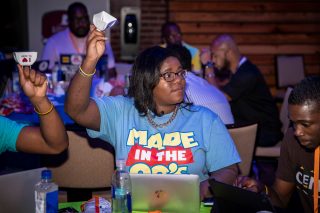 Christie Nance
University of West Georgia
Major: Psychology, with a minor in Sociology
First heard about St. Jude: At age 12, when she was part of the mentor group for her sorority, Sigma Gamma Rho.
Most memorable St. Jude moment: The first time she met the mother of a St. Jude patient at an event, as a freshman in high school.
"I cried with her as we were talking because I could only imagine the pain she went through, but to hear at the end that her daughter survived cancer, was a feeling that I can't even describe. All of the things she wished she could do, she was now able to do. I was so ecstatic because this is what the mission of St. Jude is all about!"
Career goal: Being a psychologist at St. Jude
"My goal with my degree is becoming a school psychologist, so if I could use this to help the kids at St. Jude with their education, I would love to do that!"
St. Jude is: "A blessing — not only to the families it supports, but to our organizations, communities, and the world!"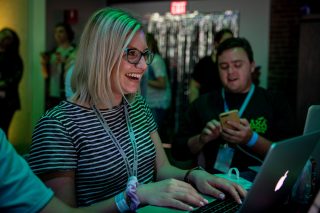 Haley Schlegel
University of Tennessee - Chattanooga
Majors: Child & Family Studies and Criminal Justice
Her St. Jude Connection: Launched her first St. Jude fundraiser in high school and continued her support in college with the St. Jude Up 'til Dawn program.
Most memorable St. Jude moment: Being Executive Director of UT Chattanooga's Up 'til Dawn program
"We donated over $47,000 to St. Jude Children's Research Hospital that year — it was incredible — and we broke our fundraising record."
Future support of St. Jude: Less coffee, more time and money to St. Jude
"The $5 coffee I would spend once a week now goes to St. Jude. This is something that I want to continue to do and increase the amount post collegiate years. I also think it's important to give time — it is just as rewarding and I love being able to be a part of something in the moment. Plus, I've made countless friendships with people who share the same love I have with St. Jude."
St. Jude is: "Making a difference."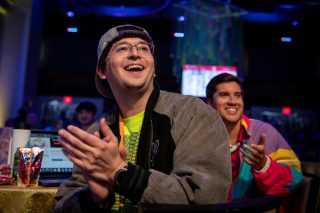 Nicholas Maldonado
University of Cincinnati
Major: Political Science
His St. Jude Connection: His cousin was a St. Jude patient.
"When I was a child my cousin was diagnosed with cancer and St. Jude took him in and paid for all his travel and medical expenses. Even though he isn't here today, my family still supports St. Jude to help end childhood cancer."
Most memorable St. Jude moment: It's hard to pick just one.
"So far, it is participating in the St. Jude Walk/Run with my TKE fraternity brothers every year and live-streaming every St. Jude PLAY LIVE with my brother."
Future support of St. Jude: Staying connected through TKE
"I see myself supporting St. Jude after college by donating through my fraternity."
Career Goals: Working for St. Jude
St. Jude is: "An amazing hospital that helps families with travel and treatment for their child."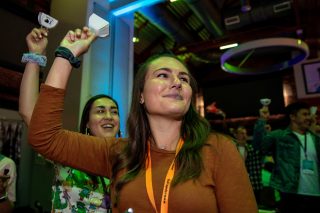 Jordan Campbell
East Carolina University
Major: Nutrition and Dietetics
Her St. Jude connection: She became a part of the St. Jude mission through her sorority, Epsilon Sigma Alpha.
"I have always had a place in my heart for kids, being apart of Epsilon Sigma Alpha gives me that joy of helping kids now while in college."
Most memorable St. Jude moment: Her sorority breaking fundraising goals
"Epsilon Sigma Alpha raised over $30,000 last year. Our philanthropist set out that goal and our sisterhood made it happen. It was amazing to realize that much money would be benefiting the sweet children at St. Jude. In that moment I was so proud to be a part of a sorority that was a part of something bigger than ourselves."
Career goals: Become a pediatric physician assistant
"I hope to make it my life work to bring joy to kids who cannot for themselves and would love to be given the opportunity to work first hand with the children at St. Jude."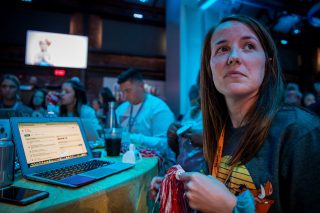 Katey Provence
Arkansas State University
Her Day Job: Assistant Director of the Leadership Center, where she is an advisor for St. Jude Up 'til Dawn
"When I started working full-time at Arkansas State, I had the opportunity to assist a co-worker during the first actual all-night Up 'til Dawn event at A-State. I fell in love that night and knew I wanted to continue to be involved in whatever way I could. As my job duties transitioned to include service and philanthropy events, I approached my supervisor about becoming the Up 'til Dawn advisor. It's been one of my favorite parts of my job ever since."
Most memorable St. Jude moment: Participating in the first Up 'til Dawn No More Cancer Rally
"We ended up bringing around 50 students, several upper-level administrators, and even the chancellor to participate alongside a couple of other schools. Seeing the mission come to life for those students and the support they received from the administrators in attendance was awesome! That event ignited a passion on our campus and led us to a great fundraising year."
Millennial mindset: Inspire younger generations
"I believe young people can make a bigger impact than most of them realize. I hope to continue the partnership we've built at Arkansas State and hopefully inspire other students and campuses to get involved, too."
St. Jude is: "A blessing."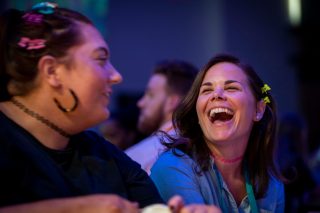 Meghan Westbury
Belmont University
Her Day Job: Visit Coordinator and advisor to St. Jude Up 'til Dawn
"My team provides a unique experience for prospective students and their guests, with the hope that they fall in love with campus, deciding to call Belmont home for the next four years. In August of 2015, I was asked by several of my student workers to advise their new student organization, St. Jude Up 'til Dawn. I was honored to walk alongside this group of students and witness the work that they were doing on campus as they spread the St. Jude mission and encouraged their peers to fundraise."
Most Memorable St. Jude moment: Revealing Belmont's Up 'til Dawn total on national television
"Not only were we able to share with the country the mission of St. Jude, and the work that our students have been doing all year, we were able to reveal our largest total to date — $146,000+! The joy on everyone's faces and the sound of cheers in our auditorium at 7 a.m. will be a memory I will always remember."
St. Jude is: "Family — I have been overwhelmed by the hope, love and compassion that fill the walls inside and out of St. Jude. Every person involved, whether a patient, doctor, nurse, staff or volunteer, has inspired me during my time with Up 'til Dawn. I am truly honored to be a member of this remarkable family."