Healing and Harmony
Country Cares for
St. Jude

Kids, one of the most successful fundraising programs in radio history, brings artists, radio and fans together to sing hospital's praises.

January 17, 2019 • 7 min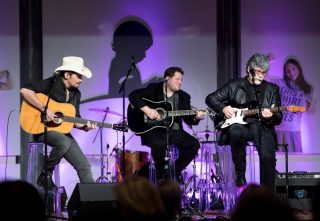 Porter and Dolly. George and Tammy. Garth and Trisha.

Country music fans love duets, and those famed pairings have produced some classics. But the best duet of all may be the one the genre has been singing for three decades with St. Jude Children's Research Hospital.
Talk about perfect harmony — the Nashville-based country music industry, with help from radio stations and fans across the U.S., has raised hundreds of millions of dollars for the Memphis-based hospital through benefit concerts, campaigns such as "This Shirt Saves Lives," and especially radiothons. The Country Cares for St. Jude Kids® fundraising program, celebrating its 30th anniversary, has raised more than $800 million through annual radiothons.
"Country music fans and artists and radio folks, they're some of the most humble and hard-working people that are out there," said rising singer and songwriter Ashley McBryde. "If country music fans embrace something, stuff happens."
McBryde's own embrace of St. Jude pre-dates her professional career. As the Arkansas native "cut her teeth" playing music in Memphis clubs and bars, she volunteered on Wednesday nights at Target House, singing for patients and families staying at the long-term housing facility three miles from the hospital campus.
That's the country way. You'd be hard-pressed to name a performer from the past few generations who hasn't sung for St. Jude, toured the hospital, visited patients or otherwise adopted the mission. Often, it's before the fame, before the No. 1 records and sold-out tours. Or, in McBryde's case, a Grammy nomination for Best Country Album.
McBryde was back in town for the 2018 St. Jude Country Cares® Seminar, an annual gathering of artists and representatives of some 200 country radio stations. Over three days of the seminar, artists meet patients and mingle with country DJs, radio executives network and learn more about raising funds and awareness for the hospital, and country music's bond with St. Jude grows ever stronger.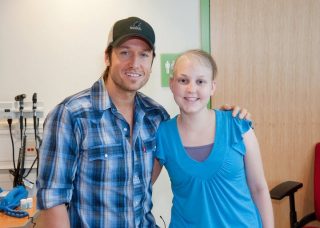 If McBryde and some other country up-and-comers weren't yet radiating star power through the hospital halls, well, that was fine. Former St. Jude patient Scott Hinshelwood, now the Director of Country Cares for ALSAC, the hospital's fundraising and awareness organization, smiles as he remembers meeting a not-yet-famous Keith Urban during the 2000 Country Cares Seminar.
Hinshelwood recalls an awkward moment, at a loss for what to say to Urban beyond, "Oh, you're from Australia." Remember, this was before the 16 No. 1 country hits or the marriage to Nicole Kidman.
McBryde's visit to St. Jude came just two-and-a-half months before the release of her major-label debut album, "Girl Going Nowhere," which hit the country Top 10 in its first week and later put her in competition for a GRAMMY® Award against fellow friends of St. Jude Kacey Musgraves, Kelsea Ballerini, the Brothers Osborne and Chris Stapleton.
McBryde toured the hospital for the first time, awed by the "super hero stuff" she witnessed in a research lab. Afterward, she talked about why country performers feel obligated to use their fame for more than selling CDs, concert tickets and pickup trucks.
"I have two beautiful godchildren who are super-healthy," she said. "Not every kid is. For me, giving back is — you just have to do it. I get to sing songs for a living. I can stop and come find out more about this amazing place. Giving back is good for your soul. You have to do it."
Put another way: "If you've got a trumpet, then blow it."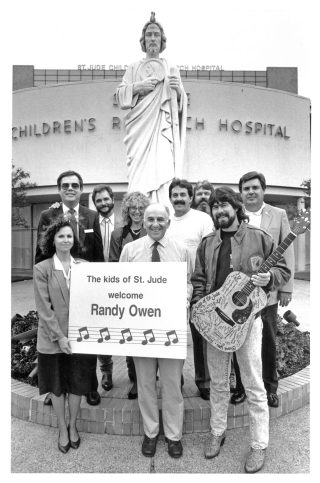 This puts McBryde in a country-music continuum that goes back to "our leader, our lighthouse," as she calls him — Randy Owen, who in 1989 helped found the Country Cares program.
Owen is lead singer of Alabama, one of the most successful bands in country music history. But some 75 million records sold and 33 No. 1 country hits notwithstanding, "Probably the most important thing I'll ever do, except being a daddy and a husband," he said, "is St. Jude."
Family.
It's not just No. 1 with a bullet on Owen's list of what's really important in life. It's a reason he's so devoted to St. Jude, where care extends to the whole family, from the attached parent rooms on inpatient floors, to the Family Resource Center with computer stations and even notary services, to the hospital's policy that families don't pay for treatment, travel, housing or food, so they can concentrate on helping their children get better.
"Families grow up singing together, playing together, going to church together," Owen said. "At St. Jude, they do everything they can to keep the family together. They work so hard to keep divorces from happening because of stress. There have been so many babies here that I feel like are well today because they had mama and daddy pulling together."
Owen spent a long weekend in Memphis for the 2018 Country Cares Seminar. Whether he was leading a meet-and-greet with patient families, visiting inpatients and their families on a hospital tour, or headlining the annual Songwriters' Dinner with fellow country star Brad Paisley, Owen seemed as comfortable as if he were back on his ranch in Fort Payne, Alabama.
At the meet-and-greet, he let patients Liliana and Warner strum his guitar, spontaneously broke into gospel songs, talked about his grandkids, and told a funny story about how he needed a belt to keep the door closed on his first car, a '55 Ford. He was joined at the front of the room by his granddaughter Harper Rose, who quickly made friends with Liliana. Randy's wife of 43 years, Kelly, was in the room, too.
"Music is so healing," said Kelly, with a nod to her husband. "That's what he's always said — music is so healing to people who are suffering. What a wonderful thing to connect that with St. Jude."
Country music and St. Jude. They've been good friends and duet partners for a long time now. Owen's involvement began some three decades ago when he was introduced by friend and influential country DJ Rhubarb Jones to St. Jude founder Danny Thomas.
Owen tells the story that Thomas said to him: "I really need your people to get involved."
"I didn't really understand what 'your people' was, at the time," Owen said. "He was talking about the country music business."
It might have seemed an unlikely alliance — country music and Thomas. He was a nightclub-bred comic and TV sitcom star whose friends included Frank Sinatra. But Thomas was also a singer — of everything from pop standards to blues to Lebanese folk songs. And more than that, he understood the value of star power in fundraising.
In Owen, he'd found a natural front man for this new effort: In 1989, that first year of the Country Cares program, Alabama had three No. 1 country singles.
Country stars rise and fade, styles change, but the genre's devotion to St. Jude carries on.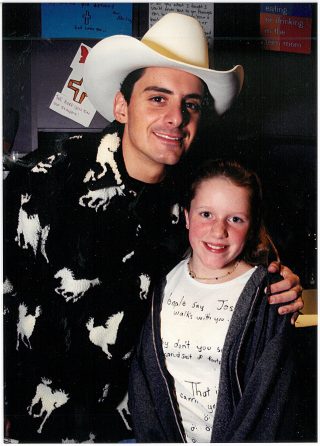 Consider Brad Paisley. He was an 8-year-old learning to play his first guitar, a Sears Danelectro Silvertone from his grandfather, when Alabama was already starting to rule the country charts in 1980.
Now he's a St. Jude legend, having made hospital visits, played concerts and hosted celebrity fishing tournaments. He also donated the Brad Paisley Lodge at Target House, where patients and families can play Guitar Hero, watch TV or just hang out in front of the fireplace. It's good to have friends with 18 No. 1 country singles.
Consider Darius Rucker, a 1990s pop-rock sensation with Hootie & the Blowfish when their debut album went 16 times platinum. These days he's a country star whose annual "Darius and Friends" benefit concert has raised more than $1.6 million for St. Jude. Rucker, like Paisley, has received St. Jude's Randy Owen Angels Among Us Award.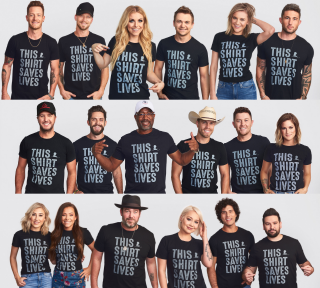 Some of the format's biggest current stars, including Jake Owen, Thomas Rhett, Kelsea Ballerini, Brett Eldredge and Florida Georgia Line, are championing the St. Jude cause. And more than 100 country acts recently took to social media to post a photo in support of the St. Jude "This Shirt Saves Lives" campaign.
Or consider the talent that country DJ Bobby Bones attracts for his annual "Million Dollar Show" at Nashville's Ryman Auditorium. He's been called "the most powerful man in Country Music" by Forbes magazine, and iHeartMedia's "The Bobby Bones Show" — on which he talks about St. Jude almost daily — is nationally syndicated on more than 100 stations. He's a year-round fundraiser who's used his influence to raise more than $9.5 million for St. Jude.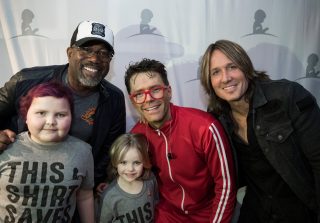 His 2018 Million Dollar Show drew Urban, Rucker and Dierks Bentley. At the 2017 edition, surprise guest Garth Brooks donated $2 million on the spot.
Country singers you may not know — yet — are joining the chorus, too. You might say they're being raised on St. Jude.
Cam, the singer-songwriter behind the 2015 double platinum single "Burning House," said country acts are told, early on: "We expect you, as a member of this community, to be a giver."
She preached that message to a group of up-and-coming acts at the 2018 Country Cares Seminar meet-and-greet. The next day, the artists toured the hospital, and later played games with patients — corn hole, whac-a-mole, pop-a-shot and more — at the Country Cares Carnival.
"Doing something that connects you to other human beings, it's healing for yourself," Cam said. "It's your legacy. This is what you're going to leave the world with."
St. Jude patients, she said, are "future doctors and lawyers and presidents."
And country stars. Country DJs and program directors, too — can't forget them.
Tom Hanrahan, an Alabama-based senior VP of programming for iHeartMedia, has been involved in the Country Cares program since 1996. But his first St. Jude radiothon actually predates the Country Cares program, as it is today, when his station was visited by a representative of ALSAC, the hospital's fundraising and awareness organization.
"This was in Tuscaloosa, 1986, 1987," he said. "ALSAC still had the St. Jude reps going out doing radiothons, but there wasn't the umbrella, massive thing that Danny and Randy created.
"So I had never heard of St. Jude before the lady showed up and says, 'Hey, I'm from St. Jude and I'm doing radiothons.' I was like, 'OK, come on in.'
"I think we raised like $17,000. But look, it was a lot of money in a very small town back in the late '80s."
As Country Cares celebrates its 30th anniversary, it's become a $35 million annual event with more than 200 stations — from San Diego's KSON to Boston's WBWL — each devoting parts of two days of programming to telling the St. Jude story.
And at the other end of the message are country music fans — ears perked, hearts open, making stuff happen.
"I think country music has that family aspect," said Haynes Mandino, a teenage listener from Minden, La., a small town near Shreveport that's considered the nation's leader in per-capita giving to St. Jude. "I think it's because country music has that old feeling, that down-to-roots feeling."
The way Mandino figures it, some of country music's most enduring themes — family, love, home, heartache — naturally strike a chord with supporters of a certain children's hospital.
"St. Jude, of course, is a big family. And country music also is a big family," he said. "I would put it as, one big family reaching another big family, saying, 'Look, we can help.' "
The result is a certified country smash — a beloved duet, with background singers by the millions.