Country star's song hits home, sweet home, with
St. Jude
Russell Dickerson's 'Home Sweet' a perfect soundtrack for
St. Jude

Dream Home Giveaway

March 18, 2021 • 4 min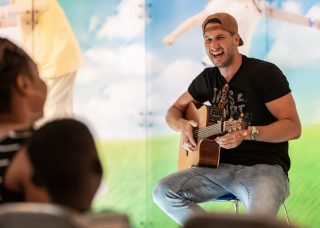 The song is called "Home Sweet," but for country star Russell Dickerson, home might be a hotel room or the road. It could be "wherever the wind blows, wherever this life goes," to quote from the chorus.
That's the song's message: Home is where you are when you're with the ones you love.
Even a hospital can be home, if it's made to feel like one. Like St. Jude Children's Research Hospital, said Dickerson, where "they preserve that family dynamic so well," where care isn't just about treating a disease but also tending to the emotional well-being of patients, parents and even siblings.
"It's not just, hey, come in and get treated," said Dickerson, a friend of St. Jude throughout his career. He is currently lending his support to the St. Jude Dream Home Giveaway, now taking place in more than 40 markets across the country.
"It's, hey, come in and we'll make it feel like the least amount of uprooting, make it feel as normal as possible, just to preserve that 'Home Sweet,' really."
On a recent virtual meet-and-greet with 13-year-old St. Jude patient Ian and his mom, Anna, the conversation wasn't so much about Ian's treatment at St. Jude, but the homey pleasures of the place — fun and games, therapy dogs and Ian's go-to food, mac and cheese.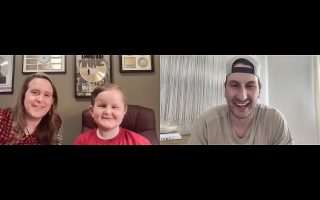 Anna recalled their time at Target House, saying, "We used to joke and say it's kind of like a cruise ship. You wake up every morning and go see what the activities are for the day. We hated to be away from home, but then again we had home away from home."
Dickerson calls himself "a pain-avoider," and admits he was a bit wary before his first visit to St. Jude. It's a place where children with catastrophic illnesses are being treated, after all. It had to be a sad place, right?
"But when I got to St. Jude it was the complete opposite," he said of that first visit in 2017, while on tour with some fellow country performers. "It was full of joy, it was full of hope, it was full of excitement for life. I'm covered in chills now just reminiscing this time of when we walked in there.
"These families and these kids are grateful for this day only. They're grateful for right here, right now. That is just what knocked me off my feet, was this joy, this gratitude for today.
"We had a craft session. We made hats and we decorated and we glued and glittered. They were just so happy to be in that moment."
During a 2019 visit to St. Jude, Dickerson pulled out his guitar and performed for patients — an especially memorable gig for an artist who's played everywhere from the Ryman Auditorium to the Royal Albert Hall.
"Man, that's honestly how I got my start," he said of playing for the kids. "I grew up in church, and I played for my youth group. Then I also played for the kids' church. I'd go down to where all the kids were coming to church and I would play just fun, jump, go-crazy songs.
"Just to tap back into that, it was a great feeling, hanging out with kids playing fun, crazy songs."
For the self-described pain-avoider who wants "everything to be happy and as positive as possible," he'd found it in, of all places, a research hospital that treats some of the world's sickest children.
Ian, who arrived at St. Jude after being diagnosed with a rare brain tumor at 16 months, found it there, too. Anna told a story from several years after they left St. Jude. The family was going to visit someone in the hospital.
"We were like, 'We're going to have to go to a hospital today. You know, like St. Jude,'" she said. "He was like, 'St. Jude's a hospital?'"
The notion of St. Jude as a home away from home makes perfect sense to Dickerson, who knows home isn't so much a fixed address in some city, but a state of mind. That's his life experience, and he put it all in the song "Home Sweet," written with fellow friend-of-St. Jude Charles Kelley of Lady A, and Casey Brown.
The song tells the story of Dickerson and his wife, Kailey. The little apartment where they first lived as newlyweds, worried about paying the rent. On the road playing music, with Kailey not just along for the ride, but helping drive the van. Moving into a new house — and finding out they were going to have a baby.
"Wherever you're with your person, that's home," said Dickerson.
Make that people, not person: The Dickersons' son, Remington, recently turned 6 months old.
As a father, Dickerson can appreciate St. Jude even more. He knows the love of a parent for a child. He has a little reminder that life is precious, family is everything, and wherever you're together is a place called home.
"That's what life is all about," he said, "is having each other."