YouTube star Sam Hurley uses his influence for good
He inherited his love of
St. Jude

from his mom. Now, he's taking it to his fans on YouTube.

October 13, 2020 • 4 min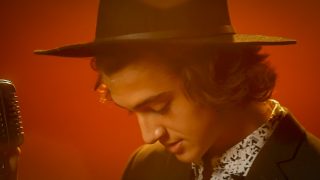 For some, the allure of childhood can be described in one word: cartoons. But in the early 2000s, Sam Hurley didn't watch much television. His attention was held captive by an online video-sharing platform by the name of YouTube.
With billions of uploads available in just a few clicks, it didn't take Sam long to find something of interest. He quickly developed a love for videos featuring people who created niche content for specific audiences.
"I watched people do it for years," said Sam, now 17. "I saw all of these people doing stuff that really inspired me and I was like, man it'd be so cool if I could do that."
So, at age 8, he created a YouTube channel and brought that inspiration to life. And looking back to those days, it's no surprise Sam, who is now a content creator like those he looked up to as a child, discovered his passion and future career on the site.
According to his mother, Kristy, Sam was always a compassionate and fun child. Creating videos afforded Sam an outlet to show the world his personality. Although it took seven years for Sam's audience to grow, he's had fun doing exactly what he loved.
"I loved filming and editing and posting, no matter who watched it; if there was one person who watched it or a million people who watched it," he said. "As my numbers started growing when I was 15, I started getting bigger...I really started to push more because people were seeing stuff that I was spending hours on."
With Sam rising as an influencer, he knew he had to use his impact to help others.
"My family taught me growing up that that's what you're supposed to do," he said. "If you are put in a situation where you're fortunate enough to be able to do that, then you do it. If you're able to donate, if you're able to give your time, if you're able to do whatever you can do, you do it."
Not only did Sam's family teach him the importance of giving back, his mother also introduced him to St. Jude Children's Research Hospital. A member and current advisor of the Delta Iota Tri Delta chapter at the University of Arkansas, she had first-hand experience with the impact the sorority's fundraising efforts had on St. Jude kids and their families.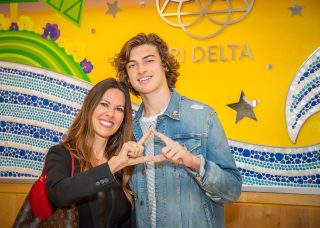 Tri Delta — a national philanthropic partner — has raised more than $74 million for St. Jude since 1999. For more than two decades, sorority members have not only raised funds and awareness for the research hospital, their efforts have ensured children and families have a home away from home during treatment. In honor of a 10-year, $60 million commitment made by the organization in 2014, Tri Delta received recognition on campus with the naming of the short-term housing facility, Tri Delta Place.
Because of her continued support, Kristy made it a priority for Sam to understand the power of giving back.
"He'd be at the house when we'd do a pancake breakfast for St. Jude or when we would be writing letters to the patients or even getting addresses for fundraising. He was always there in the middle of it, running around helping out," she said. "I think that was super special because growing up in that atmosphere, he always loved St. Jude."
Those years helping his mom's sorority sisters opened Sam's eyes to what St. Jude means to patients and families around the world. Describing his first visit to the St. Jude campus, he called it the "Disney World of hospitals."
"Everybody was so nice and the energy was so positive. It was almost like I could feel healing in there," he said. "I'm so glad I got to experience that."
With a YouTube presence that reaches hundreds of thousands of people — one video alone has 674,000 views — Sam has committed to following in his mother's footsteps to support St. Jude.
Using a new livestream service on YouTube, Sam plans to go live with his supporters, even allowing them to join the call. He is excited about spreading awareness about St. Jude, especially to his younger fans.
"I think it'd be super cool for whoever's watching, my followers, to let them know about St. Jude, the kids who are at St. Jude, that way they can think about them, pray about them," said Sam.
And what advice does he have for 8-year-olds who look up to him? Sound advice from a quote he recently learned.
"You can either say 'one day' or you can say 'day one.' Which means, 'One day I'm going to be an influencer' or 'One day I'm going to be a YouTuber.' Or, 'This is day one of me being a YouTuber and I'm going to work every single day and I'm going to do it.' Don't let anyone tell you you can't do anything, because you can. It's 100 percent possible."
Learn more about how kids like Sam are coming together to help make a powerful difference for families at St. Jude.