Ritch Allison: 'We wanted to do something big and bold'
Domino's Pizza CEO discusses his company's long-term support for
St. Jude,

including its recently announced $100 million pledge, and supporting communities where Domino's does business.

November 17, 2020 • 4 min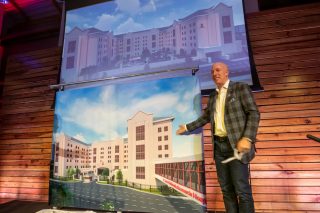 Ritch Allison, CEO of Domino's Pizza, a longtime partner of St. Jude Children's Research Hospital, discussed his company's pledge to raise $100 million over 10 years — the largest commitment ever made to St. Jude — and how philanthropy and corporate social responsibility mesh with the business goals of the world's largest pizza company.
Since Domino's already has raised more than $70 million for St. Jude, what prompted the commitment to pledge $100 million more?
We had recently completed our previous commitment, which went to fund the events center there on campus. We were trying to think through what the next commitment would be for us. We wanted to do something big and bold, and certainly larger than the previous commitment we had made because we have a thriving business that is quite a bit larger than it was when we made that last commitment. And we wanted also to think about a time frame that was longer-term.
I had a conversation with (Rick Shadyac, President and CEO of ALSAC, the fundraising and awareness organization for St. Jude) to talk a bit about what some of the needs were on campus. Rick spoke of the patient family-housing facility, which will now be called The Domino's Village, of course. And those two things just came together very nicely. It was a facility that was going to have a price tag somewhere in the neighborhood of $100 million. We felt like we were at a scale in our business that with the St. Jude Thanks and Giving campaign, and the other ways that we raise money through our franchisees and customers, that about $10 million dollars a year was probably a reasonable run rate for us.
And so with all those things we just kind of landed on a 10-year, $100 million commitment with the purpose of funding that patient housing facility.
Domino's made St. Jude its national charity partner back in 2004 based on a vote of franchisees. What was it about St. Jude that guided this choice?
I think there are a couple of things. One is just the mission of St. Jude and what they do for sick children and the fact that there are so many great things around it: that St. Jude doesn't charge the patients and their families for their care, that they publish the research that they do rather than trying to profit from it. St. Jude publishes that and allows other folks around the world who are serving children to use the knowledge and the learning that is developed there. The fact that St. Jude draws from all 50 states and from many countries around the world.
When we thought about what could make sense in terms of a partnership, there were just so many dimensions of the St. Jude mission that we felt lined up very nicely with our business and would be something that our franchisees and our customers could get really excited about supporting.
Based on global retail sales, Domino's is the largest pizza company in the world. How does philanthropy fit within your business goals?
As the stewards of a very profitable and growing business, I think we have a responsibility to give back to the communities that we serve, and while St. Jude is located in one city and one state, it serves children from communities all over the country. So, in my mind, that lines up very nicely against our goal of giving back to the communities that support us by buying pizza.
A number of surveys have shown that young people, particularly millennials, place a high importance on corporate social responsibility when choosing brands. How well positioned is Domino's to take advantage of this trend?
I think we are well positioned. In addition to the work that we do with St. Jude, we and our franchisees do a significant amount of work in the local communities that we serve around the country.
Here in Ann Arbor (Michigan, Domino's headquarters), we support a number of local nonprofits, as well. We've found a way over time to create opportunities not only to contribute financially in the communities we live and work in, but also through our time and our talents.
In honor of the $100 million pledge, St. Jude will be naming a 140-unit housing facility now under construction "The Domino's Village." What else can we expect to see in the future resulting from this partnership?
There are other things we've done over the years, as well. We've lent some of our technical expertise to Rick and the ALSAC team over time as they've worked to optimize their digital presence, which is a big source of how they drive giving. On many occasions, our local franchisees there in Memphis have contributed food, sent pizza over to kids and their families and whatnot.
It is a broader partnership than just building a building. And I'm sure we'll find other ways to work together over the course of the coming years.