'There is no goal we can't achieve': Tri Delta's support of
St. Jude

spans more than 20 years
Tri Delta President Megan Shaw James talks about the fraternity's motivation to keep giving.

March 24, 2021 • 4 min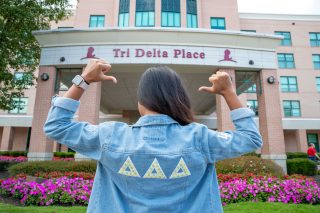 Since 1999, Tri Delta has raised more than $74 million to support St. Jude patients and their families. March is the organization's month-long, signature awareness campaign dedicated to amplifying the St. Jude mission. Megan Shaw James, who serves as Tri Delta's Fraternity president, discussed the organization's long commitment to St. Jude and what she's most proud of about the partnership.
Share a St. Jude moment that has inspired you most.
One of my favorite St. Jude memories was attending Tri Delta's celebration weekend in 2018. It was awe inspiring seeing collegiate and alumnae members, volunteers and staff gathered together in Memphis to learn about the history of St. Jude and its impact on patients and families. St. Jude/ALSAC President and CEO Rick Shadyac began the weekend sharing Danny Thomas' commitment to equality and inclusion. He challenged all of us to be beacons of equality, fairness and inclusion in our own communities as well.
This was also the first time I had the opportunity to visit Tri Delta Place, the on-campus, short-term housing facility at St. Jude. As Laurie Hernandez (Olympic gymnast and St. Jude supporter) reminded Collegiate Leadership Conference attendees recently, the support offered by the entire St. Jude community allows both patients and their families an opportunity to heal. As a mother, I am especially grateful that St. Jude creates a supportive environment where families can focus on their child and not on things such as the cost of housing, travel, treatment or food. Tri Delta members play a huge part of providing a place of respite and renewal.
What are you most proud of about the partnership between Tri Delta and St. Jude?
Our partnership has helped our members develop important leadership skills. Every day, we see our Tri Deltas stepping up to plan fundraising events that raise thousands of dollars, and lead their chapters' philanthropy efforts — this is valuable leadership experience they'll take with them beyond college, into their careers.
Tri Deltas are passionate about serving others, and this commitment to philanthropy, and St. Jude specifically, is something members take with them throughout their entire lives. I'm always inspired to see how many of our Tri Delta members end up becoming a part of the St. Jude family, either by volunteering or working for the hospital.
Finally, I'm proud of how, together, Tri Delta and St. Jude have been able to make a difference in the lives of children with cancer and their families.
In 1999, Tri Delta officially adopted St. Jude Children's Research Hospital as its national philanthropic partner. What is it about the St. Jude mission that continues to resonate with Tri Delta members today?
There are so many Tri Delta members who have either been directly impacted by childhood cancer or know someone who has been affected by it. Cancer touches nearly everyone. I think witnessing first-hand the support St. Jude provides for children with cancer and their families helps our members understand the significance of St. Jude's mission and the immediate impact Tri Delta's support is making on these families. And we know it's working.
Since St. Jude was founded in 1962, its research and treatments have improved the survival rate of childhood cancer from 20% to 80%. The work St. Jude does is life-saving and life-changing and we are proud to share that story and be a part of that work.
I also think at a time when we are painfully aware of inequity in the world, St. Jude is a place of access. By accepting patients no matter their background or ability to pay and at this time in our history — that is a powerful story.
Where do you see similarities in the values of Tri Delta and St. Jude?
Both Danny Thomas and Tri Delta's founder, Sarah Ida Shaw, were visionaries. They were committed to creating something bigger than themselves, something that would endure for generations to come.
Tri Delta and St. Jude were also founded on complementary principles. Tri Delta was founded to be "a society that would be kind alike to all, and think more of a woman's inner self and character than of her outward appearance." St. Jude was founded on the idea that every child should receive life-saving treatment, regardless of background or the family's ability to pay. It's this idea of kindness and compassion to all that connects our organizations.
Additionally, part of Tri Delta's purpose is to "spread her influence abroad." With St. Jude, you can also find this theme in how the hospital openly and freely shares its research across the world — spreading influence, or research and knowledge, abroad.
Under your leadership, how do you hope the partnership will grow between Tri Delta and St. Jude?
Tri Delta has come such a long way since our first fundraising commitment of raising $1 million for St. Jude. In 2014, we committed to raising $60 million in 10 years for St. Jude, and we're getting close to hitting that goal a few years early! I am certainly looking forward to celebrating that historic milestone!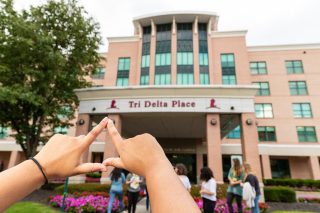 I also know that together there is no goal we can't achieve.
Tell us about some events and fundraisers your chapters across the country are planning this year that people can get excited about.
I'm so proud of how our chapters have embraced virtual fundraising over this last year and how creative our members have been with re-thinking their traditionally in-person events. We've had chapters turn their Delta House of Pancakes event (previously a pancake dinner) into a drive-through, such as our Illinois State Beta Omicron Chapter, or add a delivery service component, like our Kansas State Theta Iota Chapter. Our Delta Lambda Chapter at Butler held a Delta Doordash ice cream delivery fundraiser, which included sharing St. Jude patient stories with each delivery via a QR code.
Many chapters have also turned to social media for exciting day- or weeklong fundraising campaigns that have been successful for raising money for St. Jude. Last summer, our Long Island Alumnae Chapter created an interactive, online Facebook auction in place of its annual in-person Silver, Gold and Basket Night Fundraiser, and it was a great success!
I'm sure we'll continue to see new and innovative fundraisers in the coming year as our chapters continue to reinvent the way they do philanthropy. And, of course, Tri Delta is always excited to participate in the St. Jude Walk/Run and the St. Jude Memphis Marathon — I know that's something our members look forward to every year!