eL Seed's hopeful art finds a home at
St. Jude
His artwork, incorporating Arabic calligraphy to create a message of hope, is showcased in the newly renovated Danny Thomas/ALSAC Pavilion

May 10, 2021 • 4 min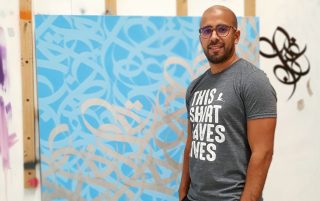 A map of the world shows St. Jude Children's Research Hospital is thousands and thousands of miles from the home of international artist eL Seed.
The heart suggests otherwise.
Working mainly with Arabic calligraphy to create art that speaks of peace and unity, this French-born son of Tunisian immigrants says he feels a powerful symmetry with St. Jude in Memphis — from its founding by Danny Thomas, an American-born son of Lebanese immigrants, to its care of sick children from all over the world regardless of race or creed, to its belief in the healing qualities of art.
"I've traveled the world with my work and I see that all the time it creates an emotion — most of the time the right one," he said. "And this shows actually there's no boundaries or barriers between our humanity. Somebody that could be in China or in Brazil could feel the same emotion toward something. I think this is the humanist part of my art that is linked to the mission of St. Jude."
The pandemic has, so far, prohibited eL Seed from visiting St. Jude, but his work now has a home there. His original art installation, featuring a quote from Lebanese-American writer and artist Kahlil Gibran, is showcased in the newly renovated Danny Thomas/ALSAC Pavilion on the St. Jude campus.
The quote, expressed in Arabic calligraphy, reads:
I am alive like you, and I am standing beside you. Close your eyes and look around, you will see me in front of you.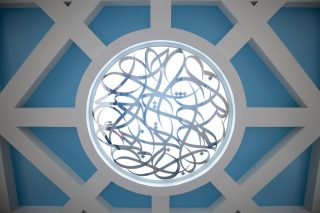 "For me, it's a message of hope and solidarity," eL Seed said. "You're stating to somebody that you're beside him, and you're standing in front of him. That's the spirit, and the idea, behind this piece of art."
It's a moving piece of art — literally. Installed in the skylight of The Pavilion, the artwork reflects onto the floor when the sun shines through. And if you can't read Arabic script, the artist says, no matter.
"I always say that there is a universal beauty that doesn't need to be translated," eL Seed said. "I think Arabic script, in a way, reaches your soul."
eL Seed was born in Paris, and learned to read and write standard Arabic as part of a teenage quest to become more in touch with his heritage. "My father moved from Tunisia to France so I am a part of two cultures," he said.
He was surprised, when learning about St. Jude, to find a kindred spirit in its founder. Danny Thomas's heritage was a source of great personal pride, and the organization he created in 1957 to raise money to build St. Jude — American Lebanese Syrian Associated Charities (ALSAC) — was made up of 100 representatives of the Arab American community.
Thomas and his fellow members of ALSAC were united by their ancestry, their audacious dream of a hospital to treat patients of all colors and creeds without cost to their families, and a desire to thank America for the freedoms it had bestowed on them.
The St. Jude origin story held a powerful resonance for the 39-year-old eL Seed, a recipient of the UNESCO-Sharjah Prize for Arab Culture, which recognizes those whose work and achievements help spread a greater knowledge of Arab art and culture.
"Being the son of an immigrant, and leaving your mark and being an inspiration for a generation to come, that's what I found amazing about him," eL Seed said of Danny Thomas. "I look at his journey and I think how I can see a reflection and how I can be inspired by him."
eL Seed's immersion into St. Jude included a virtual tour, which highlighted not only aspects of treatment and research but also the role that art plays in St. Jude's holistic approach to healing.
He saw the colorful murals that cover the walls, and "visited" the ABCs of Cancer patient art display, in which patients use art to express themselves as they cope with catastrophic diseases.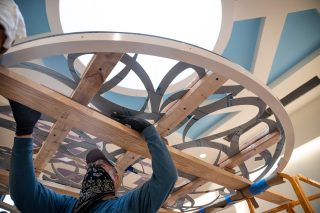 He also learned more about the global scope of St. Jude, sharing its research discoveries and reaching out to some of the world's sickest children in low- and middle-income countries where survival rates lag behind those in the U.S.
For eL Seed, it was a case of seeing the same values he strives to promote, reflected back from thousands and thousands of miles away, at St. Jude in Memphis.
"I don't discriminate in any way. I try to highlight communities that sometimes don't have a light on them. I try to be a tool for social change," he said. "I try to be useful with my art, and not making art just to beautify spaces, but also try to make art to create the change. I would say that what I'm trying to do is, in a way, aligning with the mission of St. Jude."
Now that his artwork has a place on the St. Jude campus, he vows to do more for the cause — call it a post-pandemic promise.
"I would love to promise to come visit, and to stay not just one afternoon but stay a few days, and see if we can create an art piece with some of the kids of St. Jude," eL Seed said. "It would be, I think, amazing."