Speed heals: FedEx pilots build classic cars to raise funds for kids of
St. Jude
The World Golf Championships-FedEx St. Jude Invitational is more than birdies and eagles. The annual Classic Car Build drives fundraising, too.

June 22, 2020 • 7 min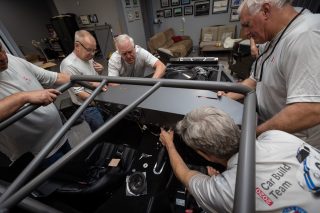 They were strangers at an airport, waiting for a delayed flight to Newark. Has a story with a happy ending ever started this way? This one does.
Otherwise, they might not ever have met, these two men behind a unique and successful — $500,000 and counting — fundraiser for St. Jude Children's Research Hospital.
"I look back at it, I'm always amazed at the synchronicity," Bob McKee said, recalling the events of six years ago that set in motion the FedEx St. Jude Classic Car Build, "and just the events that fell into place as they should have."
It's fitting this fundraiser, in which FedEx pilots volunteer to build a classic car from a kit and then have it auctioned for St. Jude, is staged annually around the PGA TOUR's Memphis event, the World Golf Championships-FedEx St. Jude Invitational.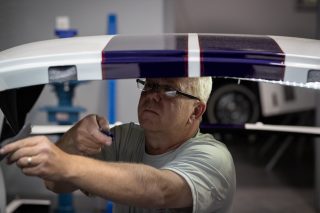 Fitting, because it was golf that got the two men talking that day. It was golf that helped turn strangers into friends, and an offbeat idea into a roaring success. Ken Aagaard, an executive with CBS Sports, was wearing "my usual V-neck sweater," with a Masters logo. And McKee, a FedEx pilot, happened to be going to the next Masters.
So they talked about golf, and one subject led to another. They talked about their work. They talked about Bob's hobby building cars. And they talked about St. Jude — Aagaard's daughter, Ally, was receiving chemotherapy treatments there, after having a brain tumor removed at a hospital near their home in New Jersey.
What did one have to do with the other?
Only everything, it turns out.
Because while McKee had no personal tie to St. Jude, he'd known about it almost his entire life. He could remember watching the 1962 opening ceremonies on TV, as a 9-year-old Oklahoma boy and fan of St. Jude founder and Hollywood star Danny Thomas. And now, nearing retirement and feeling blessed for his life, he was looking for a way to give back.
So it was natural the two new friends would get back together, this time on purpose. Come to Memphis and I'll take you on a tour of St. Jude, Aagaard said. McKee jumped at it.
"We ended up in the (Danny Thomas/ALSAC) Pavilion," McKee said, "and we're looking at the list of all these people who have contributed to the cause of St. Jude. And it was kind of somber there for a few moments."
Then they talked about an idea McKee had to build a car, in seven days, for charity.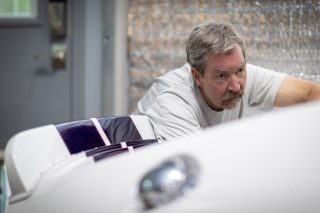 In Aagaard's head, wheels were turning: "I said, 'Well, wait a minute. Can you do this in four days?'"
Four days — the length of a golf tournament. In particular, the Memphis tournament, televised by Aagaard's employer, CBS Sports.
"It was just one of those moments," said McKee, that noted fan of car building, St. Jude and synchronicity.
That first replica 1965 Shelby Cobra brought in nearly $83,000, between the auction and pilot fundraising. After a year off, the event returned in 2017, raising almost $84,000, followed by about $93,000 in 2018.
Then last year, bidding was so spirited that, late in the auction, the second-place bidder was told: Match the top bid — $120,000 — and we'll build a second car. And so the auction brought in a record $240,000, raising the four-year total past $500,000.
In this, the year of COVID-19, the WGC-FedEx St. Jude Invitational will be a dramatically altered event, with some accompanying events postponed or scaled back.
But the tournament will have its usual vroom, thanks to the FedEx pilots.
They're building a 1965 Shelby Daytona Coupe — a precursor to the Ford car featured in the 2019 movie "Ford v. Ferrari" — to be auctioned off June 30 during the St. Jude JAM virtual concert and fundraiser.
"All right, last chance. Anything else we have to do before we put the body on?"
It was just before 2 p.m. on Saturday, day four of the five-day 2020 Car Build. The speaker was Ron Everitt, a professional car-builder and fellow volunteer with FedEx pilots Mike Bray, Eric Armstrong, Shon Driscoll and John Beach.
What began with some 1,800 parts and an inch-and-quarter thick, 573-page instruction manual, had reached a key stage — the shiny white body being lifted, carefully and by all five volunteers, onto the chassis.
"It's hard to find a way to help people building cars," Everitt said, during a break. "That's not something you'd think you'd be able to do. Usually you think you'd just write a check, you know?
"I said to my wife, 'When I go down there, what do you think I'm doing? Do you think I'm helping St. Jude or just having fun building a car?' She said, 'I think it's both.'"
Everitt, from Massachusetts, flew down at his own cost to join the build, which took place in Bray's home shop near Memphis. He served as the technical expert for the project, a walking, talking version of that door-stopper instruction manual.
But this was very much a team project, and that's how it looked as they worked — like a finely tuned team of veterans, efficient and organized. At one point, while Everitt was applying the headliner with help from Driscoll, Bray was at his work bench testing a gauge. When it came time to install the gauges and dash a few minutes later, all five had a hand in it.
Bray has been involved since McKee first emailed FedEx pilots, looking for volunteers.
"I thought, hey, that's a great cause, and I know how to turn a wrench," Bray said.
After the second Car Build, Bray moved into a leadership role, putting the team together and organizing the build itself. He's the lead builder, and seems to perfectly epitomize the project. He's not just in his own shop, building a car that will reach speeds of nearly 200 miles per hour. He's in his element.
If Bray seems born for this, Driscoll came from a different place.
"I didn't grow up building cars or anything like that," he said. "I just was like, yeah, that sounds like that would be kind of fun, to learn how to do that. And hang out with a bunch of other pilots doing that, yeah, I'll give that a go."
That may be a bit disingenuous, though. Driscoll allowed that "I build stuff" — furniture, for example, in his hobby as a woodworker — and said that many years ago he completely rebuilt a Jeep.
In other words, the car kit is in good, skilled hands. But the Car Build is also a feat of fundraising. It has to be. Otherwise, the costs would eat up all those funds that fuel research and treatment at St. Jude.
The kits are donated each year — at a cost of $25,000 to $30,000 — by Factory Five Racing, a Massachusetts-based company whose owner, Dave Smith, has visited St. Jude and found it to be a relatable experience: His daughter Jenny was born with cystic fibrosis.
"My daughter's 22 years old now. She's doing great. She's been the beneficiary of a ton of charity and a lot of research," Smith said. "I have a little bit of kind of kindred spirits with the parents who come to St. Jude. Because I have a daughter who was born with, at the time, a fatal genetic disorder. And research has made such a difference. We've enjoyed the benefit of all that hard work and fundraising.
"I'm happy to help with St. Jude anyway I can. Building cars is how I make my noise. So, All right, you guys get a car."
When McKee visited Factory Five headquarters in advance of the first Car Build, Smith offered to donate a kit without even being asked. That gift helped McKee approach other companies for donations.
That's crucial to the Car Build's annual success. Consider that the kit doesn't include a motor, for example, or the paint job. The retail value of the finished product is estimated at $73,000, the great majority of it donated.
"And a whole lot of labor," Smith said.
Labor, yes, but of love for those FedEx pilots.
Driscoll, whose wife Mary is a volunteer at St. Jude, giving tours and performing other functions, recalled his first tour of the place.
"It's kind of awe-inspiring," he said. "It's kind of like, wow? Especially when you learn the history and how they treat the children and families."
Sleek as they are, cool as they are, it's not really about the cars, you know.
The car is just a vehicle to raise money for a cause that hits especially close to home for Aagaard — retired, and a member of the Sports Broadcasting Hall of Fame — and his wife Emerald, and their daughter Ally.
Ally is doing well, her dad says. Six years removed from her treatment at St. Jude, she now just returns for annual checks. She's an avid golfer and made the high school team as a freshman. Now she's approaching her senior year.
"If you ask Ally — people have — gee, what was it like having to be at St. Jude, her memories are, It was fun. I enjoyed it. She had not one negative memory of her time at St. Jude," Aagaard said.
"When she was there, she didn't miss any school. They provided school for her, where she interacted — and this was before a lot of remote learning was actually going on — with her class back in New Jersey. They used the same curriculum that she had. She didn't lose anything.
"So what St. Jude means to our family is everything."
McKee, also retired, can't relate in such a personal way, but he can sure understand. He talks about pilots planning their vacations around the car build. He talks about pilots who fly in from out of town to participate. He talks about how building a car for St. Jude will swell your heart, but visiting St. Jude, seeing the children and families, seeing the work that happens there, will change your life.
Because it happened to him. And he's seen it happen to others.
"St. Jude does that to people," he said. "In kind of a miraculous way, it puts people in touch with their heart, when maybe they haven't looked there in a while."
Tune into the St. Jude JAM presented by Delta Dental of Tennessee & InnerWorkings livestream via stjude.org or St. Jude Facebook, YouTube and Instagram on June 30 at 6 p.m. CDT.