Faith over fear: gospel singer encourages
St. Jude

families to never give up
As a
St. Jude

Ambassador, gospel singer Evvie McKinney draws on her faith to inspire others.

December 15, 2020 • 2 min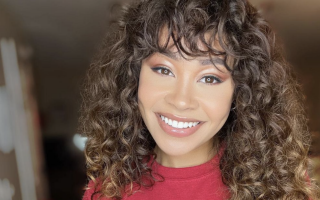 As a rising star in the gospel music community, Evvie McKinney's life revolves around faith. Maybe that's why it was faith that struck her most when she visited St. Jude Children's Research Hospital.

"I toured the hospital in 2019 for the first time," she said. "I met the most humble, most beautiful kids in the world. After the tour, we stopped at a wall where the kids drew these amazing pictures and wrote encouraging quotes or scriptures. When I witnessed some of the children's faith in God, that inspired me to forever be indebted to a lifesaving organization like St. Jude."

Growing up in Memphis, McKinney is no stranger to St. Jude. No matter what channel she watched or which road she traveled, gentle reminders of its mission enveloped her as a child.

"Events, conversations and commercials about St. Jude have surrounded me my whole life," she said. "[I] have watched celebrity interviews speaking of the blessing St. Jude has been to so many children's lives."

As the 2018 winner of "The Four: Battle for Stardom," a national singing competition, her voice intertwined with her faith has ignited sparks in fans around the country. But it was McKinney's encounter with St. Jude patients and families that lit a different type of fire inside her. She was a guest at the annual St. Jude Celebration of Hope, a music-filled event that raises awareness about the mission of St. Jude, and got a first-hand look at the impact of the specialty children's hospital she was introduced to as a young girl.

Now a St. Jude ambassador, McKinney uses her voice — and her faith — to encourage patients and their families, writing in a social media post that it is inspiring to witness a child's faith in God.

"There is nothing too hard for God to do, and don't you forget it," McKinney said when asked what words of encouragement she would share with families.

Through her dedication and support, McKinney hopes to inspire others to give back to St. Jude. Because regardless of what or how supporters give, doing so makes them part of a much larger mission — being a blessing to others.