Grieving mother drops off a letter at a
St. Jude

radiothon that still inspires 20 years later
Judy Cline found $25 in her son's wallet after he died from cancer. She kept it for months before deciding to donate it to
St. Jude

.

March 16, 2021 • 6 min
The woman's heart was too broken to hand over the letter to a St. Jude volunteer herself. So she asked her daughter to do it.
"My mom wants me to give this to you," she said. "It's from our family."
And then she walked away.
It was March 1997, and Q98.5, the country station in Rockford, Illinois, was hosting a radiothon for St. Jude Children's Research Hospital. Between big drum and steel guitar riffs piped out to shoppers at the local mall, DJs asked for donations. But the phones just weren't ringing.
Then, the mystery woman's letter made its way to Amy Junge, who was working the radiothon that day.
She read it and cried.
"I folded the letter back up and went up to the DJs and said: I want you to read this live on air. Don't look at it beforehand. Just read it."
There was an angel printed in the top left corner of the typed note.
Hi, my name is Judy Cline, it began. I have a story to tell, but I know that I would be unable to tell this to you myself. So, I am writing this note.
Judy's son Matt had been diagnosed with cancer in 1993 when he was 14 years old. He endured two and a half years of chemotherapy only to relapse a month after his last dose. He got a bone marrow transplant from a stranger on the National Bone Marrow Registry. But the treatment to prepare him for the transplant weakened his body so much he couldn't heal.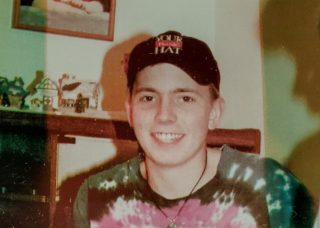 Matt died 17 days after his transplant. He was 17.
I was cleaning up his room sometime later and found his wallet, she continued. There was $25 in it. I have kept this money all this time because I knew that someday I would find something very special to do with it.
She wanted to donate the money to St. Jude to find a cure for illnesses like Matt's.
In loving memory of Matt Cline, she closed. 3-17-1979 to 7-1-1996, our special St. Patrick's Day angel.
Every phone lit up. Who was this woman? What was the rest of her story?
The DJ's asked over the airwaves: Judy, if you're in the mall, come back.
But Judy and her daughter were already gone. They'd driven to a nearby cemetery where Matt was buried to spend a little time with him. And they brought a boom box, as they often did, to play some of Matt's favorite music.
Only this time Judy heard her own words over the air.
"I never, ever thought of something like that," Judy said. "I just wanted to use his money for something good."
It would take 20 years before Judy would learn the fate of her original letter and how much inspiration it brought to one person in particular at the radiothon.
But at the cemetery that day, Judy and her daughter just listened, in awe.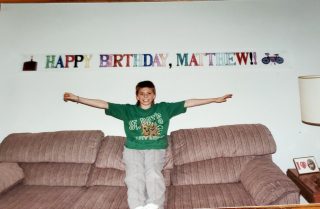 "They said the phones never stopped," she said. "I was so touched. And I knew right then I wanted to go back the next year and help."
Judy was unprepared to share the full story of Matt's diagnosis and death the day of the radiothon. It hadn't yet been a year since he died. She was still paralyzed with grief over the loss of her handsome, brown-eyed boy — the teenager who'd gone from a "carefree, rowdy little brat" to a responsible young man who knew what he had to do to stay alive.
It was the summer before Matt's freshman year of high school when he started feeling ill. Doctors thought it was allergies, but medication didn't help. He couldn't breathe. He couldn't stand up straight. He was miserable.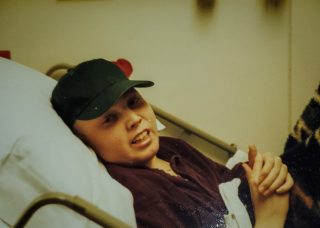 Doctors suggested it might be pneumonia, but an X-ray at their local hospital revealed a tumor.
"They drained three liters of fluid off of his chest," Judy said. "And as soon as it drained off, it filled right back up. … It was crushing his left lung, and it was starting to crush his heart."
There were no pediatric oncologists in their town, but an adult cancer specialist ran tests. Matt had lymphoblastic lymphoma. The oncologist agreed to treat him, and after seven days of chemotherapy, the tumor started to shrink.
Matt endured spinal taps, radiation therapy and chemotherapy in his spine to stop the cancer from spreading to his brain.
By fall, Matt was in remission. He'd gotten an elevator pass at school and permission to wear a head scarf — because hats were against school dress code.
But the oncologist who treated him was leaving the city, and none of the other specialists in his practice felt comfortable treating him. So the family took Matt to Madison, Wisconsin, which is just a 90-minute drive. The family felt confident because the hospital followed St. Jude protocol for cancer treatment.
For the next two and a half years, Matt lived a teenager's full life. Homecoming dances, getting his driver's license, building sets for the school's theater productions. He had a girlfriend, backpacked five miles around Lake Superior, and drove a boat of a Buick they called the hoopty. All while keeping up with regular chemo appointments.
He finally finished in October 1995.
But in November — just before he was scheduled to get his port taken out — Matt slipped on a patch of water and fell backstage. The scar where he had his chest tube hurt, he told his mom, and it looked like a balloon popped out from beneath his skin.
The tumor was back.
The only option now was a bone marrow transplant. They found a match on the national registry, but it just took too long.
Matt went into the hospital in December and never came home.
"He loved life more than anything else," Judy said. "I think having cancer gave him a different view of life. Most kids don't appreciate life. He did. He lived life to the fullest because he knew he could be gone.
"Other kids complained about their parents or their lives. He never complained about it. He was just glad to be in it."
It was a couple months after Matt's death that Judy found the $25 in his wallet — winnings from scratch-off tickets everyone brought to him at the hospital. He got so many his doctor gave him a nickel to scratch them.
When Matt died, the family put the nickel in his pocket and buried him with it.
Judy joined the Q98.5 radiothon as a volunteer in 1998, just as she promised herself she would. And came back year after year. She answered phones, trained other volunteers and told Matt's story on air. She worked the 48-hour fundraiser from before dawn until well in the night. The only time she ever left early was the day of her daughter's wedding.
Then in 2017 Judy was sitting with a group of volunteers at the radiothon, talking about her story when a woman asked: Are you Judy Cline? Did you drop off a letter at the radiothon years ago?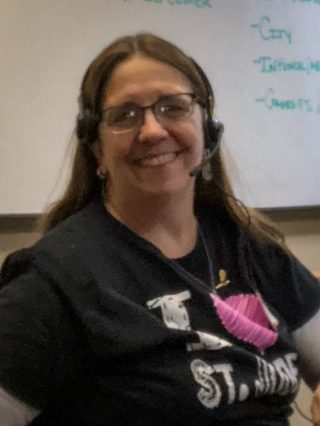 It was Amy Junge, the woman who'd asked the DJs to read her letter live on the air all those years ago. Back then, she'd been a regional director at ALSAC, the fundraising and awareness organization for St. Jude. But she'd left to have children, and was now back.
"I was shocked she remembered," Judy said. It had been so long.
Then Amy pulled Judy's letter out of her purse. She'd kept it for 20 years.
"I was with St. Jude almost 7 years the first time and did a lot of radiothons," Amy said. "And that was one of the most powerful moments for me."
Even though they hadn't met when Judy dropped off the letter, the message was so powerful she felt like she knew her.
"It reminds me of why I do the work I do — not only for the kids at St. Jude but for people like Judy who find such meaning and connection through their involvement," Amy said. "So I keep it front and center."
Never giving up on a cure
2021 was the first year since Judy started in 1998 that she couldn't volunteer at the radiothon. Because of the COVID-19 pandemic, everything was virtual, and no volunteers came to the station.
She hopes to be back in 2022.
"I tell you, I will never, ever stop doing things for St. Jude," she said. "It's something I have to do because I want this to stop. I want cancer to stop. And nobody's going to be able to stop it but them. …
"I have hope they're going to find it. They're going to find the cure and stop these kids from dying. I really, really believe that."
During St. Jude radiothons, DJ's at Q98.5 still read Judy's letter.
And so does Amy.
The original letter is still tacked on a bulletin board above her desk today.
Every now and again, Amy reads the whole note, but often she glances up to read the last line.
It's a reminder that people long to be connected and part of something bigger, she said. And that one letter can create a ripple of positivity and love even across 20 years.
In loving memory of Matt Cline. 3-17-1979 to 7-1-1996, our special St. Patrick's Day angel.