How a virtual world helped streamer lilsimsie deal with cancer in real life
After her dad was diagnosed with cancer, Kayla Sims used gaming to cope. Now, she's using it to do good.

February 10, 2021 • 4 min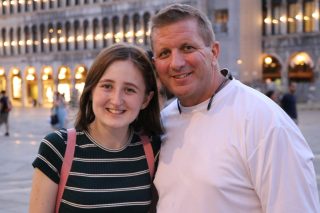 Kayla Sims has a story to tell.
She could start by telling you how at 21 she's a talented, popular YouTuber and gamer who goes by lilsimsie as she streams herself designing the lives of a simulated family called The Sims.
She could tell you how more than a million subscribers tune in and watch her on YouTube and Twitch, and how she used that reach to raise nearly $200,000 for St. Jude Children's Research Hospital last year — $79,000 of it in just one day.
But then she could get to the heart of her story, the one about a girl and her father and a devastating diagnosis that taught them about resilience. Hope. Purpose.
She talks fast, punctuating her story with a nervous titter, so you'll have to listen closely to this part of the story because it explains why she worked so hard last spring and fall to raise money for St. Jude, a research hospital she'd never even visited.
This part of the story begins seven years ago. It was her first week of high school and Kayla stood in a sweltering Florida August watching her father drive up in the car line to pick her up after school. He was crying.
It was an emotional drive home until he finally spoke, collecting his thoughts and words gingerly as they approached their Orlando home. He'd been sick, in and out of hospitals with a baffling set of symptoms for six months. That day, finally, doctors had given him the reason: multiple myeloma, advanced.
"I just opened up to her about everything," Kayla's dad, Mark, said, recalling that day. "I just kept thinking about my family, how I didn't want to lose them, how I didn't want them to lose me. And Kayla just has this strong, incredibly kind heart, and I would just talk through things with her."
The following months were a blur. Her father, who'd always been a larger-than-life figure to her — a former boat captain, burly and seemingly indefatigable — left to get treatment two hours away in Tampa, and her mother left, too, to care for him. Kayla, who had just turned 14, helped her grandparents take care of her younger brother and sister. She watched them laughing with friends, playing softball and baseball, going on with their lives while she was in knots, stomach and heart churning.
"I kind of had this burden. Seeing them play and be happy while I knew something really bad was happening . . . felt really alone," she said.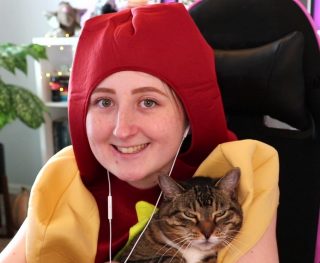 So she'd escape on her computer to a make-believe world, a game in which characters she painstakingly imbued with unique personalities and hobbies lived a happy life. It was coincidence that the virtual family's name, Sims, was the same as her real one's.
In the real world, the Sims were a fractured family of five. Mom and dad were gone for weeks at a time getting cancer treatment. The oldest daughter felt isolated and was bullied at school. Real life was swirling out of control.
But everything was different with the virtual Sims family Kayla built. There was no cancer and worry and separation in this world. She loved designing large, happy families with five kids, silly and adventurous. Everyone was healthy. They lived in mansions with pools and private art studios.
"You get to play God a little bit, have complete control, and everyone is happy," said Kayla. "It really helped me work through everything I was feeling."
Even as her father's health improved, she kept playing the game that had helped her cope through that difficult time. Five years ago, Kayla started uploading videos of herself playing the game and designing the neighborhoods and homes. Her loyal following now includes 1.1 million subscribers.
Along the way, she discovered she could channel her burgeoning online fame for a good cause. She'd heard of another gamer's efforts to raise money for St. Jude, and decided to do the same.
On May 2, 2020, she shared a fundraising link for St. Jude while livestreaming her virtual college graduation. She encouraged her followers to donate to St. Jude as they celebrated her milestone. She'd started the day with a goal of $10,000. She raised $50,000. By the end of May, she'd amassed $118,287 during the St. Jude PLAY LIVE® campaign's prize season.
"What Kayla has done with this game and her channel, and now raising money for St. Jude, is incredible, it just blows us away," her dad said. "This is all her. None of us helped her with this. She built all this from scratch."
On Halloween 2020, wearing a hot dog suit during the St. Jude PLAY LIVE Creative Season/Halloween Day campaign, she raised another $79,646 thanks to a matching donation from gaming and media platform Twitch. She also participated in the Build Against Cancer event hosted by prominent gamer DrLupo in December and raised another $13,000 for St. Jude during her segment.
And just like that, Kayla Sims turned a life-simulation game, once a haven and escape for her, into an instrument of change. She plans to participate in the St. Jude PLAY LIVE event again this spring.
"Because of what my dad and my family went through, anything that helps families dealing with cancer is a cause close to my heart," Kayla said. "And I just feel like having so many people look up to me, trust me, follow what I'm doing, I should use that platform for a good cause."