Grizz for a day, memories for a lifetime
Thanks to NBA's Memphis Grizzlies,
St. Jude

patient Jaxon practiced with his favorite team and became teammates with his favorite player

July 28, 2020 • 3 min
There were flashier players, more famous players, on the basketball court that January night for Jaxon's favorite NBA team.
But as the 9-year-old Mississippi boy watched Lithuanian big man Jonas Valanciunas score 31 points to lead the Memphis Grizzlies over the Golden State Warriors at FedExForum, Jaxon was hooked. Jonas was his guy.
Was it his height (6-foot, 11-inches)? His bearded presence and burly playing style? His penchant for primal screams?
"I just like how good he is," Jaxon said, cutting to the essence of his fandom.
He explained how he plays as Valanciunas on his NBA video game. "I'm him," he said. And when the game automatically substitutes in another player, giving the Grizzlies' center a virtual breather, well…
"I put him right back in," Jaxon said. "I don't let him get a rest. I'm going to lose if I don't have him."
We know what you're thinking: These two just had to meet, right?
Consider it done, as another perfectly-matched pair — the Grizzlies and St. Jude Children's Research Hospital — made it happen in February, a month before concerns over the COVID-19 virus caused the suspension of the NBA season, which will restart July 30.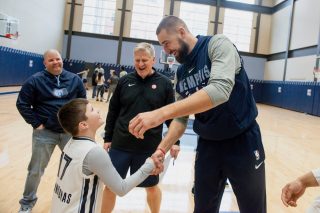 Jaxon was among several St. Jude patients who enjoyed a behind-the-scenes tour of the Grizzlies' home, FedExForum, followed by the chance to participate with Valanciunas, young stars Ja Morant and Jaren Jackson Jr., and the rest of the team in an actual NBA practice.
To see Jaxon, all smiles, standing about waist-high to his hero, was all the more poignant considering what he made it through to be here. At age 5, after months of back pain, high fevers and sickness, an MRI revealed spinal fractures. Blood tests followed, and within hours Jaxon and his family were bound for St. Jude.
A bone marrow aspiration led to a diagnosis of acute lymphoblastic leukemia (ALL), the most common form of childhood cancer. Treatment calls for 120 weeks of chemotherapy, so even without complications, it's an ordeal.
Jaxon had complications.
"The blanket protocol did not work for him," his mom, Mandy, said. "So our doctors spent a lot of time and effort to tailor the treatment specifically for Jaxon. During the beginning of his treatment, Jaxon had an adverse reaction to one of the drugs. He had pancreatitis, so that really became a challenge because that drug is the backbone of the leukemia treatment. They pulled the drug completely from his protocol, so they ended up adding replacement drugs."
Now, Jaxon is finished with treatment and back to his active self.
"I do taekwondo, I do basketball. Wantin' to do football," he said.
He didn't have to say how much he loves his Grizzlies, and their bear-like big man in particular. He seemed in awe throughout his Grizz-for-a-day adventure, from the time they arrived in the underground garage where the team parks, then entering FedExForum through the players' private entrance.
And down the hallway decorated with action photos of the players, where Jaxon stood in front of his favorite player, not just posing for a picture but mimicking the shot of Valanciunas in all his primal-screaming, fist-clenching fervor.
And into the Grizzlies' locker room, where Jaxon made like a fast break for Valanciunas's locker, putting his feet beside a pair of his hero's sneakers.
Then the best part — meeting Valanciunas and the rest of the Grizzlies, and joining them for practice.
"Jaxon, how you doing?" Grizzlies coach Taylor Jenkins asked. "I'm going to put you at basket one with JV. You excited? All right, so you need to give us a lot of energy today."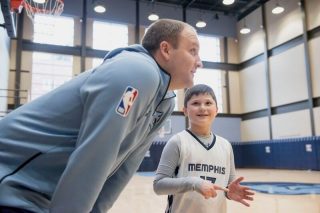 Energy? Jaxon was a bundle of it, joining in the drills, shooting and passing, huddling up and high-fiving.
And the kid in the No. 17 Jonas Valanciunas jersey had his moment with his hero. They talked, posed for pictures and took to the court. Later, when Jaxon gave Valanciunas his wristband, Valanciunas responded with a gift of his own — a pair of signed sneakers.
"I'm taking them to show-and-tell," Jaxon announced.
And so the small-town kid from Mississippi, who was given a second chance at life at St. Jude, had become teammates for a day with his favorite Memphis Grizzlies player, a brawny giant by way of far-away Lithuania.
The Grizzlies had a game the next night. Jaxon told Valanciunas he'd be there.
"I'll look for you," Valanciunas said.