The Day Danny Thomas Visited KSON

January 23, 2019 • 7 min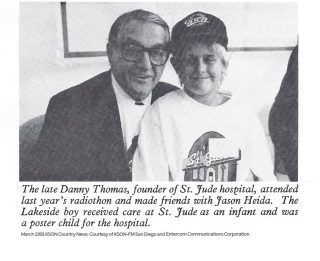 Radio puts pictures in your mind, so picture this:

A self-described "rambunctious little boy, happy to be alive," sitting on the knee of the man who built the hospital that saved the boy's life.
"I will never forget that," Jason Heida says now, remembering that day some 30 years ago when he met Danny Thomas, the founder of St. Jude Children's Research Hospital, at a country-music radiothon in a seemingly unlikely place:
A shopping mall in San Diego, 1,800 miles from the St. Jude campus and a cultural space shot from country music's hotbed in the Southern U.S.
But if you're telling the story of Country Cares for St. Jude Kids® — one of the most successful fundraising campaigns in radio history at $800 million and counting, and celebrating its 30th anniversary — you have to turn the dial to 103.7.
You have to tune in to KSON, a station so devoted to St. Jude that its annual radiothon predates the Country Cares® debut in late 1989. A station that's gone on to raise more than $13 million for St. Jude, with this year's 31st edition bringing in $257,110. A station whose early success was notable enough that Thomas came down from Los Angeles to take part.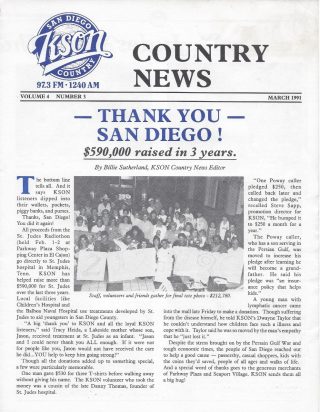 Jason Heida and his mom, Tracy, were regulars on the radiothon for about a decade. The station hadn't known it had a St. Jude family in town, but no problem — Tracy was a country fan and listening to KSON.
"They were talking about doing a radiothon for St. Jude, and it's like, Oh, my gosh," she says. "So I wrote them a letter. And I say, hey, if you need any help, answering phones or doing whatever, I am willing, because St. Jude gave me my son back.
"The next thing I know, we're there, we're being interviewed, and we're on the air."
That was in early 1989, months ahead of the Country Cares national launch in November. Tracy Heida remembers Earl Thomas Conley and T. Graham Brown — big stars at the time — participating at KSON's second radiothon in 1990. But the biggest star that year was Danny Thomas.
"He was just the nicest guy," Tracy Heida says. "He just sat around and talked with everybody. It was just like we were sitting in his front room with him. He told us the story of how he started the hospital. He'd just get in his car and he'd just drive to all these places and hit up all his movie-star friends, you know, and all the people in the entertainment business. He said he would practically beg them to help get this hospital going for these kids."
Mike Shepard, who was KSON's operations manager at the time and still works in San Diego radio, says the station had requested the Thomas appearance, well aware of the potential impact.
"I think he was enthralled with the idea that here was a station out in San Diego, perceived to be a non-traditional country market, doing this," Shepard says. "So I think it was important for him. It was important for us, I know, because that's why we asked."
Thomas didn't disappoint, Shepard says: "He was a wonderful storyteller. He mesmerized us, both on the air and off the air."
Chris Turner, KSON's marketing and promotions manager, remembers being a young, low-level employee the day Thomas came to town. It was Turner's assignment to meet Thomas when he arrived at the mall and escort him to the radiothon.
"I see this Lincoln limousine, out on sort of the edge of the parking lot. It's parked. I go, 'I wonder if that's him?'" Turner says. "I start looking around. Then I go over and there's this Chicago Hot Dog stand that was in the mall. And all of the sudden I see him, and I see his driver. His driver is in a black suit with a skinny black tie. And there's Danny Thomas. He's got these two ginormous hot dogs in front of him.
"I walked up and I said, 'Hi, Mr. Thomas. I'm Chris Turner from KSON.'
"And he looks up at me and says, 'Do you know Rose?'
"I said, 'I'm sorry, sir. What?'
"'Do you know Rose? Rose, my wife.'
"And I said, 'No sir, I've never met your wife.'
"And he goes, 'Good! And if you ever do, you didn't see me eating these hot dogs.'"
Thomas went on to spend three or four hours at the radiothon, talking about the hospital's history and mission, and bonding with his new friend and St. Jude survivor Jason, who was 8 at the time.
"It made for great radio," Shepard says. "But it was also very impactful for all of our staff to meet him and see all of his passion, and how much it meant to him. That's what got me, was the sincerity of everyone involved. It didn't seem like it was a manufactured fundraiser. This was all really genuine people, working real hard, to help kids. It seared into my mind."
As Shepard remembers it, "somebody from St. Jude approached us" about hosting a radiothon. He says he might have shrugged at the request and wondered, What and where is St. Jude? and, Why San Diego? We have our own children's hospital here.
Except he knew all about St. Jude, from a previous radio life. He knew the hospital treats children from all over the country and around the world, that it freely shares its research with other hospitals. He was a believer.
"I had actually done a mini-radiothon at a previous station, a few years before that. Probably 1982 or so, down in Cocoa Beach, Florida. That was my introduction to St. Jude," Shepard said.
"It was nothing like the Country Cares program is today. It was a one-off, one-station fundraiser. I think we were on top of a 7-Eleven® building in Rockledge, Florida, as a matter of fact."
So St. Jude had a willing radio partner in Shepard and KSON. And KSON had, in Jason Heida, a living testament to the hospital's lifesaving treatments. Along with a decade of radiothon appearances, Heida would go on to help the St. Jude cause in other ways, spreading the word from golf tournaments in Los Angeles to ABC's Good Morning America. In his travels for St. Jude, he met Magic Johnson, and the band Alabama, whose lead singer, Randy Owen, had been recruited by Thomas to lead the Country Cares program.
And early in 2018, Heida returned to St. Jude to participate in St. Jude LIFE, a research study launched in 2007 to bring long-term survivors back to the hospital for regular health screenings throughout their adult lives. The findings help researchers develop improved treatments to minimize the late effects of therapy.
Heida chronicled the return visit on Facebook, posting pictures of himself in front of the hospital entrance, and writing:
36 years ago I was carried through these doors in the arms of an angel, today I am able to walk through these doors upon my own two feet. Today is here for me by the grace of God and the Hearts of his people, who through love and charity have made a place like St. Jude a reality for so many.
"I was given a second chance," Heida says now. "Coming up, I was always told that."
In many ways it's the classic St. Jude story ­— a child's life, threatened and then saved­ — but each story has its own twists. Heida's must have made for especially compelling radio.
His family was living in Colorado at the time, in a small mountain town called Cripple Creek. There was a house fire, and 3-month-old Jason was in his crib.
"We pretty much lost the home," Tracy says. "By the time we got him out, there had been a lot of smoke. So he kept getting sick and going to the hospital. He was in the hospital for pneumonia, and when it started clearing up, the doctor said, 'There's something in his lung.'"
It was neuroblastoma, a type of cancerous tumor. At the children's hospital in Denver, she says, doctors removed the tumor from behind the lower left lobe of Jason's lung. The surgery was successful, but Tracy says she balked at the next step of treatment — radiation — and the possible effects on her baby's spine.
So she consulted Jason's regular doctor, back home near Cripple Creek. "He said, 'No, you don't have to do that. I know someone at St. Jude,'" Tracy says. "And within less than a week, we were at St. Jude.
"I'm getting goosebumps right now just telling you."
Jason spent a little more than a week at St. Jude that first time. Tests were followed by a chemotherapy treatment. "Then they sent me home with his meds and antibiotics, which I administered at home," Tracy says. "They sent everything home with me, down to the Band-Aids. It was crazy. Antibiotics by the gallons, all the meds and everything."
The Heidas, who moved to San Diego when Jason was 3, would return to St. Jude for occasional checkups over the years, including one just before his teenage years. Then St. Jude came to them, in the form of KSON's radiothons, and an unforgettable meeting with the founder, Danny Thomas.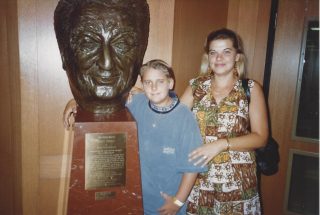 Heida doesn't remember what was said between them. It wasn't about the words, so much. "You remember more how things feel, and how they made you feel, more so than what you hear and say sometimes, you know?" he says. "I remember the moment."
He remembers being awestruck, even though he was far too young to remember Thomas's fame as a TV star in "Make Room for Daddy." The awe was for Thomas the humanitarian. Thomas, who used to say it would be worth building St. Jude just to save one life.
"I got the impression he was happy to see me full of life," Heida said. "Because he said these things that were very compassionate."
Thomas died almost exactly a year later, on Feb. 6, 1991. Heida is 37 now and has "two beautiful children," despite having been told his treatment might make him sterile.
"And to think," he says. "What blows my mind is that those kids would never be here, if I'd never had the opportunity to go to St. Jude."
Or, as Tracy puts it, with joy and laughter in her voice: "I'm a grandma now."
Saving a child's life, making lifetimes possible — that's why KSON started its radiothon three decades ago, supporting a children's hospital more than half a country away. That's why the station invited that hospital's founder to visit, making a memory that you could say is still inspiring folks, all these years later.
Take it from KSON's Turner.
"I keep a picture of Danny Thomas," he says, "pinned to my desk here."