Three years on, Lizzy's light remains an inspiration
Her story is one of love, loss and legacy.

April 27, 2021 • 6 min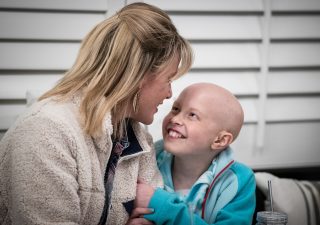 That December day in 2017 approached 68 degrees, but Lizzy Wampler, thin and bald from chemotherapy, needed a fuzzy blanket around her shoulders to be out in the street.
And she insisted on being in the street. It was the St. Jude Memphis Marathon Weekend, and Lizzy, previously an athletic child, couldn't walk without crutches, much less run. But she wanted to go out and encourage those who could.
"Now, you got a marathon here," recalled her dad. "I'm not talking a trickle of people."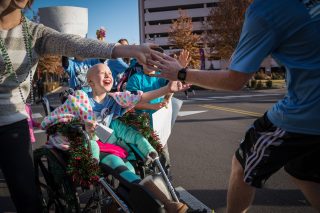 There were more than 25,000 participants that year, in fact. "And Lizzy wanted to wheel herself out in her chair and give everybody a high five. We can't remember if she knew the news yet or not."
It was everyone's hope that Lizzy was nearing the end of treatment for bone cancer. But recent scans had shown the cancer was back. For her parents, John and Jennifer, what Lizzy knew or didn't know at that moment wouldn't matter later on. What would matter was Lizzy beaming at the runners, aglow in the golden winter light, finding the strength within herself to lift others up.
Growing Pains That Weren't
A little over a year prior, in Missouri, Lizzy had been saying her leg hurt. "She would tell me she actually felt her bone growing," said Jennifer. But their oldest had complained so frequently of growing pains at Lizzy's age that they went for an x-ray, and it was nothing. Lizzy was sprouting up with the same consequences.
Still, when Lizzy screamed in pain one day while playing, they decided to err on the side of caution again. The pediatrician felt around her knee and found it swollen. "Humongous, because the tumor was in it," in Lizzy's recollection.
When the biopsy results were shared, Lizzy was crying, Jennifer was crying, and John was grasping at information like someone going over a waterfall clutching at twigs. He asked the doctor to spell it. O-s-t-e-o-s-a-r-c-o-m-a.
Days later, on Thanksgiving, John heard from St. Jude Children's Research Hospital regarding referral. They were ready to bring Lizzy to Memphis.
Halfway into her treatment protocol at St. Jude, Lizzy had been through a limb-sparing surgery that replaced part of her femur with a prosthesis. She had endured nerve pain that she likened to being "sliced with a sword every second," and she was on chemotherapies that left her sick and weak.
But her scans were good — no cancer in the right leg, no spots in the lungs, which are a common site of metastasis in osteosarcoma. And her outlook was, characteristically, positive. A bounce-back type of person, she was forthright about the hardships, but she never threw a pity party.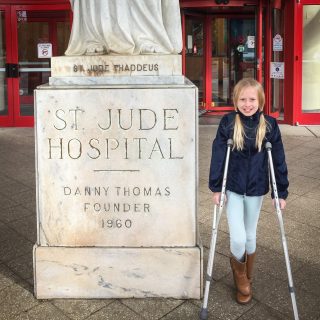 There was another type of party ahead. A No More Chemo party, a tradition that celebrates the successful conclusion of treatment, and Lizzy was going to be ready. With the day finally around the corner, the Wamplers were cutting up confetti, collecting balloons, coloring, baking cookies and writing thank-you notes.
Lizzy was mentally compiling a list of foods she planned to eat when no longer plagued by nausea: pizza, wings, chocolate, sushi, cake, hamburgers…
"Honestly it wasn't even on my radar that she would relapse," said Jennifer.
But before her much-anticipated last dose of chemo would come that news: Lizzy's cancer was back in her right femur and had appeared in the left side of her pelvis.
St. Jude countered with a new treatment plan. Several weeks later, the Wamplers were able to take a family vacation, and Lizzy returned to St. Jude with a little album of pictures to show her care team.
What her team had to share in return was crushing. In spite of all efforts, the cancer was growing. Time was short.
Childhood cancer is horrifying enough in the abstract. But when you see it close up, you realize how merciless it really is. How physically appalling, how existentially unfair.
Lizzy had wanted so badly to go back to school, and had pushed herself in physical therapy to get off crutches before then.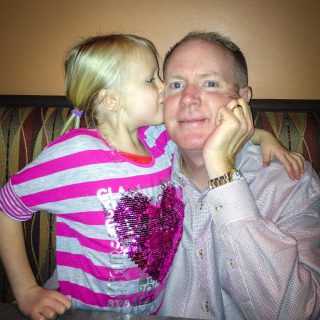 "She worked so hard to learn how to walk again, over and over after surgery. She worked so hard just to bend her leg," said Jennifer, "and I think of the hours she spent trying to get better, and she just passed away."
The first three months of 2018 were the last of Lizzy's life on earth, and they were often excruciating to experience and to witness.
On March 15, 2018, John posted: Lizzy has bravely and courageously ran and finished her race here on earth. She was in the arms of her mother at 3:30 a.m. when God called her home.
The day of her burial, it rained, but a ray of sun emerged to light up her headstone, Elizabeth Joy Wampler: that irrepressible Lizzy glow again. They snapped a photo.
Lizzy liked to fly kites. Her favorite color was mint blue. She had her mom's quiet thoughtfulness, and loved writing and reading, devouring a series of books about a mouse detective just about faster than they could stock the next installment.
In her absence lay the wracking monotony of grief. A wasteland, a bewildering loss of direction, of purpose. The focus had been on helping Lizzy for so long. Now desperate anguish filled their days, but it was unsustainable; it was incompatible with living. And it was no kind of tribute.
John and Jennifer wanted to honor Lizzy. They wanted Lizzy's legacy to live on in helping others. A family friend advised them to use the momentum of other people's support and the catalyst of their grief, and do it now.
They formed the Lizzy's Walk of Faith Foundation, with the dual focus of engaging and supporting the childhood cancer community in their local area and financially contributing to St. Jude. The foundation's first event was a 5K in their hometown. To date, they have donated about $80,000 to St. Jude.
"We may never be able to give back what Lizzy's care cost — I don't even know what it cost. She had so much chemo, so many surgeries, so many MRIs," Jennifer said. "Unfortunately, the kind of cancer she had was resistant to treatment. But we knew nothing was withheld from her. Even the last time we met with her doctor, he was always open. Had we said we want to try more, they would have done it. But we all wanted what was best for Lizzy. They never gave up."
From before her diagnosis, she was in pain. The day in December she went out to encourage the runners, she was in pain. Ultimately even treatments intended to be palliative caused her pain. Still, said Jennifer, "with every ounce of her body she was trying to give out help."
She even wanted her body after she left it to help by furthering the search for a cure. Per her wishes, her tumor went to St. Jude, and parts have now travelled the world, being studied on several different continents to further the research.
"We just believe that nothing is ever wasted on earth: Your sorrow, your pain, your suffering, it's not wasted. There's a purpose for that pain. We feel that's what we're doing in giving back," said Jennifer. "We know it makes Lizzy's heart happy."
In December 2018, just nine months after Lizzy's death, and again in December 2019, Jennifer ran the half marathon during the St. Jude Memphis Marathon Weekend. The course took her through the hospital campus, and right past the spot where Lizzy had been giving out high-fives that memorable day.
Jennifer would have given anything to see her, to touch her. But she certainly felt her.
"It was very helpful and healing for me as a mom, to be there and get to run through the campus," she said. "Lizzy was a joy, from the moment she was born. There was a gentleness about her, a compassion about her. I didn't get to have her as long as I would have liked, but I had to focus on what a beautiful experience I was given to have 10 years with her."
As a family, the comfort they take is often hard won. Last year on March 15, John, Jennifer, Lizzy's brother Daniel and her sister Hannah gathered at her grave to mark the anniversary of her passing. The day was cold and wet and miserable, and news of the pandemic didn't help anyone to feel lighter.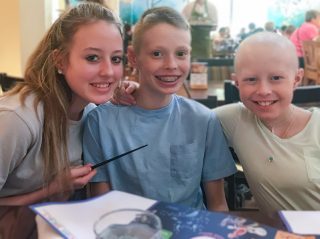 "Yesterday is not how I would want anyone to spend a day in their life," wrote Jennifer. "We are all hurting and broken. We wanted to grieve together and do something special in honor of Lizzy, but in reality we all kind of grieve on our own. In the bleakness of the day, I wanted her to know her sweetness is so missed in this life. Her gentleness and love is so needed."
The day before, Jennifer had looked through hundreds of photos and videos of Lizzy, and this brought some lightness to her heart. There were images of Lizzy's suffering, but there were also images of her kindness, like reaching out to another patient with a hug even when she was feeling rotten herself.
"And that just opens my heart a bit more to love," wrote Jennifer. "If you are going through an uncertain season of isolation and discomfort or pain, I pray a ray of love would touch your heart. Even while it's hard, even while it hurts, reaching out to another person hurting or doing an act of kindness is really the way to go."
That's how Lizzy lived, and the legacy she leaves us.